13 Female-Fronted TV Shows You'll Want To Check Out This Fall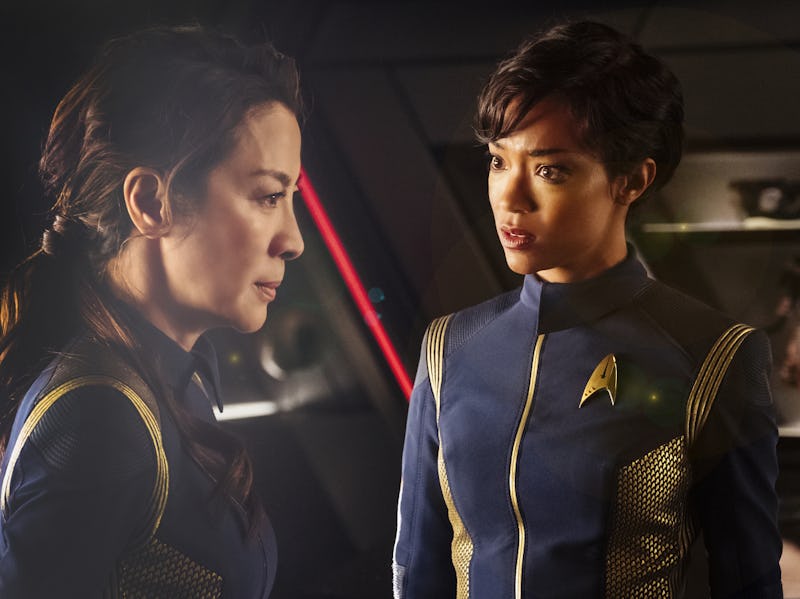 Jan Thijs/CBS
When it comes to diversity, television has generally become much better than films in recent years, both in front of and behind the camera. But there's still a lot of progress to be made, so viewers may be wondering which new fall TV shows focused on women are worth supporting. While the most progress has undoubtedly been made on subscriber-based networks like HBO, Starz, and Netflix, the broadcast channels still have a bit of catching up to do. And since everyone only has so many hours in the day, you may want some help narrowing down your TV options to new series that champion the involvement of women — whether that's in starring roles or as creators, directors, and producers.
For the second year in a row, CBS's fall lineup of shows star exclusively men — although this year at least the network can boast that they don't all star white men. (New drama S.W.A.T. features former Criminal Minds actor Shemar Moore.) But whether a show is headlined by a male or female actor, the gender makeup of the behind-the-scenes team is not always immediately apparent. While some of the entries on this list may seem like no-brainers, others might surprise you.
These new shows, premiering between now and the end of the year, seem worth checking out for fans of female-driven storytelling. And you can encourage your friends to watch, tweet, and do everything else that will help raise their profile and encourage Hollywood to continue supporting women-centric work.
1. The Deuce (HBO)
Premiere Date: Sunday, Sept. 10
The well-received pilot was helmed by none other than Michelle MacLaren, the acclaimed Emmy-winning director known for her work on the likes of The X-Files, Breaking Bad, The Walking Dead, Game Of Thrones, and Westworld. (MacLaren also directs the finale; and two more of the remaining six episodes are directed by women as well.) And while James Franco gets top billing for playing identical twins, Academy Award-nominee Maggie Gyllenhaal threatens to be the show's breakout star.
2. Riviera (Sundance Now)
Premiere Date: Thursday, Sept. 14
Although this series — which already aired in the U.K. ahead of its American streaming debut — was created by male filmmaker Neil Jordan (The Crying Game), it's headlined by two supremely talented women: Emmy nominee Julia Stiles (Dexter) and Oscar nominee Lena Olin (Alias).
3. Star Trek: Discovery (CBS All Access)
Premiere Date: Sunday, Sept. 24
Like Riviera, Discovery was also created by a man (Hannibal's Bryan Fuller), but stars two women — two women of color, it should be noted: The Walking Dead's Sonequa Martin-Green and Crouching Tiger, Hidden Dragon's Michelle Yeoh. (Discovery will also feature the first openly gay character in a Star Trek series, played by Rent's Anthony Rapp.)
4. Law & Order True Crime: The Menendez Brothers (NBC)
Premiere Date: Tuesday, Sept. 26
The first season of NBC's new anthology series comes from Law & Order guru Dick Wolf. But while the case at its center involves two murderous brothers, the true focus of the series is on their defense attorney, played by Emmy winner Edie Falco (The Sopranos, Nurse Jackie). Prolific director Lesli Linka Glatter — whose credits include Twin Peaks, Gilmore Girls, The West Wing, Mad Men, The Good Wife, and Homeland — also helms several episodes.
5. Ten Days In The Valley (ABC)
Premiere Date: Sunday, Oct. 1
This new drama is the first series created by Tassie Cameron, who cut her teeth writing for Degrassi: The Next Generation and Rookie Blue. It stars Emmy winner Kyra Sedgwick (The Closer), and also features such talented actors as Erika Christensen (Parenthood), Emily Kinney (The Walking Dead), and Ali Stroker (Broadway's Spring Awakening).
6. 9JKL (CBS)
Premiere Date: Monday, Oct. 2
Despite only picking up shows starring men, CBS surprisingly lands on this list thanks to this sitcom, which was co-created by Dana Klein, who previously worked as a writer on Friends and Fresh Off The Boat. It also co-stars revered actor of the stage and screen, Linda Lavin (Gypsy, The Good Wife), as the protagonist's overbearing mother.
7. The Halcyon (Ovation)
Premiere Date: Monday, Oct. 2
Like Riviera, The Halcyon has already aired in the U.K. ahead of its American debut. The show stars respected British actor Olivia Williams (Dollhouse, Manhattan) and was created by Charlotte Jones, a playwright perhaps most famous for writing the book to the 2004 Andrew Lloyd Webber musical, The Woman In White.
8. Kevin (Probably) Saves The World (ABC)
Premiere Date: Tuesday, Oct. 3
Although headlined by Parenthood actor Jason Ritter, the dramedy was created by writing partners Tara Butters and Michele Fazekas, who have previously worked together on such shows as Law & Order: SVU, Dollhouse, and Marvel's Agent Carter. The cast also includes JoAnna García Swisher (Once Upon A Time) and Kimberly Hebert Gregory (Vice Principals).
9. Dynasty (The CW)
Premiere Date: Wednesday, Oct. 11
Of the CW reboot's three co-creators, two are women: Stephanie Savage (Gossip Girl) and Sallie Patrick (Revenge). Its cast includes the likes of Elizabeth Gillies (Victorious), Nathalie Kelley (The Vampire Diaries), and Brianna Brown (Devious Maids). (And for what it's worth, the original '80s series was co-created by Esther Shapiro, alongside her husband Richard.)
10. Lore (Amazon Prime)
Premiere Date: Friday, Oct. 13
This new horror show doesn't star any one actor, male or female, since it's an episodic anthology series whose cast will change every week; but it is being shepherded to the screen by legendary producer Gale Anne Hurd, who has been involved with all of your favorite action and horror flicks from the '80s on, including (but not limited to) Terminator 1-3, Aliens, The Abyss, Tremors, Dante's Peak, Armageddon, and The Walking Dead.
11. Mindhunter (Netflix)
Premiere Date: Friday, Oct. 13
Although this upcoming drama is perhaps most heralded for being directed by David Fincher (The Social Network) and headlined by openly gay actor Jonathan Groff (Glee), it was also co-created by playwright Jennifer Haley, it is produced by Oscar winner Charlize Theron, and it co-stars Fringe actor Anna Torv.
12. Alias Grace (Netflix)
Premiere Date: Friday, Nov. 3
Based on a book by Margaret Atwood (who also wrote The Handmaid's Tale), this series was written by Mary Harron (American Psycho), directed by Oscar nominee Sarah Polley (Away From Her), and stars Oscar winner Anna Paquin (The Piano), alongside Sarah Gadon (11.22.63).
13. Marvel's Runaways (Hulu)
Premiere Date: Tuesday, Nov. 21
Co-created by two of Dynasty's three creators — including the aforementioned Stephanie Savage — this new Marvel series boasts an incredibly diverse cast, including Lyrica Okano (The Affair), Virginia Gardner (Glee), Ariela Barer (One Day At A Time), and Allegra Acosta (Nickelodeon's 100 Things To Do Before High School).
There will be even more female-fronted shows on the way at midseason (including new Shonda Rhimes series For The People, Mindy Kaling's Champions, and the Angela Bassett-starring 9-1-1), but for now, the fall season provides viewers with plenty of woman-centric offerings — as long as they know where to look.