Female 'Black Panther' Stars Say It Succeeded By Giving Different Kinds Of Women Space To Exist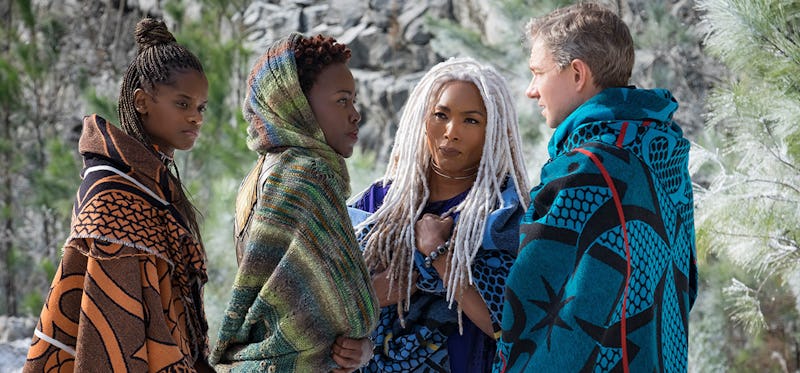 Walt Disney Studios Motion Pictures
Just when you thought the film had given us enough, the female stars of Black Panther have returned to give us a lesson in how to change Hollywood. Of course, the 2018 Marvel film has already shifted the movie making landscape by offering entertainment, representation, and record-breaking box office numbers that will likely change the course of blockbusters forever. In a new interview with ELLE, Black Panther stars Angela Bassett, Danai Gurira, and Lupita Nyong'o explained why they think Wakanda is feminist, and Hollywood should really take note.
Bassett, Gurira, and Nyong'o spoke to ELLE for an interview published Wednesday, Oct. 10, in which they emphasized exactly what it was about that made Black Panther so ground-breaking when it comes to female characters. While Chadwick Boseman was nominally the film's star, playing Black Panther himself, his arc was only half the story. "The women were integral to the storytelling and the wisdom that the main character possessed," Bassett — who played T'Challa's mother Ramonda — told the outlet.
The 60-year-old pointed out that T'Challa repeatedly seeks both assistance and advice from the powerful women surrounding him. And in stark juxtaposition to Hollywood's "damsel in distress" trope, the women not only help, but even come to the rescue of the male lead. It's the upending of a stereotype that will help clear the pathway for all women, but which is particularly meaningful for women of color. "It was really important in terms of the representation of black feminine strength," Bassett added.
One thing audiences found so impressive about Black Panther was the wide variety of feminine strength that it portrayed. There wasn't just one kind of woman, or even just one kind of warrior woman in Black Panther. There was room enough for a vast array of personalities, with the female characters being written with just as much complexity as the males — a lesson that Hollywood could stand to learn from as well. Gurira's character, Okoye, for example built her strength from her loyalty to the throne (not to mention her talent with weapons), while Nyong'o's character Nakia's strength lay in her independence. As Nyong'o told the outlet:
"Nakia was a departure from the character you see in the comic books. She is an independent woman and a bit of a rebel but also a loyalist to her country. I am also someone who depends on my family and friends and feels a connection to my people, and maybe has a sense of responsibility to make them proud. So I really related to that balancing act within oneself."
Describing her favorite scene as Okoye, when the character rips off her bothersome wig as she leaps into battle, Gurira told ELLE:
"I loved doing that, from the minute she's wearing that wig and complaining about it, to the minute she gets rid of it very pragmatically. That spoke to so many things about feminine aesthetics."
In addition to being a complete joy to watch, the film also subtly tackled topics like beauty, femininity, and strength head on, and the lessons are as valid in real life as they are onscreen. Gurira noted how appreciative she was that Wakanda, as a society, "was celebratory of everyone equally [regardless of gender]. You see that in my character. She's able to excel." Nyong'o agreed with that assessment, adding, "In our story, the emphasis is on many different women holding their own space."
That phrasing — "holding their own space" — is so important. Black Panther's Wakanda represented a utopia where the male-female dynamic has been completely thrown out. In this world, existence doesn't take facets like gender or race into account; everyone is comfortable taking up their own space without attempting to infringe on others'. So maybe it's time for life to start imitating art, because that's exactly the type of world that Hollywood and even America in general should be taking notes on.