These HS Seniors Hilariously Dressed Up As Your Fave Pop Culture Icons For Their Student IDs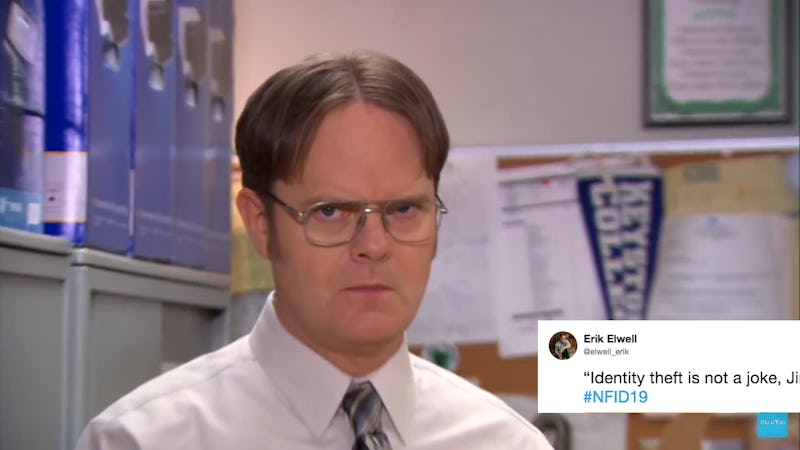 NBC/YouTube; elwell_erik/Twitter; Bustle/Screenshot
Give these students an A+! While many agonize over everything from bad lighting to being caught offguard when it comes to obligatory — and ever-dreaded — ID photos, a Michigan high school has turned the process into the most amazing tradition. The viral student ID photos from the North Farmington High School's 2019 senior class include hilarious and spot-on takes of everything from celebrities, iconic TV and movie characters, and even popular memes, as pointed out by Buzzfeed.
"We've been doing this tradition for eight years now," NFHS senior Alexa Hall (who dressed up as Audrey Hepburn's Holly Golightly from Breakfast at Tiffany's) explained to Bustle. "Kids start planning from freshman year, trying to find who you look like. While trying to come up with something that hasn't been done before is challenging, it's really fun to see people's doppelgängers, especially when that celebrity gives recognition on social media."
One such instance of celeb engagement came via actor Ken Jeong, who, on Sept. 13, retweeted a photo of a student dressed as Leslie Chow, his character from The Hangover. The NFHS senior, Jarryn Shin, explained to Bustle that he had tagged Jeong "multiple times" and was in class when he noticed the star's exciting social media shoutouts on Twitter, Instagram, and Facebook. "I kinda freaked out and was overwhelmed," gushed Shin. "But it is super humbling because he didn't make it about himself and posted my photos to give me recognition. He even tagged me in everything, so I am really appreciative."
Earning top honors from this year's graduating class are photos based on Dwight Schrute from NBC's The Office, Legally Blonde's Elle Woods, and the viral Cardi B meme, among many other characters in the must-see photos below.