Taylor Swift's Album Announcement Made Everyone On Twitter Lose. Their. Minds.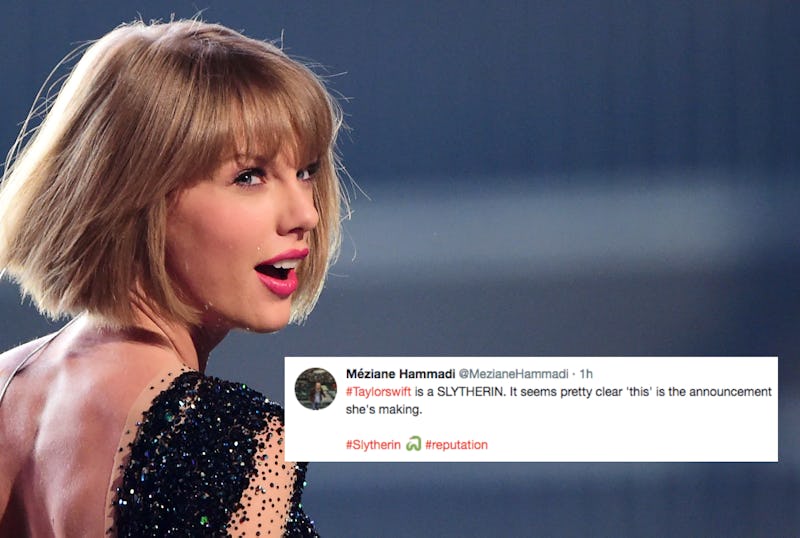 Getty Images/Bustle
If your life doesn't revolve around a certain blonde pop star, chances are you've probably still already heard that Taylor Swift's new album Reputation is coming in November. After clearing her social media feeds and then sharing three cryptic slithering snake videos, Swift stopped everyone in their tracks on Wednesday by revealing news of both a brand new single and a new album dropping this year. Instantly, Twitter was filmed with memes and jokes about Swift's new music in response — whether about the album title, its cover art, or those snakes.
Leading up to the big reveal, there was much speculation about the connection between Swift and snakes. At the moment those questions remain unanswered and mystery abounds around Swift given her recent media presence — or rather, lack thereof. It's also been three years since the singer-songwriter released her last hit album 1989, so this album certainly feels like a long time coming.
Needless to say, the news that music will be released this year is an exciting development, and it might even suggest that Swift is going in a different direction with her sound. The internet is already losing their minds and the tweets about Swift's Reputation album are pouring in — and they're hilarious.
1. So Much Has Changed
Is this the new emo version of Taylor Swift?
2. Somebody Call 9-1-1
Add emergency numbers to speed dial, because the thrills have only just begun.
3. Keep An Eye Out For Cat Fights
Will we see them clash heads at the VMAs on Sunday?
4. She's Eclipsing Herself
If your eyes are burning, it may be from crying happy tears or from staring directly into the sun that is Taylor Swift.
5. She's Helping Revive Journalism
No doubt she's making headlines with the new album announcement.
6. Maybe She's Just Too Grungy
Raise your hand if you can't wait to see who she throws shade at come November.
7. The Apocalypse Can Wait
There must be Taylor Swift in heaven.
8. These Photoshop Brushes Are Everything
Is she taking fan submissions for album cover art?
9. The Dog Ate Her Homework
Inspiration is the sincerest form of flattery.
10. But Can She Speak Parseltongue?
She already has the Malfoy-brand platinum blonde hair.
11. She Put A Spell On You
How else could she write so many hit songs? Maybe she's a witch.
12. Raise A Glass
Let's meet at the Snakehole Lounge for the Reputation listening party.
13. It's Business Casual
Talk about a power suit.
With Swift's first single making its debut on Thursday night, these reactions are just the beginning.