Taylor Swift Has Made The Meaning Of Her Album Title Pretty Clear Already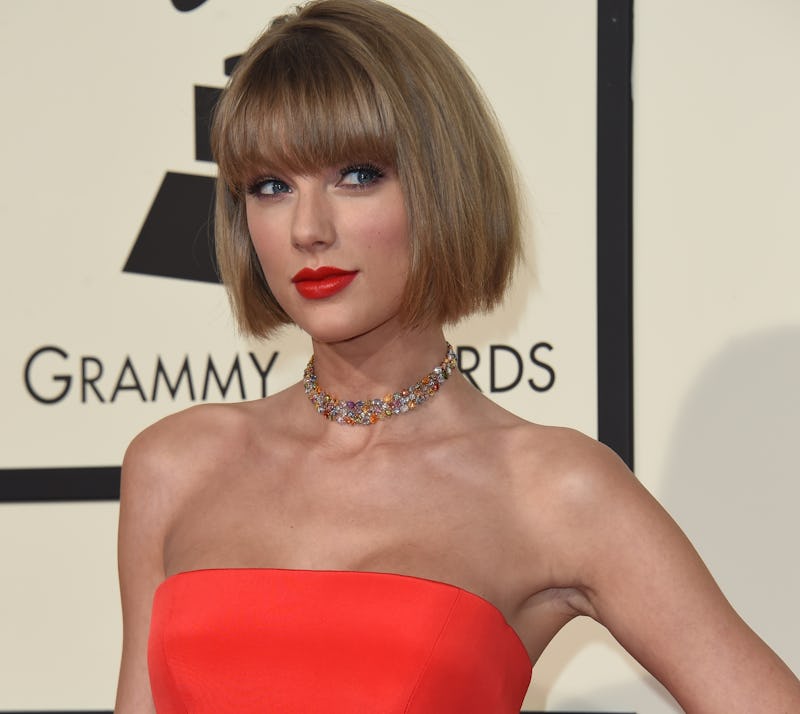 VALERIE MACON/AFP/Getty Images
After much speculation, it's official: Taylor Swift announced on social media Wednesday that not only will she drop a new single Thursday night, but that her new album, dubbed Reputation, will be released on Nov. 10. So, why is Swift's album called Reputation? The title actually makes a lot of sense.
The 27-year-old is a huge celebrity who over the years has found herself with a reputation. There are those who support T. Swift, those who aren't fans, and those who see her as problematic. It seems that with her new album, the 1989 artist is going to address her reputation, how she's been perceived, and what has been said about her over the years.
She is known for making headlines, but especially in regard to her romances. The last time Swift made headlines for her love life was for reportedly dating Joe Alwyn, but it was her short three-month relationship with Tom Hiddleston that caused the most recent frenzy across the internet. Even after they broke up in September 2016, some people weren't convinced they were ever really a couple, but were only dating as a PR stunt. In a February interview with GQ, Hiddleston said about his relationship with Swift, "Of course it was real."
There were also many conspiracy theories involving Hiddleswift. Once again, based on who she was dating and the rumors that circulated, Swift and her reputation were impacted greatly. It wouldn't be surprising if Reputation involves not only her relationship with Hiddleston and the reaction it caused, but also some of her other romances like when she dated Calvin Harris, which came with its own set of drama.
When the "Shake It Off" singer isn't dealing with reports about who she may or may not be seeing, she's known for her so-called feuds with fellow celebrities. Obviously, there is Swift's bad blood with Katy Perry, which Swift has seemingly only commented on indirectly. In a September 2014 interview with Rolling Stone, she discussed the meaning behind "Bad Blood" in relation to an anonymous artist, which many believe to be Perry.
Unlike Swift, Perry has opened up about their disagreement in several interviews. During her May Carpool Karaoke segment with James Corden, she revealed her side of why things went sour between the two (it appears to be about backup dancers), all while saying she's "ready for that B.S. to be done."
Then, of course, there is everything that has occurred between Swift, Kim Kardashian, and Kanye West. Yes, the Grammy winner and the rapper are known for that infamous 2009 VMAs moment (they seemed to make up at the 2015 Grammys), but it all went downhill after West released "Famous" in February 2016 and rapped about Swift, referring to her as "that b*tch".
Things went from bad to worse in July 2016 after Kardashian shared videos of Swift and West's call via Snapchat showing them discussing the "Famous" song lyric. This was Kardashian's way of standing up for West and saying that Swift approved the song, even though at the 2016 Grammys Swift didn't make it seem that way. Swift famously responded to Kardashian's Snapchats on social media by defending herself, saying that she didn't approve the whole lyric in the released Snapchats, and saying, "I would very much like to be excluded from this narrative, one that I have never asked to be a part of, since 2009."
Swift has been through many highs and lows, but all of that said, it seems like she is trying to take back control. Before she even announced her new album, she deleted everything on her Twitter and Instagram. Then, she started sharing videos of a snake on social media, which obviously was her way of teasing new music. By using a snake, which Swift's been called before, and choosing Reputation as her album title, this could very well be her way of showing that no matter what anyone thinks, she controls her reputation and is reclaiming her narrative.