Danny DeVito Attended A Pride Parade & The Photos Will Definitely Make You Smile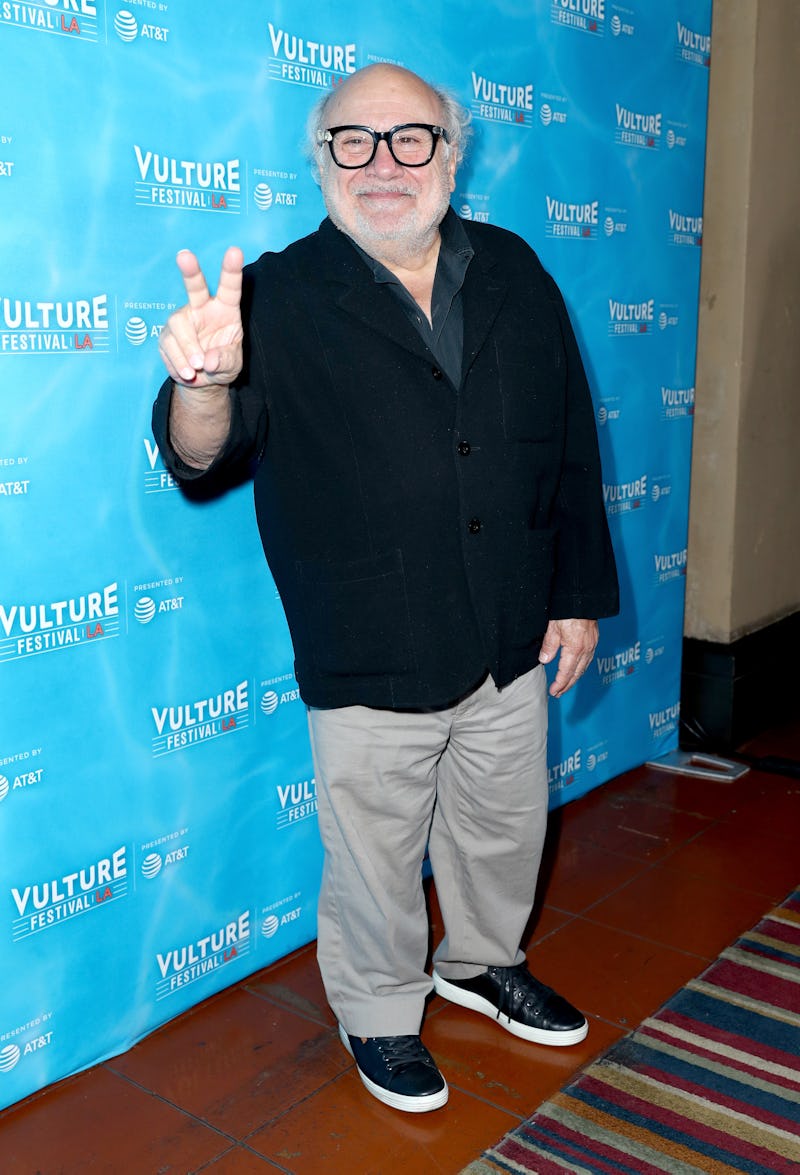 Joe Scarnici/Getty Images Entertainment/Getty Images
If you haven't seen them already, you will flip, flip, flip-a-delphia your lid over the glorious pictures of Danny DeVito having a great time at Los Angeles Pride. Last weekend, It's Always Sunny In Philadelphia stars Kaitlin Olson, Rob McElhenney, Artemis Pebdani, and DeVito went to the annual LGBTQ parade in West Hollywood. Just as they did back in 2016, the It's Always Sunny crew showed up with their very own float and participated in the cavalcade. And yes, DeVito's boa returned, too.
On Sunday, June 10, Mac, Sweet Dee, Artemis, and Frank climbed aboard a rainbow flag-adorned Paddy's Pub float and rolled on down Santa Monica Blvd. in L.A.'s Pride Parade. As BuzzFeed noted, the snapshots of DeVito perched atop the Paddy's Pub float in his rainbow boa are pretty much the best. What's not to love about a pile of pics of such a revered icon/artist/ally supporting the LGBTQA+ community? And what's not to love about Pride Month? And what's not to love about a feather boa?
If you need an end of the week pick-me-up, type "Danny DeVito Pride" into the Twitter search bar and let the joy wash over you. What's that? You say you would like to see some examples right here and right now? Ah, good. Good, good, good. Thought you'd never ask.
First things first, it would not feel right if DeVito didn't bring out his recurring "troll foot" bit. But don't worry, he brought out the "troll foot" bit. And he did so brilliantly.
A few days after he painted his foot to look like the LGBTAQ+ Pride flag, he pulled on some socks, laced up his shoes, and hopped on the mobile version of Paddy's Pub.
Can I offer you some nice photos of Danny DeVito on the It's Always Sunny In Philadelphia Pride float in this trying time? Get ready for some egg-cellent pics.
And when DeVito wasn't holding parade-goers' hands? Why, he was busy presiding over the Paddy's Pub float.
And here are some pics of Sweet Dee and Frank yukking it up on the Paddy's Pub float.
Can you imagine being on the receiving end of that finger point? No but seriously, can you imagine getting pointed at by Danny flippin' DeVito at L.A. Pride while he soars by on a decked out Paddy's Pub float? That has got to be, like, one of the best of omens.
Tired of looking at Paddy's Pub float pics yet? Ha, trick question. Of course you aren't. It's physically impossible to get sick of scrolling through those photos.
...But uh, just in case you'd like to mix things up a bit, here's one of the It's Always Sunny stars posing on a sidewalk.
Miss the Paddy's Pub float? Of course you do. Here is a snapshot of the mobile version of It's Always Sunny's main location.
And hey, for good measure here is a video of Olson and McElhenney giving the people what they want.
Man, the It's Always Sunny cast really brought the fun and the affecting vibes this year. The day of the parade, McElhenney posted a moving message on Instagram. He wrote,
"I'm so proud of my mothers, my brothers, my friends and everyone else who has had the courage to come out to the world. To those who are struggling to do the same: know that there are billions of us who have your back. You. Are. Loved. When you're ready, we're here. #pride"
These actors play a bunch of dirtbags on the long-running comedy series, but in real life? The members of the It's Always Sunny cast are anything but.
Photos courtesy of @emilykardously, @angdidthat, and @lizgoran.