9 Things All Allies At Pride Need To Know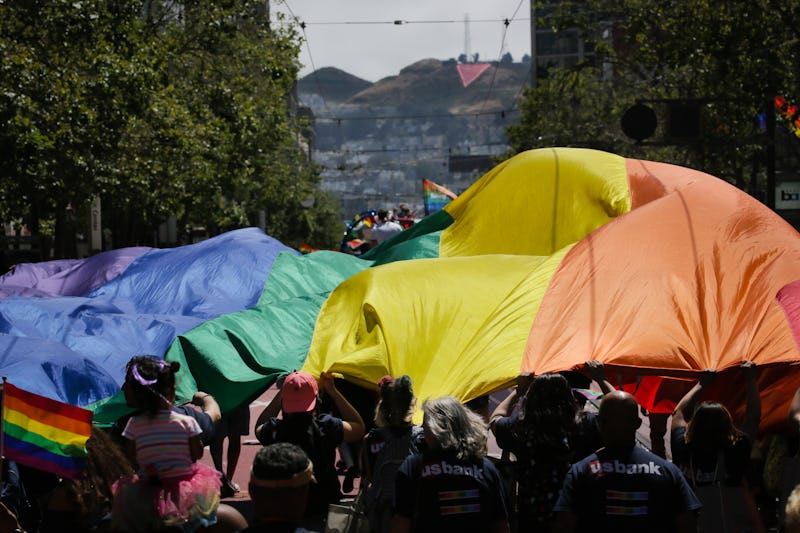 Elijah Nouvelage/Getty Images News/Getty Images
It's Pride Month, and if you're an ally planning to head to your local Pride parade, whether alone, with other allies, or with a group of LGBTQ friends, you may be wondering exactly what you can do to prep for attending Pride as an ally. Which is why I, your friendly neighborhood queer and trans person, am here to give you the lowdown on how to be a good ally at Pride.
The first thing to know is that allies are certainly welcome at Pride parades, but may not be welcome at all Pride events. Be sure to double-check with the organization that puts together your area's Pride Month events to be sure you're not planning to attend an event that is specifically for transgender women, for example. Some events are specifically intended to be safe spaces for members of groups that are experience particular marginalization, and it's super, super important to respect that.
That being said, you don't have to go to Pride and market yourself as an ally. You don't have to wear a pin or a shirt that points you out as an ally, and you definitely don't have to carry around an "ally pride" or "straight pride" sign.
You should also know that the queer community is not a monolith, and not every queer person is going to agree with this advice, or any other piece of advice in this article. The number one thing you can do as an ally at any Pride event (or, heck, any space in general) is to listen to the queer people who are there and respect what they have to say. Here are some other tips for how to be an ally at Pride.