These 'Timeless' Theories Connect Lucy & Flynn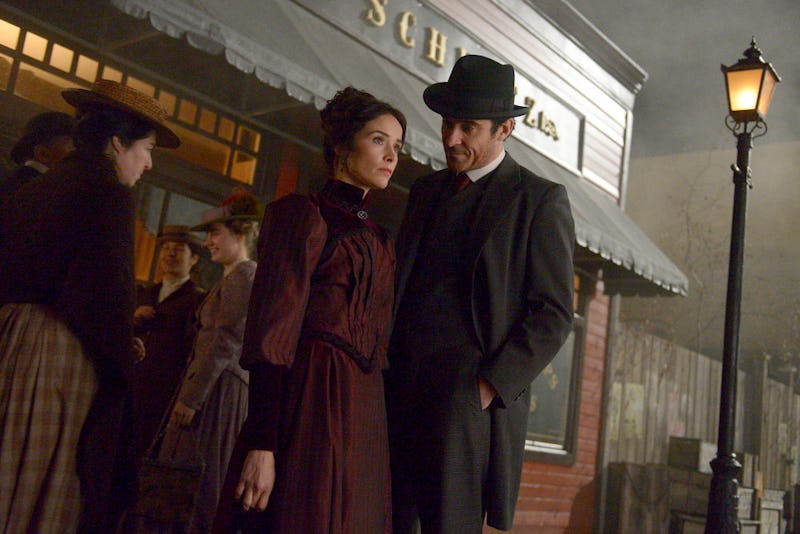 Sergei Bachlakov/NBC
While the Dec. 12 episode, "The Capture of Benedict Arnold," gave some pretty essential backstory about who Rittenhouse is, fans of NBC's time traveling series still have plenty of questions and theories about Timeless. With Lucy, Rufus, and Wyatt returning with a new episode on Jan. 16 after the show's month-long hiatus, viewers will hopefully learn more about Rittenhouse's influence. Yet, what seems to intrigue fans even more than the secret organization is the dynamic between the three main time travelers and their part-time nemesis, part-time ally Garcia Flynn. As many of these Timeless theories show, audiences really want to know what the deal is with Lucy and Flynn.
The time traveling is certainly a big part of the allure of Timeless, but the characters and their relationships are what keep fans hooked. Whether it's wondering if Lucy and Wyatt will get together or how Flynn has Lucy's journal, these are the questions people want answers to. As a new character named Emma Whitmore will be introduced in the second part of Season 1 and Deadline wrote that she will be of "mysterious importance to Flynn," Timeless may give viewers a better understanding of Flynn's intentions. And if Timeless reveals the truth about whether Flynn is a good guy or a bad guy, the show should also reveal why he knows so damn much about Lucy's future.
So, in honor of its return, here are some of the most interesting theories about Timeless on the internet. While there is a lot to wonder about, you'll see how the number one thing people want to know is how Lucy and Flynn are connected.