Before There Was "She Persisted," There Was...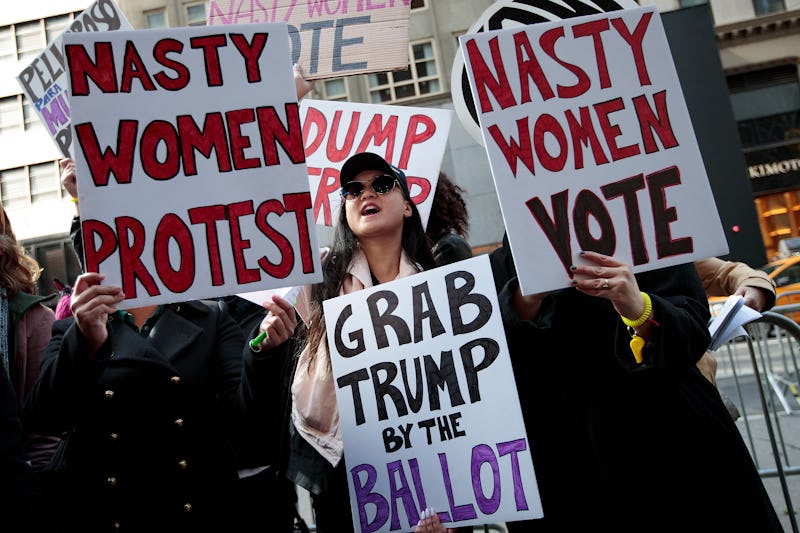 Drew Angerer/Getty Images News/Getty Images
You've doubtless heard about how Senate Majority Leader Mitch McConnell's attempt to silence Elizabeth Warren with the words "She was warned, she was given an explanation, and nevertheless, she persisted" were almost instantly turned into a new feminist rallying cry, #ShePersisted. The phrase caught on like wildfire because people noted, correctly, that it is basically the history of feminism in a nutshell. But if you're newly inspired to doodle it on everything you own, get a tattoo, and make elaborate plans to get custom buttons made, best make some room: #ShePersisted is just the latest in an impressive line of feminist slogans throughout history — a number of which also turned criticisms into shows of strength.
2016 was the Year of the Nasty Woman, and the funny, arch, incredibly angry signs from the various Women's Marches in January indicate that brilliant feminist sloganeering is a flourishing art today. But a good saying that fits on a sign has been a part of the fights for women's rights for a long time, even though your school history textbooks might have only shown you "Votes For Women." So when you make your #ShePersists sign for your next protest march, remember that you're part of a long, important lineage — not just of people who stood up for what was right, but of people who were smart, dynamic, and totally witty while doing it.