Thinx Launched A $400 Period Sex Blanket & Twitter Has A Lot Of Thoughts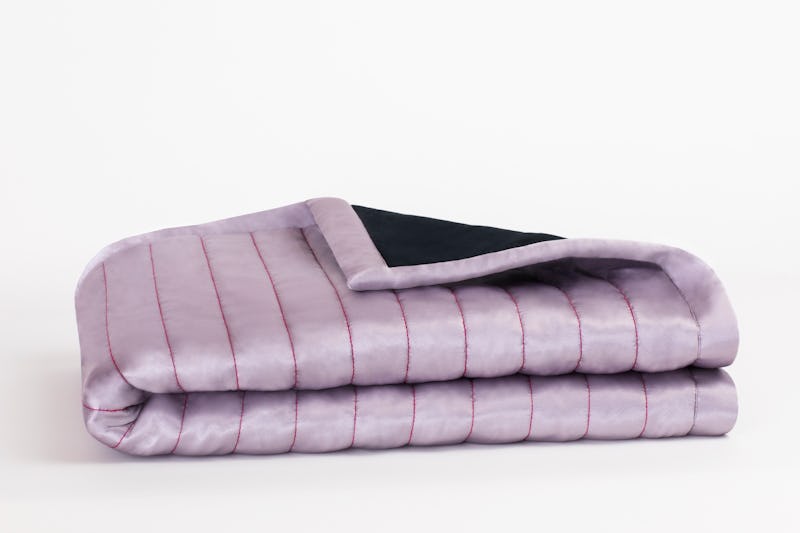 Courtesy of THINX.
THINX — purveyor of the much buzzed-about period underwear — debuted a new product on June 21. A sponge-like blanket designed to sop up whatever blood you might spill during period sex. The 54"x37" rectangle of the brand's "patented 4-layer technology" comes hand-quilted in a pinkish purple material that recalls the outside of a sleeping bag, and promises to keep your sheets clean even at the height of your menses — for a price. This fancy period sex blanket will set you back exactly $369. (Plus tax.)
The product aims "to close the pleasure gap and help people with periods have the confidence to enjoy their sex life all month long," as Siobhan Lonergan, Chief Brand Officer for THINX, tells Bustle.
More precisely, the point of this extra luxe throw is to mitigate menstrual stigma, the company says. "So many people are made to feel afraid or ashamed of having sex on their period, but the truth is that period sex is totally safe and natural," THINX CEO, Maria Molland Selby said in a press release. "We hope that the introduction of our sex blanket drives a new kind of conversation around period sex; one that encourages people not to feel shame or shy away from the human body during their period."
"This is more than a blanket," Selby added, "this is another opportunity to bust through yet another period taboo and to open a much needed dialogue about period sex and sex generally."
Certainly, menstrual stigma remains a consequential problem worldwide, entrenched by centuries' worth of messaging that paints periods as dirty and shameful. As a result, menstruation has been relegated to unmentionable status, with real implications: In the United States, food stamps don't cover hygienic products, prompting some people who can't afford the relatively high price of pads and tampons to simply stay home from work and school for a handful of days each month. That trend is not confined to the U.S., and globally, the accumulated missed time stands as a barrier to the education and advancement of menstruators.
When it comes to stigma attached to period sex, some still persists. One 2016 survey found that 55 percent of participants classified period sex as "awesome" or "natural," versus 39 percent who found it "kinda gross." Regardless, 84 percent of those polled still had period sex. Another survey, from 2011, found that just under 30 percent of respondents were "totally fine with passing up" period sex, although it's unclear if vaginal or oral sex is meant. Still, some people do view sex while menstruating as an off-putting or prohibitively messy undertaking.
THINX has been quick to point out that the blanket is intended to absorb blood — it's not meant to camouflage the bloody traces of menstrual intercourse. "Our period sex blanket isn't designed to 'hide' blood, but absorb it and avoid staining sheets or towels," Lonergan says. "Secondly, its existence, messaging and conversation surrounding this product mitigate the stigma and shame behind menstrual sex simply by talking about it. The fact we're also using it to talk about period sex and encourage also addresses stigma in its own right."
The company intends its blanket to make period sex a more comfortable, more convenient activity. But people on Twitter are quick to point out that, ultimately, it's not that much more different than a towel. What seems to make people distinctly uncomfortable about the idea of having sex on this blanket is the price tag attached.
Granted, some people do derive a certain amount of embarrassment from having period sex — often, because the thought of their own blood getting everywhere reads as gross to them, or they worry it will to a partner. (Even though a person only loses about three to five teaspoons of blood during an average period, and menstrual sex isn't necessarily a huge mess.) And granted, THINX underwear save a lot of people — particularly trans and gender non-conforming people — a lot of pain. But from a financial standpoint, many may find it hard to justify the idea of free bleeding onto a an expensive blanket, even if it is big enough to cover part of a bed. Because there's that key result of the period stigma problem to consider: So many menstruators — a group that, in the United States at least, often stands at financial disadvantage to their cisgender male peers — cannot afford hygienic products to manage their monthly flow.
Chipping away at period stigma is something we can all collectively do, like donating hygienic products to people who need them (here is a helpful list of charities that do exactly this). You might consider walking across your office with tampon plainly in hand, rather than sneaking it up your sleeve or squirreling it away in a pocket. You might consider talking freely about your cycle as it naturally comes up, and engaging the people who wince away at the first mention of menstrual blood. And you might definitely consider having period sex — without spreading a protective layer over your white sheets. And you might definitely consider having period sex, and treating it like the very normal thing that it is.