Reese Witherspoon Just Gave Fans A Crafty First Photo From 'Big Little Lies' Season 2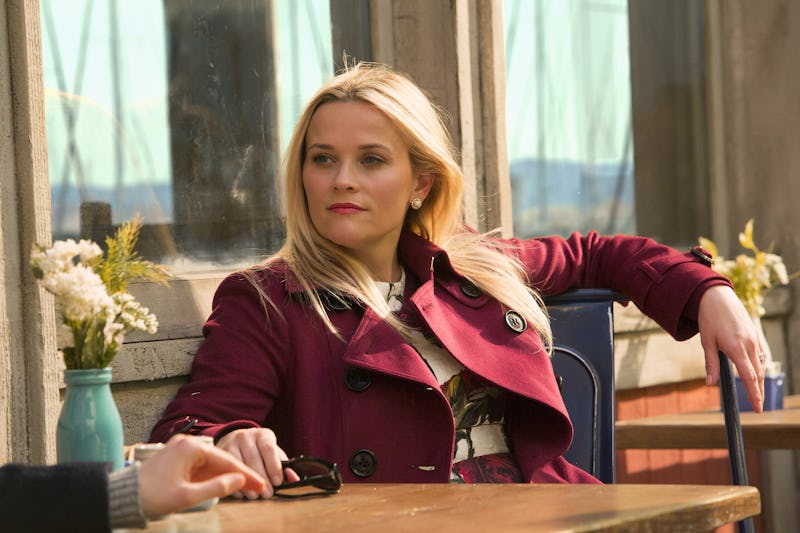 Hilary Bronwyn Gayle/HBO
Something big is happening in Monterey, and that's no lie. Big Little Lies Season 2 is currently filming, and it seems Madeline Mackenzie and Renata Klein have called a truce — at least for now. On Monday night, Reese Witherspoon tweeted a photo with Laura Dern from the set. "Look who are back in town," Witherspoon wrote, likely knowing how excited this would make so many people. (It's already earned over 18K likes.) And that excitement is not just because the show is in full swing, but because it might mean Renata and Madeline are up to something.
Take a closer look at the photo, which Dern also shared on Instagram with the caption, "Madeline and Renata are back," and you'll see the two women are hanging outside the Seaside Coffee Shop, the local hangout where so much went down last season. It's where Madeline first got to know Jane Chapman (Shailene Woodley), and Celeste (Nicole Kidman) agreed to help Madeline fight to perform Avenue Q at the local theater. It was also where Jane went head-to-head with Renata's husband, Gordon Klein, after he thought her son was abusing his daughter. So, the fact that these two have staked out a table here means something is happening, and it could be pivotal — especially knowing their history.
Last season, Madeline and Renata were at each other's throats. They couldn't stand each other, never mind think of getting together for coffee. But after everything that happened last season, these frenemies are going to have to put their differences aside and work together. Witherspoon and Dern look pretty serious in this photo, like they're ready to take care of business. Does this mean there's some scheming going on at this coffee date? Spoilers ahead. You know, the kind where you figure out how to get away with murder, specifically that of Perry Wright, Celeste's abusive husband? Or, are these two having one last airing of the grievances before they're forced to act all buddy-buddy?
Oh, wouldn't you like to know? But, alas, fans will have to wait for the answer to those important questions and more. They might have to wait a while, too, since Big Little Lies Season 2 probably won't air until 2019. To make the time go by a little quicker, though, the cast has been sharing some behind the scenes photos like this one to keep fans guessing on what might happen in this new season, which goes beyond its source material, Liane Moriarty's 2014 book of the same name.
Last week, Zoë Kravitz, who plays Bonnie, posted an Instagram from the set with the caption "Bonnie's. Back." It didn't reveal much, except that Bonnie's rocking a fur trimmed coat this season, which will pick up in the aftermath of Perry's death. It'll be especially hard for Bonnie to cope with his passing since she gave Perry the final shove that ended his life. According to TVLine, this season "Bonnie struggles with Perry's death and is forced to face demons in her past," which, despite being part of the book, didn't make it into the first season.
Already there have been some other noteworthy additions to the new season. Director Andrea Arnold will take the reins from Jean-Marc Vallée, while Meryl Streep has also joined Season 2, playing Mary Louise Wright, the mother of Alexander Skarsgård's Perry. Perry will reportedly return "in some capacity," too.
Knowing that his death is still being investigated means the the ladies of Monterey are going to have to come together, and, yes, that means Renata and Madeline, too. While it's still too early to guess why these two are looking so serious at the coffee shop, the Madeline and Renata theories should keep everyone busy.