You'll Have To Wait For 'Big Little Lies' Season 2, But That's Actually A Good Thing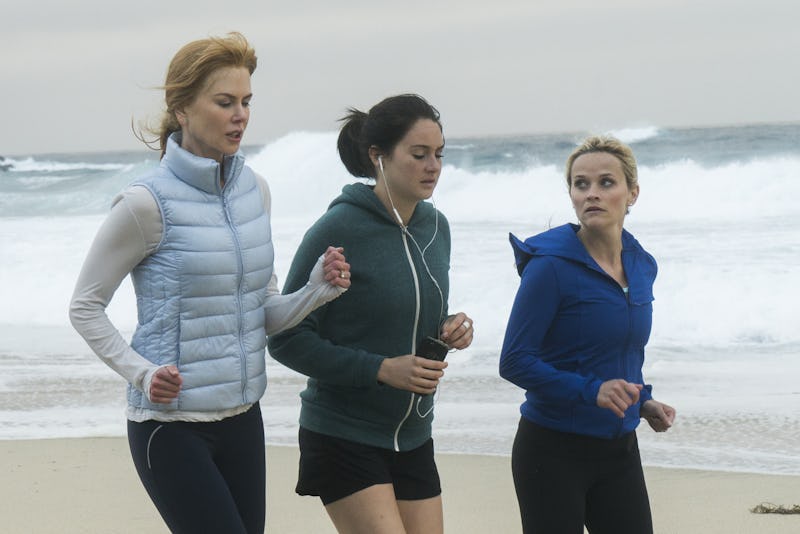 Hilary Bronwyn Gayle/HBO
If you're a fan of last year's HBO smash hit, this news might make you consider hibernating — not just through the winter, but all of this year. That's because the word on the street is that Big Little Lies won't return in 2018. In a Jan. 12 interview with The Hollywood Reporter, HBO programming chief Casey Bloys was asked if the much-anticipated return to Monterey would air in 2018 and his answer was firm. "No. They start shooting in the spring. It's not going to air in 2018," he said. (Close-readers and pessimists will notice that Bloys didn't even promise Season 2 in 2019, but try not to think about that.)
In any case, it won't be in this calendar year, which is a disappointment, but a very understandable one at that. Big Little Lies is on everyone's mind at the moment because it just came off of a successful round at the 2018 Golden Globes, walking away with four wins out of its six nominations. (One for Best Television Limited Series or Motion Picture Made for Television, and acting wins for Nicole Kidman, Laura Dern, and Alexander Skarsgard.) And while seeing the show do so well on the award circuit might make fans long for a fast-tracked Season 2 release, all the critical acclaim is just more incentive to make sure that the follow-up is done right.
After all, remember that time everyone was obsessed with the first season of True Detective, and then the second season was... um... slightly less well received? What's the most diplomatic way to put that? Season 1 premiered in 2014, Season 2 premiered in 2015, and as the exec revealed in the interview, Season 3 is slated for 2019. So HBO has certainly seemed to change their tactics when it comes to that particular show, and seem to be extending that same wisdom to Big Little Lies as well.
Anything worth doing is worth doing well. So for the moment, the show can coast on its award show wins and its fans can have a nice glass of Sauvignon Blanc out on the patio, breathe that ocean air, and just take it easy for a second.
Because the show's creators are indeed hard at work on a second season, even if that effort isn't quite visible yet. As Bloys mentioned, the show will be filming in the spring, and they were busily casting in December, so the work seems to be on schedule. Word is that the main cast is all returning, Oscar winner Andrea Arnold is taking over as director, and all seven episodes have already been written by David E. Kelley.
THR reported that Big Little Lies Season 2 will include themes of the "malignancy of lies, the durability of friendships, the fragility of marriage and, of course, the vicious ferocity of sound parenting." And it will all be based on another story by Liane Moriarty, who wrote the book on which the original season was based.
Not bad for a show that wasn't supposed to last more than one season, right? Fans have already been tremendously lucky to get this far, as Bloys underlined later in his interview as he cautioned against getting too excited about a potential third season:
"Everybody involved is so busy that it's hard to imagine aligning everybody's schedule again. The fact that we were able to get season two together is a small miracle. Could we do it again? Who knows?! It's a great group. They love working together and they're really fun to work with. But everybody is really busy. So let's see."
Basically, the long and the short of it is that this show is beloved by fans and critics alike, which makes it worth getting right. As Reese Witherspoon emphasized at the Golden Globes, these are important stories that are being told, and just like Season 1, they deserve as much time as necessary to blossom into perfection.