Reese Witherspoon Threw Ice Cream At Meryl Streep & 'BLL' Fans Need To Know Why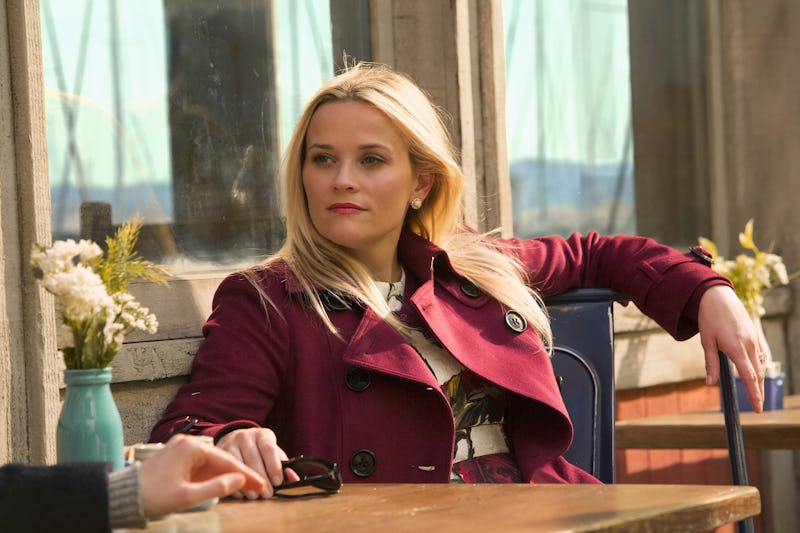 Hilary Bronwyn Gayle/courtesy of HBO
One might not imagine Reese Witherspoon throwing food at Meryl Streep to be a huge twist, but this Big Little Lies Season 2 scene might just be the biggest spoiler yet. The paparazzi caught up with the cast of the HBO hit filming its second season in Los Angeles, and snapped a picture of Reese Witherspoon throwing an ice cream cone at Meryl Streep. Yes, you read that correctly. The actor's BLL characters have some serious beef, apparently. And Season 2 is not going to one to miss.
Anyone who tuned in to the show's first season knows that BLL Season 1 ended on one heck of a cliffhanger, leading many to obsess over what the subsequent season would cover. And since hearing the news that the legendary Streep would be joining the already star-studded cast, fans have really been thrown for a loop. What will be the overall dynamic between the women of Monterey be? Will all of their petty drama finally be set aside? Because, let's be honest, they totally have much bigger fish to fry — like, police interrogations. Will Streep (who is said to play the late-Perry Wright's mother, Mary Louise Wright) be the ultimate villain coming to avenge her son's untimely death?
Even though a lot of questions about the upcoming Season 2 plot have yet to be answered, one thing's for sure: Witherspoon's character Madeline Mackenzie has a strong disdain for Streep's Mary Louise, and it isn't the least bit pretty. Unless flying ice cream is considered attractive.
Of course, once fans saw the paparazzi images of Witherspoon's character in action, they became even more excited about the upcoming season. And when one Twitter user inquired about whether or not Witherspoon's Madeline was capable of hitting her target, the Oscar-winner promptly responded, writing, "Oh Matt! No need to pray. I got her!"
Needless to say, people could not get enough of the photos, and they shared their responses all over Twitter.
If you've yet to bitten by the BLL bug, simply knowing that Witherspoon was given permission to throw anything at the legendary Streep in the second season should totally prompt you to get caught up before its 2019 premiere.
Other than this not-so-subtle clue that Madeline and Mary Louise will have their fair share of tension in the upcoming season, the nature of their relationship has been kept under wraps. But, fans know Madeline will do anything to protect her friends, so one can't imagine this is a good omen for Mary Louise and Celeste's relationship.
After the sudden loss of her husband and abuser, Celeste Wright (as played by Nicole Kidman) will obviously be trying to cope with her new role as a widow, single mother, and, ultimately, survivor. Oh, and when it comes to Jane Chapman (Shailene Woodley), who was also attacked by and had a son with Celeste's husband Perry, she'll too be seemingly processing his murder. Needless to say, both will likely have complicated relationships with Mary Louise. Maybe Madeline is throwing an ice cream cone at Mary Louise because of something she said to Jane, or even something she did to her own grandchildren — nobody knows.
So far, an official premiere date for Big Little Lies Season 2 hasn't been announced. But here's to hoping fans get an answer as to why Reese Witherspoon was throwing ice cream at Meryl Streep sooner rather tan later.