This Pool Float Will Make You Look Like A Legit Butterfly In Your Instagrams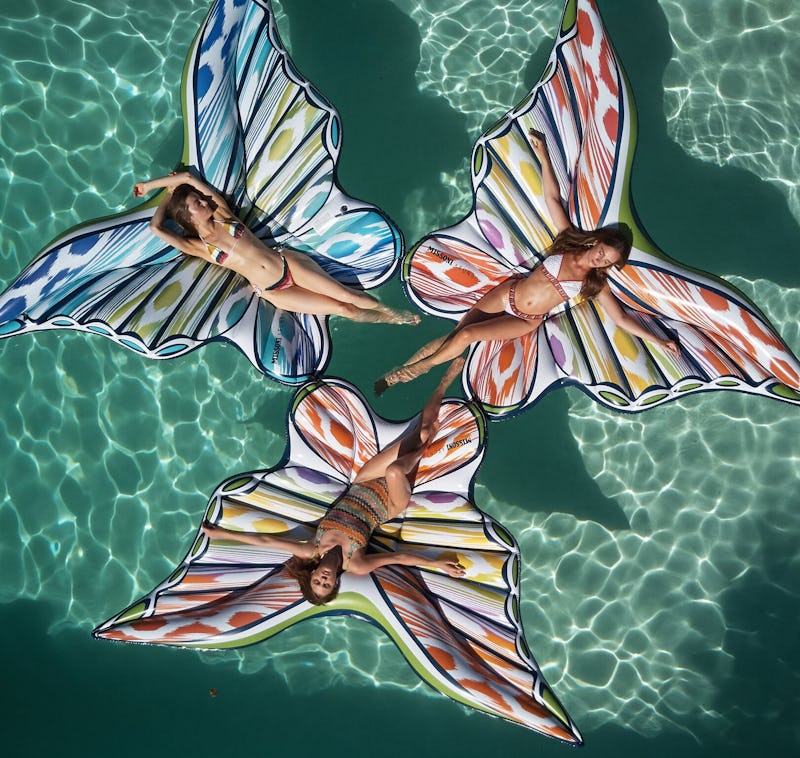 Missoni
What's not to love about funky, eccentric, and all-around fun pool floats to spice up your day by the water? There are tons on the market, and it seems like pool floats solely make up my Instagram feed during the summer months. However, the latest and greatest pool float on the market is insanely cool for a two main reasons: 1) It makes you look like an actual butterfly, and 2) It's designed by Missoni — can you get more bougie than that? A literal designer pool float.
This butterfly pool float is the latest creation from FUNBOY and Missoni — and be grateful that the two brands teamed up to ~bless~ us with this magical dream float (Ha ha! Like dream boat).
The hottest summer accessory of 2018 comes in a variety of bold and bright hues, and will set you back a cool $148 — but isn't it worth it for the 'gram? It'll make you and your squad look like actual beautiful butterflies, minus the whole cocoon and messy caterpillar phases. Just think about all the likes you'll receive, am I right?!
Maybe you're thinking it's time to hop on the bandwagon and show off your own super-cool float for summer 2018. There's only one problem: There's SO. MANY. OPTIONS.
Personally, I'm terrible at decision making, so even something as simple as deciding which pool float is best for my aesthetic and Instagram account seems challenging (I know, I know, the struggle is real).
But let's examine what's out there: There's a pool float for any and every personality. From Little Mermaid themed floats to even Kentucky Fried Chicken ones, the opportunities and options are endless. Or as Cady would say, "The limit does not exist!" (to which I say, preach, girl).
If for some reason the butterfly float doesn't ~tickle your fancy~ (or you just don't feel like spending nearly $150 on something that goes in a chlorinated pool) you're in luck. Check out some favorite (more affordable) pool floats below:
Rosé Pool Float
Giant Inflatable Ride-On Unicorn Pool Float
Kool Pool Pup Float
Avocado Pool Float
Obviously, there are tons of cool floats out there, but I guarantee you the trendiest one of the summer is definitely the butterfly float. Get ready to see it almost everywhere on social media. If you can afford one, spread your wings and fly — but can you buy me one, too?