These 'Little Mermaid' Pool Floaties Are Here To Make Your Summer Instas Nostalgic As Heck
by Callie Tansill-Suddath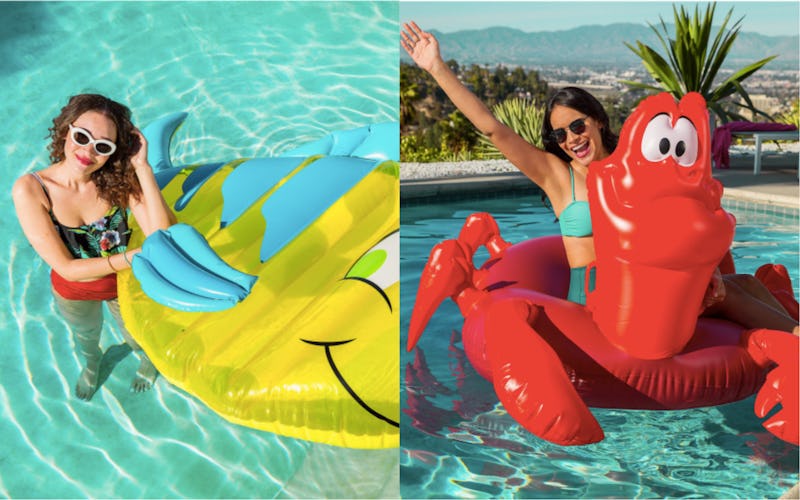 Shop Disney
Darling, it's better down where it's wetter. But even with Sebastian's wisdom in mind, sometimes you want to stay above water. So how do you indulge your inner mermaid while keeping your head dry? Through the power of a pool float, of course! Thankfully, the fine folks at Disney are looking out for those of us who aspire to be like Ariel, but understand our hair doesn't take as kindly to salt water as a mermaid's does. This summer, assemble your own piscatorial posse for a pool party with these Little Mermaid pool floats that will make you feel like a young guppy all over again.
The floats are part of a larger collection of Little Mermaid-themed products just introduced within the new Oh My Disney line. The overall collection is perfect for the twentysomething Disneyhead looking for ways to integrate a love of all things magic and Mickey Mouse with their styles now that adult commitments are a thing. It's spunky yet subdued and sophisticated, and provides the perfect alternatives for when wearing a faux mermaid tail to the function is ~frowned upon~ (though, it totally shouldn't be).
The two floats currently available for purchase are modeled after Ariel's two best buds: Flounder the fish, and Sebastian the crab. There is also a mini float available, specifically designed for your drinks.
Oh My Disney Flounder Pool Float, $55, Shop Disney
The first of the two floaties in the collection is modeled after Flounder, Ariel's shy, striped sidekick. It is made of durable vinyl and measures 65 inches by 50 inches — a perfect size for lounging not just by the pool, but IN the pool.
Oh My Disney Sebastian Pool Float, $55, Shop Disney
The larger of the two pool floaties is modeled after Ariel's crustaceous pal, Horatio Thelonious Ignacious Crustaceous Sebastian. It is slightly larger than the aforementioned Flounder floatie, measuring 67 inches by 41 inches, and made of PVC. It also comes with plastic handles affixed to either side of Sebastian's head, allowing you to hold on as you bob in the ocean waves.
The Little Mermaid Inflatable Cup Holders, $13, Oh My Disney
These little seahorses are here to keep your drinks dry. The sets come with three separate inflatable drink holders, each with a different colored mane. They are made of vinyl, and will fit a bottle of water or plastic cup.
Pool floats are the definitive must-have accessory this summer, with the Oh My Disney floats being only two of the countless options available to purchase for all your poolside needs. If you don't find Disney to be so (prince) charming, you're not out of luck just yet; there's a perfect float out there for everyone. Looking for something a bit more luxurious? Check out FUNBOY's Pink Convertible Pool Float, a queen-sized, Cadillac-shaped pool float that comes complete with a built-in cooler and cupholders. The company offers a number of other luxury pool floats that range in price from $39 to $269. Say you're in the hunt for something silly, unique and Instagrammable — look no further than Urban Outfitters' Avocado Pool float. In fact, the avocado float is only one of around thirty floats available at Urban Outfitters alone. Like I said, there's a float out there for everyone.
The rest of the Little Mermaid-themed additions to the Oh My Disney collection include everything from cups to pretty much an entire wardrobe of clothing. There's even a portable Little Mermaid speaker for sale.
Although it may not feel like it everywhere, summer is swiftly approaching. Thanks to The Little Mermaid line in the Oh My Disney collection, you can look forward to spending the warmer months swimming like a fish.