Cardi B Sang An 'Even Stevens' Song & One Of The Show's Stars Took Notice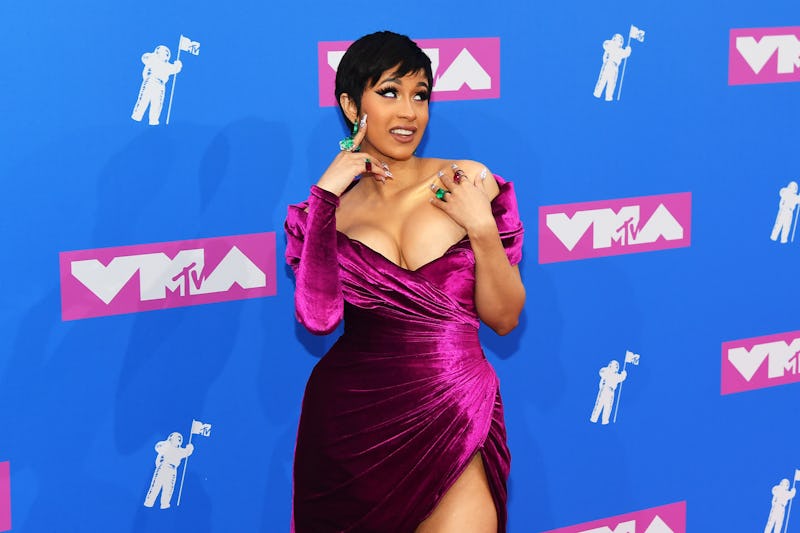 Nicholas Hunt/Getty Images Entertainment/Getty Images
Juicy J. Bruno Mars. Jennifer Lopez. Even Stevens. What do all of these things have in common, you ask? Cardi B has collaborated with all of them — yes, all of them. Well, kind of. On Sept. 26, a major Cardi B and Even Stevens crossover moment occurred via Instagram, People reported, shortly after the Bronx-born rapper asked for help identifying a song.
Cardi posted a video of herself singing the aforementioned mystery song, and while she totally nailed the lyrics, she couldn't quite remember where she'd heard the song from in the first place. "Where this song from?" she captioned the clip.
One of the upbeat verses the rapper sang went a little something like, "We went to the moon in 1969 / The trip wasn't all that easy / And when we got there we were surprised to find / That it was solid and it wasn't cheesy." Sound familiar?
Well, it sure did to the person who originally belted it out: Christy Carlson Romano aka Ren Stevens from Even Stevens. The song — "We Went To The Moon In 1969" — stemmed from a musical episode of the beloved '00s show, titled "Influenza: The Musical." That particular episode would end up marking a pretty important moment in Disney Channel history, but more on that later.
Romano reposted the video of Cardi singing the song from Even Stevens, and captioned the clip, "Hey @iamcardib I think I know who sang this," followed by a winking face emoji. Is your mind blown? Would you have ever, in a million years, guessed that Cardi B was a fan of Even Stevens? Do you think Shia LaBeouf (who played Louis Stevens, Ren's younger brother) is aware of the magical moment that just went down? Somebody needs to let him know, stat.
"Influenza: The Musical" — and "We Went To The Moon In 1969," consequently — was pretty much solely responsible for launching Disney's musical sitcom and movie craze, Chloe Schildhause of Uproxx pointed out in an oral history of the episode. Keep in mind, the "Influenza" episode came out in 2002. That means it was pre-Hannah Montana, pre-Glee, pre-High School Musical, etc.
"Disney internally called me and told me that the episode, the musical, was officially named one of the pinnacles within the channel's history, that was looked at as one of the biggest shifts in the channel's history," Romano told Uproxx. "And it must be because they then realized it was something they wanted to do across the board."
So, yeah. It certainly wouldn't be an exaggeration to call the song "groundbreaking," which is exactly what Cardi B did by singing it on Instagram. She broke ground in music history by basically creating an entirely new genre. Do you know any other multi platinum artists that have covered a song from Even Stevens? Or a song from its stylistic successor, That's So Raven? Didn't think so.
At the time of publication, Cardi had yet to comment on Romano's song identification assist. To be fair, though, the post had only been up for a few hours at that point, and the chart-topping rapper probably get about a zillion mentions every day. Keep your fingers crossed that she gets around to noticing it soon, because her response will undoubtedly enthusiastically classic.