Here's Even More Proof That Cazzie David Is Doing Just Fine, Thank You Very Much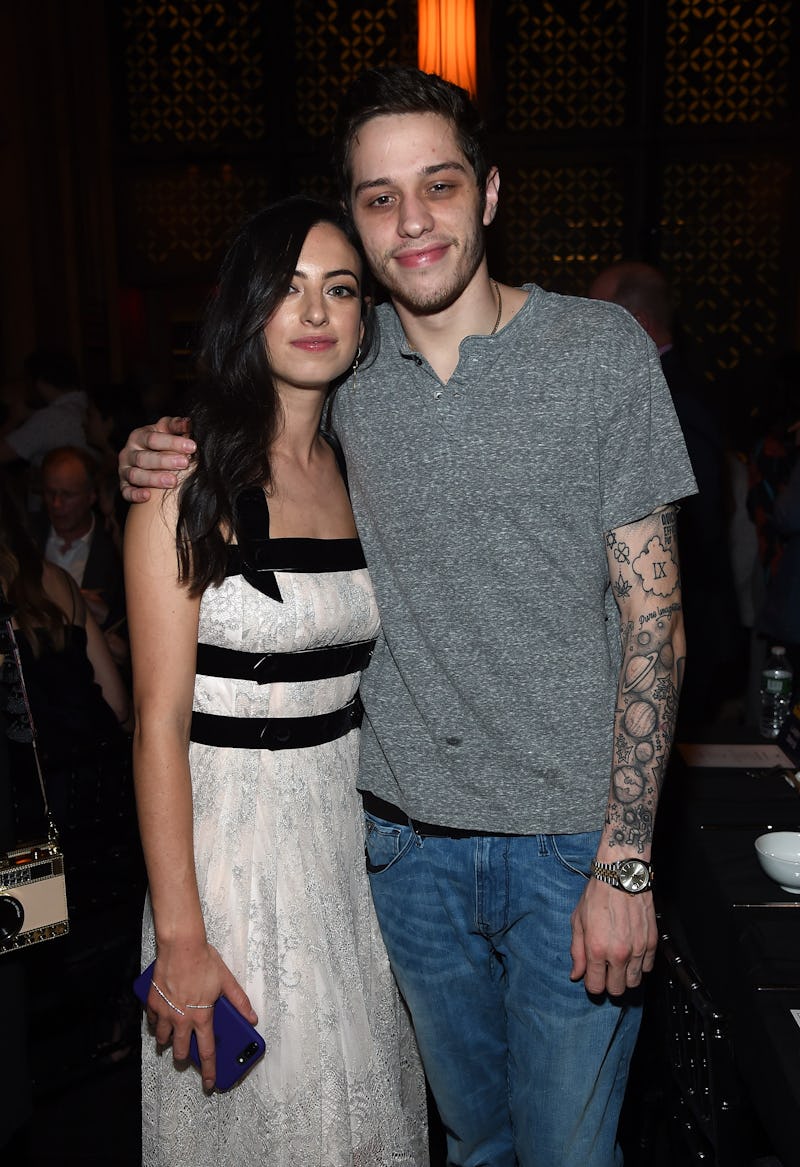 Jamie McCarthy/Getty Images Entertainment/Getty Images
Cazzie David is straight chillin', thank you very much. She and ex Pete Davidson officially confirmed their split at the beginning of May. Since then, Davidson has been in a whirlwind romance with Ariana Grande. Grande and Davidson reportedly got engaged this week after just a month of dating publicly, according to Us Weekly, and the singer has not been shy about flaunting her new huge bling. Fans seem to think Davidson's ex must be hurting, but Cazzie David is doing just fine, sources told TMZ, as if her recent Instagrams weren't already a clear indication. (Bustle reached out to David's rep for comment on this report, but did not receive an immediate response. Bustle also reached out to Grande and Davidson's reps about the engagement news, but did not hear back.)
According to TMZ on Friday, multiple sources claimed that David is moving on and letting the breakup roll off her back: "She's not dwelling on the drama surrounding Pete and Ariana's instant engagement," the site reported. And drama there definitely is. Grande and Davidson went from zero to 100 real quick, but the timeline of when Grande and her ex Mac Miller split up, and when David and Davidson split up, and when Grande and Davidson got together is super murky. What is crystal clear though is that David seems unfazed. She's been on vacation in Africa, and her Instagram posts make it clear that she's not only surviving, she's thriving.
On June 11, David posted a selfie with a big glass of red with the caption, "Came to wine country a person, leaving a human bottle of wine." Hashtag same. The 'gram was posted from Franschhoek Wine Valley in South Africa, the latest stop on her trip through the continent. Of course, people assume that the pic is some sort of subtweet-esque response to the rumored news earlier this week of Grande and Davidson's engagement, but according to what sources told TMZ, it's got nothing to do with that. She's just enjoying herself. Not everything is about boys.
Even though the wine selfie — and more so, David's earlier Instagram this week with the caption, "What'd I miss?"— seem like they're responding to the news about her ex, that's not necessarily true. Sources said David knew about her ex and Grande at that point, but it had nothing to do with her pic: "The post was a genuine shout-out to friends ... letting them know she was back from a safari, where she'd had no internet," TMZ reported. It is crucial to let your friends know when you are back online.
In short, David is feeling easy, breezy after her breakup with Davidson and amid all the drama of his lighting-quick engagement to Grande. And even if she's hurting privately, that's her business. Even Grande would say to the public to stop linking everything David does to a man and defining her by it. She got the same kind of heat when her ex Mac Miller was arrested for an alleged DUI and she was accused by a troll on Twitter of being responsible, since she supposedly broke his heart. But Grande shot back, "I am not a babysitter or a mother and no woman should feel that they need to be." Did you know that *gasp* women have their own lives, separate from men? (When Miller was arrested, Bustle reached out to his agent for comment, but did not receive an immediate response.)
So whatever Cazzie David is feeling, that's her prerogative. But, she seems to be doing more than OK — she went on safari and caught a picture of some adorable lions; that's what the kids call "living your best life." Plus, there don't need to be any winners and losers in breakups. David seems like she's doing great, and Davidson and Grande are clearly obsessed with each other. Everyone's having a good time. Although it would be fun to see Cazzie's dad Larry David roast Davidson on the next season of Curb Your Enthusiasm.