This 'Dawson's Creek' Cast Member Pretty Much Knew Katie Holmes Would Marry Tom Cruise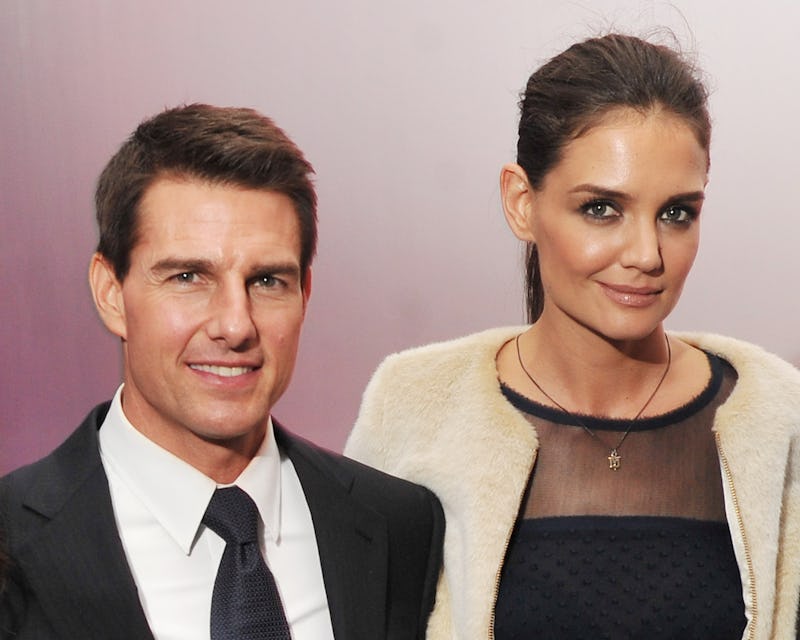 Stephen Lovekin/Getty Images Entertainment/Getty Images
The world may have been shocked by TomKat's whirlwind romance, but Dawson's Creek's Mary Beth Peil kind of always knew Katie Holmes would marry Tom Cruise. After all, Peil says, the actor formerly known as Joey Potter was never shy about her crush on Cruise. In fact, Peil always sensed that it was something more. And as Jen Lindley would probably tell you, Grams always knows best.
In an interview with The Daily Beast, Grams spilled the tea on Holmes' teenage obsession with Cruise retelling a story from when Cruise's ex-wife Mimi Rogers appeared on Dawson's Creek. Rogers, who was married to Cruise from 1987 to 1991, played Grams' daughter in the sixth and final season of the series. One day Peil, Rogers, Holmes and Michelle Williams, who played Jen, were all getting their makeup done when Peil brought up Jerry Maguire.
"Looking in the mirror, out of the corner of my eye, I saw Katie make the motion for me to 'zip it,'" Peil remembered. "Then Katie launched into a big spiel about Tom Cruise being married to Mimi Rogers, Scientology, Nicole Kidman… She knew everything about him."
According to Peil, Holmes admitted that she had been crushing on Cruise since she was 15, back when his posters lined her walls. "She could not stop talking about Tom Cruise," Peil said. "This was way before they got together, but she was certainly ready for him."
It would be another three years or so before Holmes would fall in love with Cruise. The two got married in 2006 in a lavish Italian affair that People reported at the time cost $3 million. The ceremony happened just months after they had their daughter Suri and only a year or so after they were first spotted together. The quickness should be no surprise really since Cruise and Holmes were engaged eight weeks after they first met, according to The Hollywood Reporter.
While Peil's story gives some new insight on Holmes' obsession with Cruise, she was never shy about having a crush on the movie star who was 17 years her senior. In fact, she even talked about marrying him — at least, in her dreams. "I think every little girl dreams about [her wedding]," Katie Holmes said in a much cited 2004 interview with Seventeen. "I used to think I was going to marry Tom Cruise." And then she went and actually did it giving a lot of teens with crushes hope.
The couple divorced in 2012, but Holmes told Ocean Drive in 2015 she doesn't regret any of it. "I really enjoy my life," she said. "I don't really regret anything that I've done. I've learned from everything, and everything sort of leads you to the next place. I just keep going."
Surely, Peil won't regret telling this story or revealing that the Dawson's Creek co-star she was closest to was her onscreen granddaughter, Williams. It was almost as if Peil was Williams' real life Grams. "Yes, though part of Grams was the opposite of what I was," Peil said. "I told Michelle to believe in herself. She is still hard on herself. It's in her nature. She's a perfectionist."
Peil even told The Daily Beast that she'd love to be part of the Dawson's Creek reboot if it ever happens. "Of course," Peil said, suggesting a possible storyline. "Grams would probably be in a nursing home."
No matter where Grams is now, it's clear that you don't want to wait to hear her hot take on the love lives of her Dawson's Creek co-stars. Maybe next time she'll let fans know whether she had an inkling about Williams and her new husband Phil Elverum.