Meryl Streep's Daughters Gave Their Dad The FUNNIEST Gift For Being Her Date For 40 Years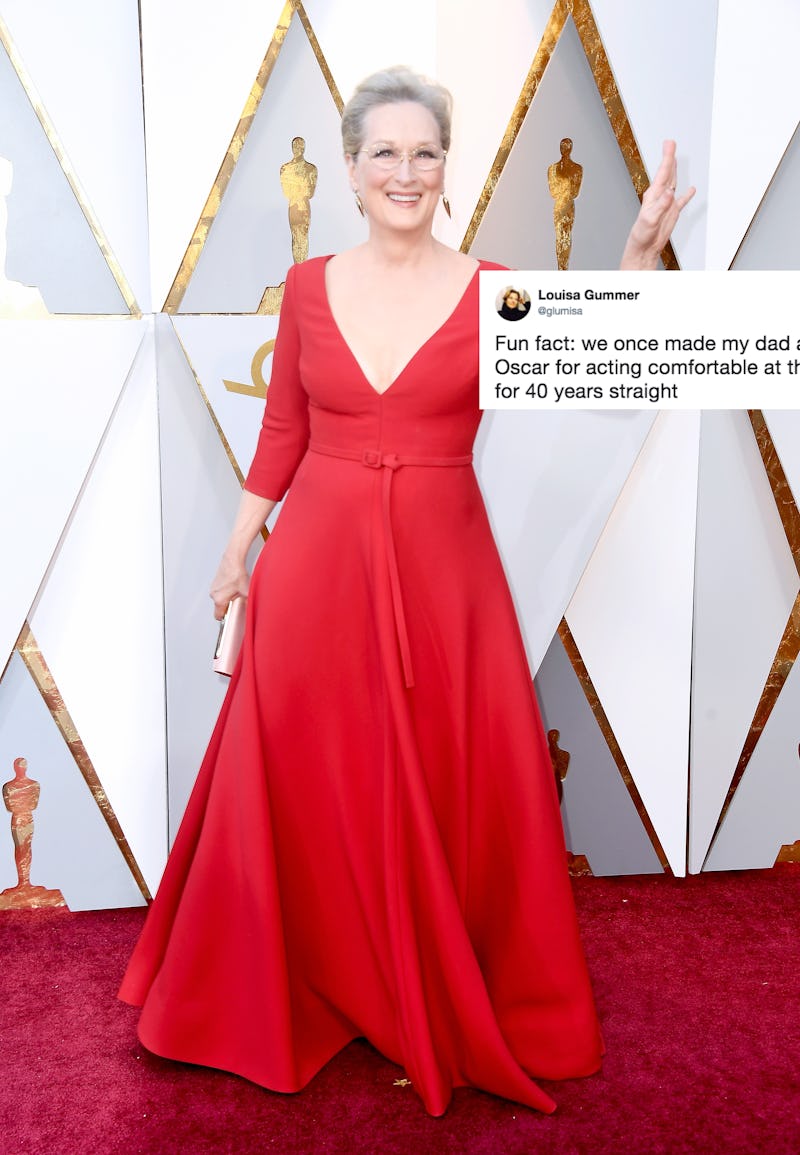 Frazer Harrison/Getty Images Entertainment/Getty Images; Louisa Gummer/Twitter
CORRECTION: A representative for Meryl Streep clarified on March 6 that Louisa Gummer does not have a Twitter account and that the tweet cited below is from a fake account in her name.
While Meryl Streep is nominated for Best Actress at the Oscars, there's another member of her family who got the internet's attention on Sunday night. On Twitter, The Post star's daughter appeared to give a special shoutout to her dad, which soon went viral. The account claiming to be Streep's daughter Louisa Gummer tweeted that Streep's husband received an honorary "Oscar" from their daughters. However, a representative for Streep has since confirmed that the account that tweeted the story is fake.
Alongside side-by-side photos of Louisa's famous parents on red carpets decades apart, the fake account tweeted,
"Fun fact: we once made my dad a fake Oscar for acting comfortable at these things for 40 years straight"
Streep was first nominated for 1978's The Deer Hunter, according to a comprehensive list on The Hollywood Reporter's website. And over the years, she's raked in 21 Oscar nominations in total — impressively making her the most nominated actor of all time. However, despite the slew of noms, Streep has only won three times. Sure, that shouldn't necessarily have an "only" in front of it, as any win is impressive, but only taking home three out of 21 nominations isn't exactly the odds fans might expect.
Yet even if she doesn't take home a trophy at each Academy Award ceremony she attends, there's one thing she can count on: Streep's husband Don Gummer being by her side. You can see the two posing alongside each other at the 90th ceremony in the bottom right side of the photo below.
In total, Streep and Gummer have four children together: Henry Wolfe, Mamie Gummer, Grace Gummer, and Louisa. The couple is so sweet; seriously, look back at some of these snapshots of the two at the Oscars over the years.
And here they are, celebrating a win:
If that's not enough to make fans smile, just look at her resting her sweetly head on his shoulders.
This photo shows the pair sitting there, being good sports, as candy was handed out to attendees all around them.
Sometimes fans watching at home complain about the ceremony seemingly dragging it on, but, for actual celebrity attendees, the experience goes on even longer. Not only do they sit through what you see on your TV, but there's the entire red carpet and afterparties to get through. While it must be exciting, that also sounds exhausting. So you can easily understand why it would be great if Gummer and other celeb husbands received honorary awards for dealing with the Oscars for so many years.
Despite the fact that the tweet was eventually declared fake and taken down, Twitter totally wanted to celebrate Gummer. One person even dubbed him their "favorite part" of award ceremonies — which sure does say a lot.
His ability to make it through the ceremonies like a champ clearly did not go unnoticed by the general public.
Others expressed love for the entire family in general, and it's easy to see why.
Although Streep did not take home the Oscar for Best Actress for The Post, in fans' eyes, she's already a winner for recreating one of the greatest memes of all time. Just as she shouted into the air at the 2015 SAG Awards, Streep threw her hands to her mouth at this year's Oscars to let out a howl of approval. And the internet is living for it. It's like the gift that no one knew they needed — until now.
Looking at Twitter, the Streep-Gummer family totally won big on Sunday night.