Khaleesi May Lose A Powerful Ally If This Photo Is To Be Believed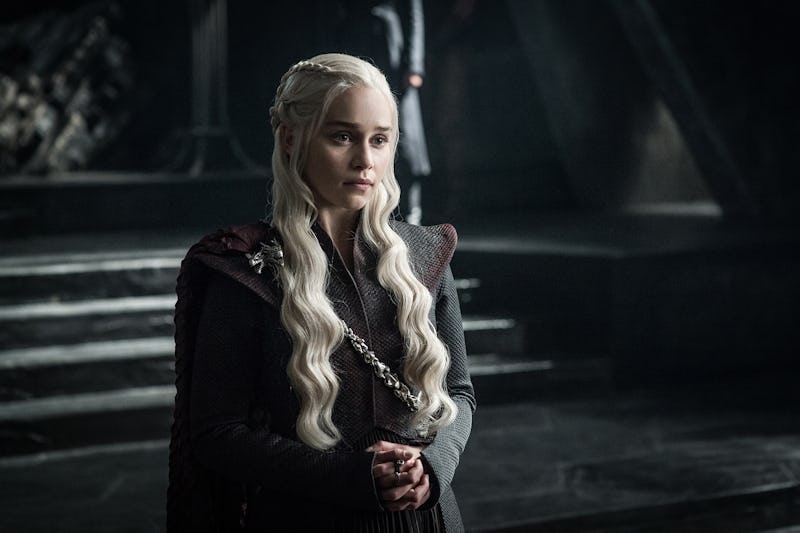 Helen Sloan/HBO
What's evidently clear after the Season 7 premiere of Game of Thrones is that alliances are going to be important in the race for the Iron Throne. Its current occupant, Cersei Lannister, is trying to make things work with Euron Greyjoy, while Jon Snow is just trying to keep the North inline to take on the White Walkers. As TVLine points out, though, a new GoT photo hints that an ally of Daenerys Targaryen may be jumping ship and taking her army with her.
The Season 7 Episode 2 photo features Ellaria Sand, who has pledged allegiance to Khaleesi. And from the looks of it, things are pretty tense. That's some serious side-eye Khaleesi is giving. But the fact that Ellaria is at Dragonstone may mean there's trouble in paradise for these two allies, especially since she has a history with Daenerys' righthand man Tyrion Lannister.
When Ellaria made her pledge to Daenerys, it was because she wanted to get revenge against the Lannisters who brutally killed her love, Oberyn Martell, in a fight to the death. It's one of the hardest GOT deaths to watch, and that's really saying something. Oberyn died while trying to save Tyrion and now Ellaria is coming face-to-face with the man who fans can't imagine she has much love for. The question is, can Ellaria put that aside and really work with Khaleesi?
This photo seems to reveal that fans will get an answer to that question sooner rather than later. After all, the synopsis for the second episode of Season 7, titled "Stormborn," mentions an "unexpected visitor," who will show up at Daenerys' door. It's hard to believe it isn't Ellaria looking for some answers.
No surprise, the photo doesn't give much away. Ellaria's back is facing toward the camera, so it's unclear what her reaction to Tyrion standing right in front of her is. That being said, no one else in the room looks too pleased. One may even say it appears Tyrion looks concerned, which, knowing Ellaria's fierceness, makes sense. Ellaria is quick to take out those who have wronged her. In fact, she made sure Cersei's daughter Myrcella didn't make it home alive as a way to show the now Queen she meant business.
And it's hard to believe Ellaria isn't going to push back against Tyrion being on her side. Especially when he's planning the "conquest of Westeros," as the episode's synopsis reveals. If Ellaria wants to use that bad blood in her advantage she'll take her Sand Snakes and go home leaving Khaleesi down an ally for an important fight. Worse, Ellaria may find an ally elsewhere and reveal what it is Daenerys is up to.
As TVLine points out, it's possible that Ellaria saying bye bye to Daenerys may lead to Yara Greyjoy calling it quits, too. After all, the Season 7 trailer teased that Yara and Ellaria would be doing some kissing in between all the fighting. And, is it just me, or does Yara seem to be sizing Tyrion up?
If Daenerys begins to lose these allies, it puts her in a vulnerable position against Cersei, who knows she has to make a move and has to do it soon. Of course, this will be Tyrion's greatest challenge. After all, he's always said, "That's what I do: I drink and I know things." It's finally time to put that to the ultimate test.