Every Gleek Needs To See This Mini Reunion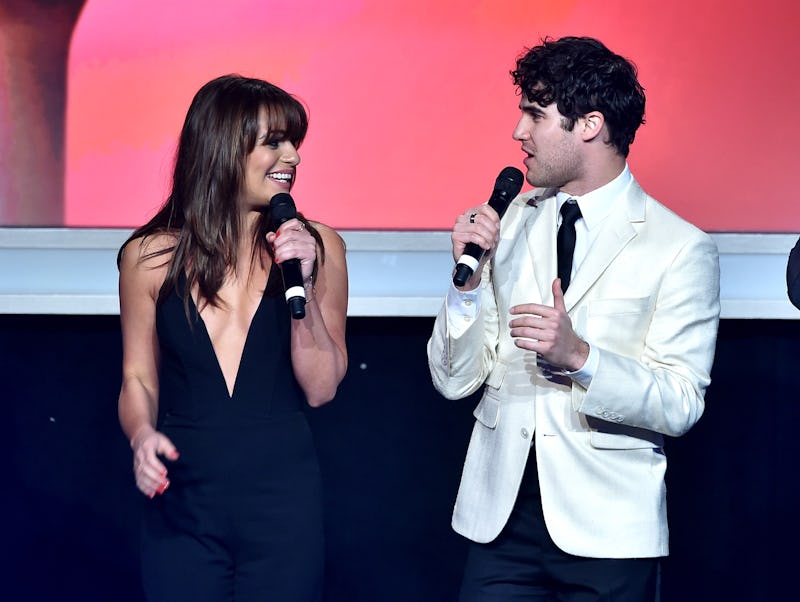 Kevin Winter/Getty Images Entertainment/Getty Images
Rachel Berry and Blaine Anderson got together for a night of wine, reminiscing, and singing, and, yes, it was as glorious as it sounds. As Entertainment Weekly reported, Lea Michele and Darren Criss had a Glee reunion on Facebook, and the results will remind you just how much you miss McKinley High. Michele and Criss both have new music coming out — Michele with her album Places (set to be released April 28) and Criss with his new band Computer Games Music. So to celebrate, the former castmates decided to have a little reunion for their fans.
For 30 minutes, the pair simply sat and chatted on Facebook Live while sipping red wine and laughing over their favorite Glee memories. The most surprising revelation to come out of the video may be just how much stuff the actors took from the show's set. At one point, Michele sneakily panned the phone to show off all of the Glee memorabilia Criss keeps in his home, including a trophy from the set and his original Warblers jacket.
Cuteness, thy name is Michele and Criss. It seems their live video came after nearly 48 hours spent hanging out. During that time, they recorded three songs together, and spent some time with their friend and fellow Glee alum Chord Overstreet. (They also really want Amber Riley to text them back, but that's another story.)
Glee fans, if you are freaking out, no one can blame you. Michele and Criss' relaxed reunion is the stuff dreams are made of, and it even led to the pair singing their first duet from the show again, for old time's sake. Watch them sing "Don't You Want Me," and just try not to feel all the nostalgia.
Next up, Michele and Criss performed a special song from her new album. EW reports "Getaway Car" was written for her former co-star and boyfriend, the late Cory Monteith. In January, Michele explained the meaning of the song to E! Online. The star said, "We used to just get in the car and drive sometimes. Me and the tall guy and it was like our getaway and it was so great."
Finally, the duo sang one of Criss' new songs, "Lost Boys Life." It's the title song from his Computer Games Music EP that was released on March 8. Many fans were curious about the prospect of Criss going on tour to promote his new album, but for now he will be leaving the touring to Michele as he films Versace: American Crime Story.
For optimum Glee joy, you have to watch the entire chat between the stars. Seeing Michele happily admit that she loves watching Glee alone, and hearing the pair discuss their favorite (and least favorite) moments in such a casual setting is a sweet reminder to Gleeks that the cast still adores each other, even though Glee has come to an end.