'Girls' & 'Golden Girls' Collide In This Magical Spoof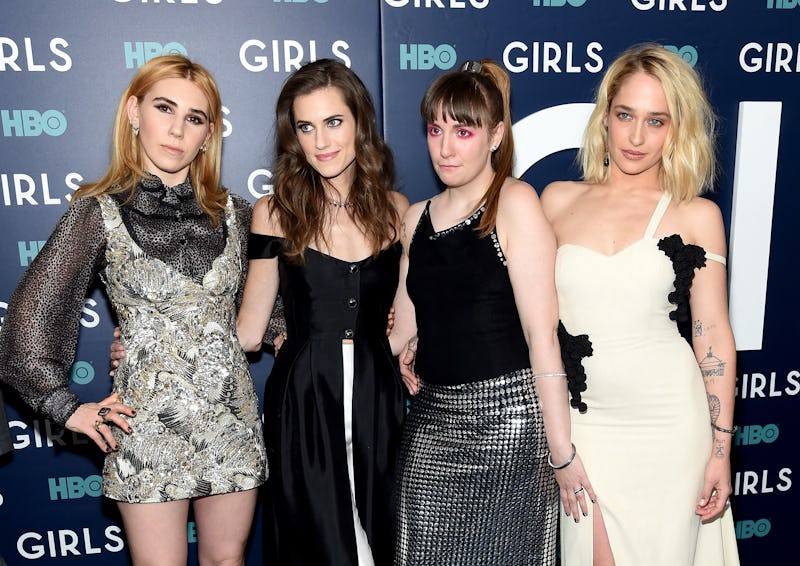 Jamie McCarthy/Getty Images Entertainment/Getty Images
This news calls for cheesecake, possibly eaten in a bathtub. On Wednesday night's episode of Jimmy Kimmel Live, the worlds of Girls and Golden Girls are set to collide, according to Deadline. The cast of Girls is set to appear as their own version of the Golden Girls crew, and in the process they (sort of) recreated the opening credits of the classic '80s sitcom, with a few special Dunham touches.
Instead of using the familiar "Thank You For Being My Friend," the clip uses Icona Pop's "I Love It" over images of Dunham, Zosia Mamet, Jemima Kirke, and Allison Williams sporting old age makeup and hanging out in a recreated Golden Girls set. Yes, this is what pure joy feels like.
While the clip is bound to leave you arguing over which Girl coincides with which Golden Girl, the spoof should make fans of either show grin. If it also leads to you daydreaming about the cast of Girls reuniting in 30 years for a show about their characters moving in together in Miami to figure out how to navigate their 60s, know you are not alone. This is the future spinoff that needs to happen.
In the meantime, enjoy Dunham flashing her boob and Williams stuffing her bra with items found in the fridge. Seriously, this clip is proof that crazy TV crossover dreams do come true — all that's missing is a guest from Betty White.
Hopefully, this is just a taste of what's to come in the full Jimmy Kimmel episode, because let's be real, everyone wants to know where Hannah, Marnie, Jessa, and Shoshanna will be by the time they reach retirement age. If Dunham gives the world an old Adam update, there will be some definite spazzing out (at least from me).
While it may seem like an odd comparison on the surface, Girls and Golden Girls have a lot in common. Both of these groundbreaking series featured women who didn't care what the world thought about them and specialized in giving each other a hard time. Dunham is a fan of the sitcom, and as Deadline points out, way back at the 2014 TCAs, she revealed she envied the cast's energy.
With Girls coming to end with Season 6, it is such a treat that Dunham and her cast have an opportunity to pay tribute to Golden Girls before they all head off for other projects. I can't speak for Blanche, Dorothy, Rose, and Sophia, but I like to think the gals would get a kick out of this flawless homage.