This 'Home Alone 2' Hotel Package Lets You Live As Kevin McCallister For A Day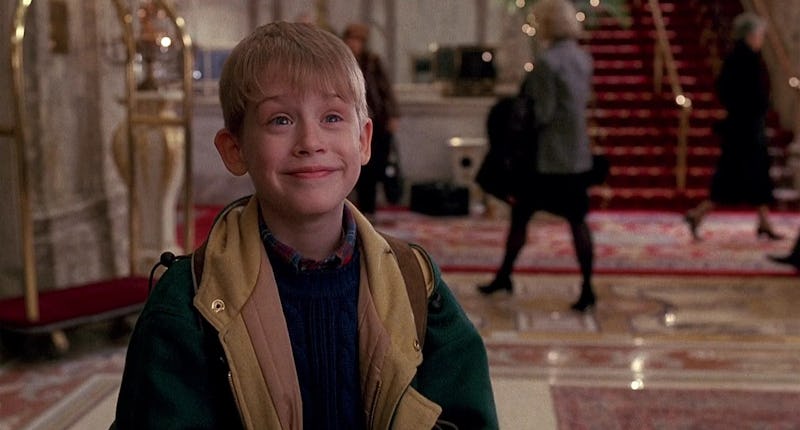 20th Century Fox
Kids of the '90s, all your wildest dreams are about to come true: New York's Plaza Hotel is offering a Home Alone 2 experience in honor of the beloved holiday classic's 25th anniversary. Have you ever wanted to build a giant ice cream sundae in your hotel room? Eat pizza while driving around New York in a limo? Defeat a bunch of notorious bandits using your own cleverness and trickery? Well, I can't promise you'll manage to accomplish that last goal — but the others are more than doable.
Released on Nov. 20, 1992, Home Alone 2: Lost in New York saw Kevin McCallister (Macaulay Culkin) alone for the holidays again — this time in New York, due to a mix-up at the airport. (Things that would likely never happen today definitely include an 11-year-old child boarding the wrong airplane and ending up 1,300 miles away from their parents/guardians.) Luckily, though, he's got his dad's credit card on him and manages to get around just fine thanks to that.
That includes booking himself a room at the Plaza Hotel. First opened in 1890, the original Plaza was actually demolished just 15 years later; by that time, it had become so popular that the building as it stood wasn't nearly large enough to accommodate demand for rooms. A larger building was built on the same site, opening in 1907, with an annex that further expanded the property following in the early 1920s.
The hotel has long been known as a place at which one can both see and be seen, so it's no wonder that Kevin opted to get himself situated there; it's well known by reputation even to non-New Yorkers, after all (and hey, it's always possible that Kevin was familiar with the Eloise books, too). And now, thanks to the Home Alone 2 experience, you, too, can partake in Kevin's madcap adventures.
The experience consists of a few different elements, according to the Plaza's website:
The Home Alone 2 Anniversary Room Package
This one is basically a room package that comes with a ton of Home Alone 2 swag — a branded backpack, T-shirt, and anniversary edition Blue-ray of the movie are all included — and an "interactive photo booth"… but let's not pretend that we're in this for anything other than the "complimentary in-room ice cream plaza style sundae cart ordered via room service." Go ahead and have three scoops. You're not driving.
The room package starts at $895, which, as ABC News points out, is less than what Kevin spent on room service in the movie (he dropped $967 on treats). It's available to book from Dec. 1, 2017 all the way through Oct. 29, 2018 — so, I mean, hey, looks like you can make it Christmas in July if you like.
Optional Add-Ons
The Plaza's concierge can also arrange express passes to the top of the Empire State Building, an ice skating excursion at Wollman Rink in Central Park, and — most importantly — a four-hour limousine tour through New York, complete with a Home Alone 2 map enabling you to follow in Kevin's footsteps. Don't forget to grab a pizza to take on the road with you. (These add-ons almost certainly cost extra, though, so know that they're probably not included in the basic Home Alone 2 Anniversary Room Package.)
The Home Alone 2 Exhibit At The Plaza's Food Hall
Per the Plaza's website:
"For those who plan to pop in to The Plaza for their share of the HOME ALONE 2 experience there will be plenty to see and do including a one-of-a-kind photo experience will allow fans to 'be Kevin' experiencing his journey throughout the movie. Guests will walk their way through the NYC skyline for photo opportunities with the Wet/Sticky Bandits, a Central Park scene and have the opportunity to choose a custom photo booth experience for photos to take home with them."
Honestly, I don't entirely know what all that means or entails, but maybe the discovery is part of the fun.
The '90s Throwback Menu At Todd English
The Todd English Food Hall at the Plaza presents a European-style specialty food hall — and starting on Nov. 17, 2017, one of your options there will be the Home Alone 2-inspired '90s Throwback Menu. I'm equal parts fascinated and horrified by the whole thing, which you can view in its entirety here; it consists of gourmet takes on SpaghettiOs, Funyons, Lunchables, and Hot Pockets, with a cocktail menu inspired by Capri Sun, Sunny-D, and Zima. WHAT EVEN IS A GOURMET SPAGHETTIO.
Oh, also, on Sunday nights, they'll be screening Home Alone 2 in the food hall, so you can nosh on your '90s-inspired meal while reveling in a glorious piece of '90s media the same time. Fun!
The Plaza, by the way, is no stranger to entertainingly gimmicky pop culture packages; in 2010, the hotel debuted the Eloise Suite, and in 2013, the Great Gatsby-inspired Fitzgerald Suite arrived. The Eloise Suite, named for Kay Thompson's Plaza-dwelling fictional character Eloise, offers an experience including Eloise tea for two at the Palm Court, an Eloise gift bag full of swag, a welcome letter from Eloise, and more; meanwhile, the Fitzgerald Suite, which was designed by Oscar-winning costume and production designer Catherine Martin (who worked, among others, on Baz Luhrmann's 2013 big screen adaptation of The Great Gatsby), includes white butler glove service.
For more info about the Home Alone 2 experience, head on over to the Plaza's website. Happy holidays, ya filthy animals.