This Inflatable Swim-Up Bar Is Exactly What Your Next Pool Party Needs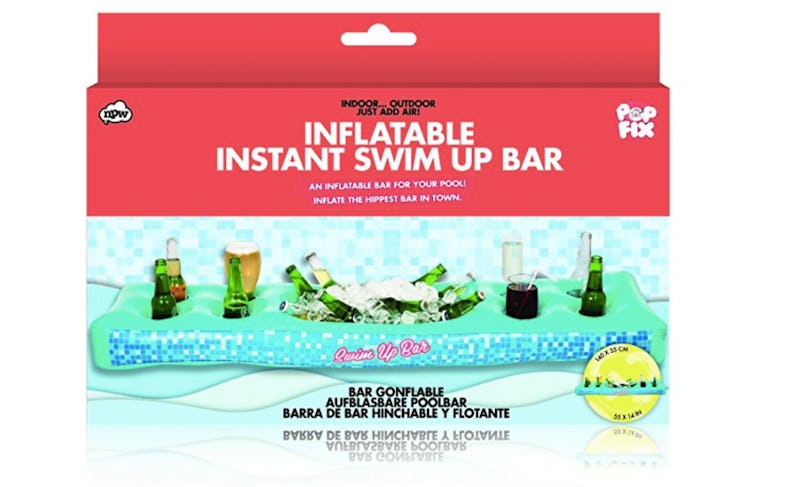 Pop Fix
If you are lucky enough to have a pool in your backyard, but have lately been lamenting your pool's lack of swim-up bar, good news: We can fix that. An "Inflatable Instant Swim-Up Bar" exists, allowing you to keep your beverages both cold and handy as you drift around your own tropical paradise. While it's true that it may not reach resort levels of luxury, it's hard to argue with a swim-up bar that'll only set you back around $20. Welcome to summer, everyone. The sun is hot; beer is cold; come on in; the water's fine.
I stumbled upon this delightful little invention yesterday while I was looking into the whole Inflatable Hunk situation. Like the Inflatable Hunk, the Inflatable Instant Swim-Up Bar is made by Pop Fix, a new-ish, UK-based company that makes pool floats shaped like everything from beefy men to poop emoji. This one, however, isn't meant for humans to lounge on (although if you took the drinks out of the equation, it would probably work just fine as a standard pool float, too); it's meant to hold your beverages for you, eliminating the whole "Ugh, I want my drink, but I don't want to leave the water, what do I dooooo?" conundrum that can frequently plague a lazy day by the pool.
Of course, when it comes to floating booze holders intended for home usage, it's usually best to keep your expectations reasonable (and by "reasonable," I mean "fairly low"). The phrase "swim-up bar" usually conjures up images of a sturdy yet aesthetically pleasing countertop with an easy-going bartender stationed behind it who mixes up the kind of cocktails served in whole pineapples and hands them to you with a smile as you lounge on a bar stool located directly in the water — images like this:
And this:
And this:
This swim-up bar is… not that. You can't lean on it, for one; you'll capsize the whole thing if you do. It also doesn't come with bar stools — and it's not equipped with its own easy-going, pineapple-slinging bartender, either. (And before you ask: I doubt the Inflatable Hunk will be up for the job. Besides the fact that his arms are firmly attached to his pool float body… well, you can't operate a cocktail shaker or a blender if you're, uh, made of rubber and full of air.)
If you're willing to adjust your definition of "swim-up bar" to something more like "floating drink holder," though, Pop Fix's inflatable option, which is available on Amazon for $20, should get the job done. 55 inches in length, it contains eight slots for drinks, which can apparently be used for either cups or bottles, as well as a larger well in the center which can be filled with ice and used like a cooler. There's a scale image available on both the Pop Fix website and the item's Amazon page which shows roughly how it measures up compared to a typical adult:
But just for kicks, I pulled out my measuring tape to see how accurate it was. And hey, guess what? I was pleasantly surprised to find that one to three adults should find hanging out behind the bar fairly comfortable.
There aren't a ton of reviews for the item on Amazon, but the few that are there are fairly positive. One said that, as a gift for a sibling's pool, "it was a hit," while another wrote that it's "awesome to keep in the pool when you're too lazy to get out of the water." One reviewer did note that it's "hard to get it blown up enough to have it stand straight"; however, I imagine that issue might be fairly easily fixed with the use of an air pump.
Perhaps unsurprisingly, though, Pop Fix's offering is far from the only floating swim-up bar on the market. Personally, I'm kind of into this one from Jasonwell with a giant rainbow arching over the drinks:
Although this floating pineapple-shaped cooler by BigMouth is pretty great, too:
You can even get a full-on floating tiki bar from Swimline, if that's your jam:
Or, you go simple and just get a floating buffet kind of deal:
(This one comes with pineapple floats for your human body, which I kind of dig.)
If you really want to up the ante in your at-home floating bar setup, you can go ahead and snag some pool-friendly bar stools like these ones by Envy, too:
So, what I'm saying is, you've got options — if, that is, you don't want to go all out and build a permanent swim-up bar in your own in-ground pool. They're not cheap; according to AZ Central, building a "basic backyard oasis" will probably cost you at least $25,000. But if you've got the money to burn, the space to build, and the inclination to keep up with the maintenance… I'd be willing to bet that having your own in-ground pool with an actual swim-up bar would make you the mot popular person in the neighborhood.
Me? I'll stick with the inflatable bar. Anyone got a pool handy? I'll bring the drinks!