Baby Miles Is Totally John Legend's Mini-Me In This Adorable New Photo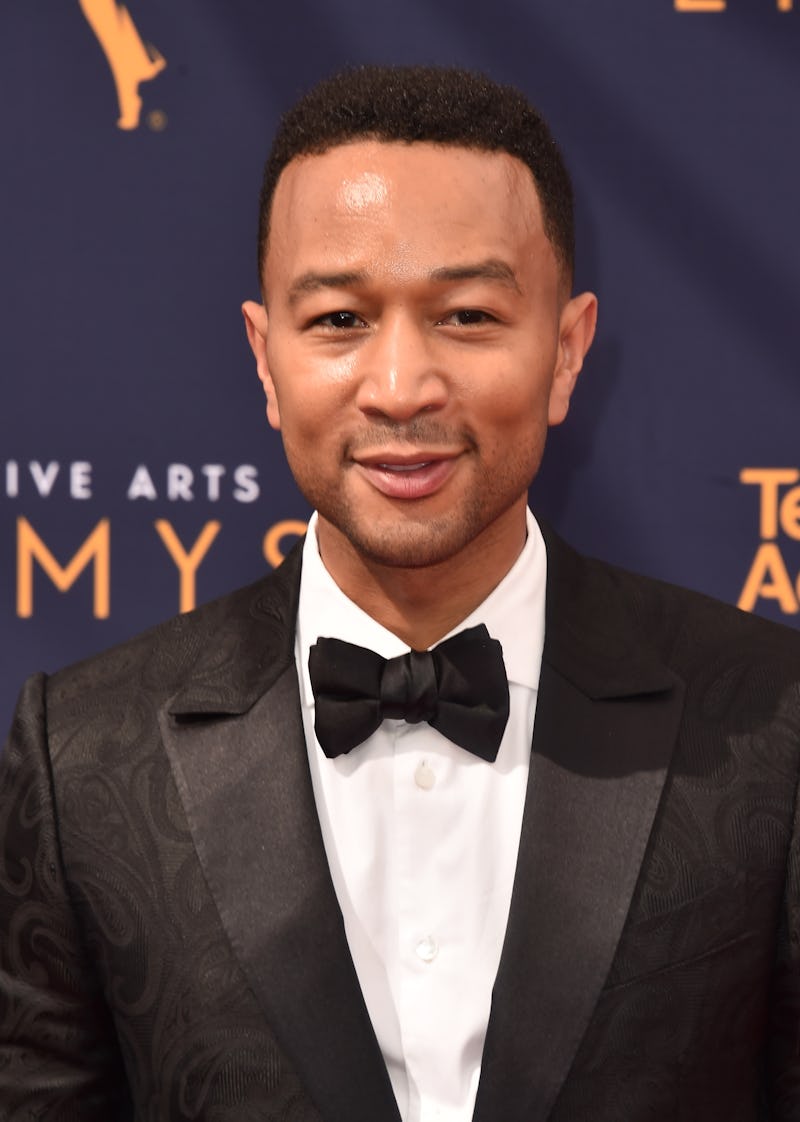 Alberto E. Rodriguez/Getty Images Entertainment/Getty Images
Just in case you needed one more reason to believe John Legend and Chrissy Teigen's son, Miles, is his dad's mini-me, here it is. On Wednesday, Legend shared a new photo of Miles cuddled up in a yellow blanket next to a photo of himself as a baby, cuddled up with a yellow blanket of his own, and it's hard to deny how much they look alike — now and as babies. And the older Miles gets, the more obvious the resemblance becomes.
Legend's had a very busy week already — securing his EGOT after his Emmy win on Sunday and all — but this proud dad is never too busy to gush over his kiddos on social media. "Miles inherited my love for lying on mustard colored blankets," Legend wrote in the caption of the photo.
Unfortunately, he didn't share the story behind either photo, but it is pretty adorable that he and Miles both managed to take such similar pictures, decades apart. No word on whether Miles' new pic was staged to match his dad's throwback picture, but either way, they're both cute babies — and it seems like Miles has inherited his dad's eyes and nose. Maybe he, too, will be destined to live with Arthur Read comparisons when he gets older?
Teigen shared a full version of the photo of Miles, writing, "I can't take it." Can anyone? This kid is the cutest.
Miles might only be a few months old at this point, but he already has such a big personality — another sign that he's probably going to grow up to be just like Legend. And in all the photos he and Teigen have shared so far, it truly does seem like he takes after his father in a big way.
Just look at this face. This has Legend written all over it.
And then, there's this video of Miles that Teigen shared back in August. He looks like Legend in photos, but in videos? It's uncanny, as many of Teigen's followers pointed out in the comments.
Plus, that little giggle and his smile? How could anyone get enough of this baby? It's a good thing that Legend and Teigen are both so cool with sharing parts of their kids' lives on social media with the rest of us, or this world would be experiencing a severe lack of adorable.
Being that Luna looks so much like Teigen, it's awesome that Miles looks so much like his dad. In this photo that Legend shared from the family's trip to Bali earlier this summer, it's wild to see exactly how much they take after their parents. And somehow, they both just keep getting cuter.
It's been so much fun watching Miles grow up so far, and watching Legend and Teigen as parents. Luna and Miles are both very lucky kids — and with a family resemblance this strong, it seems like they'll only look more and more like their mom and dad as they get older.