The New Must-Have Pool Float Of The Summer Is Literally A Light-Up Bean Bag
In what is considered perhaps one of the most recognizable songs of the early 2000s, "Float On" by Modest Mouse turned a simple phrase into an aggressively positive anthem of collective encouragement. To say you feel like you're floating means an overall freedom from anxiety, so naturally ~actually~ floating should have the same effect. But how does one, as a human, actually float? On water, of course! If you're looking to kick back and spend the summer floating on like you're in a pop song, look no further than this exquisite light-up bean bag pool float from Glow Float.
Described on the company, Frontgate's website as a "color-changing inflatable lounge chair," the float is "Crafted from durable PVC molded plastic, [and] easily inflated thanks to the included remote control and air pump." Not to mention, "A switch on the back allows your float to glow in up to TWELVE DIFERENT COLORS in two modes that keep the pool party going all night long." Just imagine how different night-swimming is going to be as you float along the pool in your luminescent beanbag chair. It will be like an aquatic nighttime rave except a lot more chill.
There is no shortage of pool floats available for purchase this summer (trust me; I have written about tons). But one thing that makes this pool float so special is that is allows you to recline.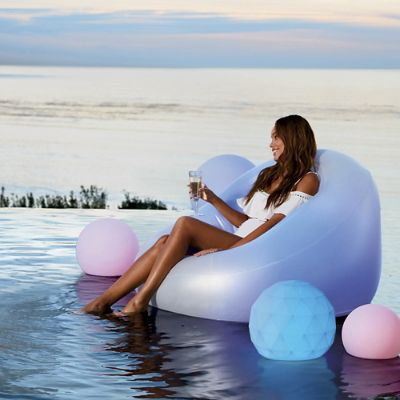 It sounds foolish, but hear me out: The major selling points of many of the floats on the market are their unique aesthetic qualities. In fact, the entire pool float craze began with an influx of Instagram pics posted by celebrities atop their newest aquatic accessory: a large swan-shaped float. Taylor Swift and then-boyfriend Calvin Harris were the first to channel their inner sailors while relaxing in the rubber bird. Trendsetters like Alessandra Ambrosio, Emmy Rossum, two members of the Kardashian-Jenner crew, and twee queen Zooey Deschanel also hopped aboard the trend (and floats) back in 2015. To say the popularity of the pool float has withstood the test of (three years) time would be an understatement.
In the time since, countless other creative floats have been released. Right now, you can prepare for summer by snagging a luxurious, queen-sized convertible-shaped pool float that comes equipped with a champagne cooler. Or, if Disney is your thing, opt for some Little Mermaid-inspired pool floats modeled after Flounder and Sebastian. Maybe you like the idea of an animal float but prefer Isle of Dogs to Disney. In that case this sausage dog float is the perfect pooch for your pool parties. Or just go all-out millennial and snag my personal favorite, the avocado pool float. It allows you to act like the pit of everyone's favorite verdant snack as you sunbathe in the pool.
But what is the one thing these other floats do not provide?
Back support.
That's right — they may be shaped like everything from animals to minerals, and vegetables, but none of the aforementioned creatively-shaped pool floats lend themselves to lounging like you would in a chair. It is the glow float alone that can provide such comfort. Just imagine all of the things you can do as you sit upright in a pool. Eating? Easy. Reading? A no-brainer. Drinking? Maybe stick to water — staying hydrated is vital in the summertime.
At the end of the day, what you want in a pool float is a personal preference. If you're okay with remaining supine or riding it like a noble aquatic steed, your options are endless. But, if you're looking for a way to recline in your pool, but still have the ability to remain upright, opt for the Glow Float.