This Tweet About The 'Lion King' Nails Why This Cast Is So Important For Black Children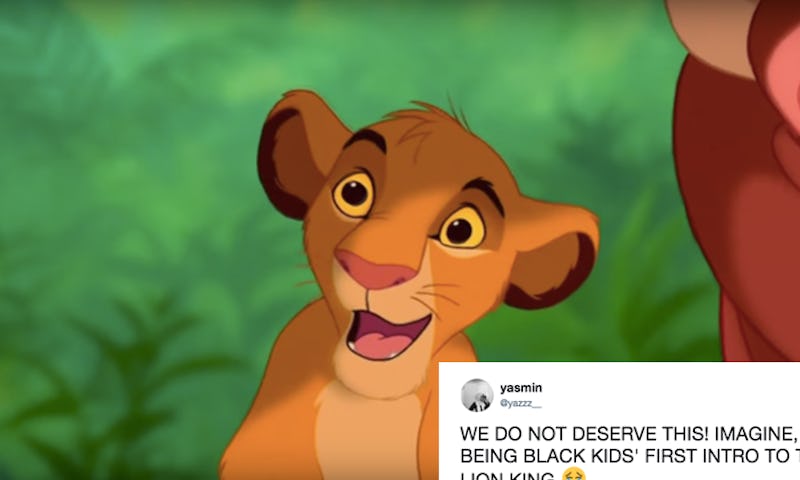 Walt Disney Motion Pictures/Bustle
The entertainment industry's struggle with diversity and inclusion has been widely publicized, and those most affected by a lack of representation in media are children. Which is part of why the live-action Lion King cast has been met with so much joy. Aside from the news that Beyoncé was added to the movie's star-studded line-up, one Lion King casting tweet pointed out exactly how important the new film will be for children of color, and that's an idea worth exploring.
As user @yazzz__ pointed out, "WE DO NOT DESERVE THIS! IMAGINE, THIS BEING BLACK KIDS' FIRST INTRO TO THE LION KING." It goes without saying that being able to identify with someone that looks and sounds like you on screen plays a critical role in one's growth and validation. However, this is a privilege that has, sadly, not been afforded to many children of color during their childhoods.
With its recent casting announcement, however, it appears that the Lion King movie will offer young black children an opportunity to feel that their presence matters. And the greatness of this movie so far stands to further solidify the presence of black excellence within the realms of Hollywood and prove what many studies have already shown: that diversity in movies result in better box office sales.
It's worth pointing out that the casting in the new film, which is slated to hit theaters on July 19, 2019, is a stark contrast from the voice actor line-up of the 1994 Disney animation. The original movie featured a long list of white actors such as former Home Improvement heartthrob, Jonathan Taylor Thomas as young Simba, Ferris Bueller's Matthew Broderick as adult Simba, Jeremy Irons as Scar, and Moira Kelly as Nala — just to name a few.
The legendary James Earl Jones would, of course, fill role of Simba's father Mufasa, but his role would be one of few voice acted by actors of color in the film, despite the fact that the setting of the movie was largely based on the Serengeti, according to The Daily Mail, and Kenya, according to MentalFloss. The Swahili names of the film's main characters further point to the tale's roots in African heritage, which make it quite perplexing that Disney would cast such a white presence for it's original early '90s version. And makes it all the more exciting that the live-action version will boast the predominantly black cast that should have voice acted in the original.
This becoming a new generation's first introduction to this story is so important, because diversity in movies can inspire and validate children at an integral time in their development. As Riz Ahmed put it in a 2017 speech to Parliament in the United Kingdom,
"What people are looking for is the message that they belong. That they're part of something. That they are seen and heard and that despite, or perhaps because of, the uniqueness of their experience, they are valued. They want to feel represented."
And this is not a feeling many people of color get, considering that the 2016 Hollywood Diversity Report, which studied films and TV shows throughout the year 2014, found that minorities, "were underrepresented by a factor of nearly 3 to 1 among lead roles in the films examined."
Thanks to the forthcoming live-action feature, viewers will be offered a brand new opportunity to experience the story of The Lion King from a more diverse range of talent. The moment is sure to give black people of past, current and future generations representation that they can be proud of — which is, perhaps, one of the most important components of the circle of life.