Why The 'Bachelor's Mass Wedding Idea Would Make For An Epic TV Special, If Nothing Else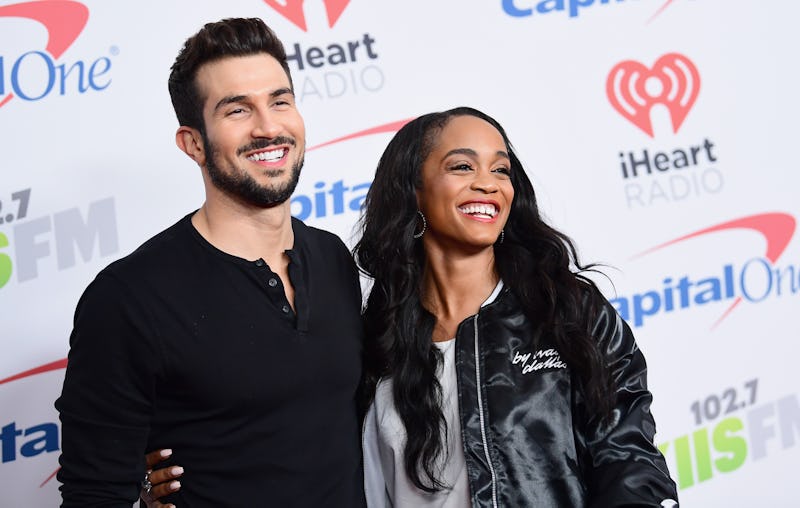 Emma McIntyre/Getty Images Entertainment/Getty Images
As far as Bachelor Nation rumors go, this one may earn the first impression rose. According to Us Weekly, a mass Bachelor wedding may be in the works. (Now, before you get too carried away with drawing up your viewing party bingo card, know this: Nothing's confirmed. These are but whispers in the winds of Aguora Hills.) A Bachelor insider reportedly told the magazine that ABC is apparently interested in putting together a wedding special that would star Bachelorette alums Kaitlyn Bristowe, Shawn Booth, Rachel Lindsay, Bryan Abasolo, JoJo Fletcher, and Jordan Rodgers. If this trio of couples did indeed get married on the same TV special, here's one thing any Bachelor fan would probably agree on: It'd make for epic television.
According to Us Weekly, the source claimed that "the network is hoping to do a mass Bachelor wedding" for the couples that got engaged on The Bachelorette Seasons 11, 12, and 13. Again, this whole thing is still in the concept stage. The insider added, "nothing is set just yet" and "this is just an idea being bounced around." Please never stop bouncing around, mass Bachelor wedding idea. You're already doing great things.
Not to get all greedy, but the details for this hypothetical triple Bachelor wedding are far too scant. If this fantastic proposal (pun couldn't be more intended) were to come to fruition, what in the name of the right reasons would this imagined television special look like? Let the wondering commence.
Perhaps the three duos would get married at separate locations and the show would treat audiences to an intense split-screen situation. That could be utterly chaotic, or it could be a delightful thrill ride. (There's only one way to find out.) Or maybe all six Bachelorette alums would stand at the same altar at the same time as Chris Harrison takes turns officiating each couple's nuptials. Or maybe all of the pairings would be at the same ceremony but take turns at the altar. Or maybe it would be a Four Weddings-esque setup where the three couples attend each others' weddings and then rate the events and the top couple wins a honeymoon.
Whatever this theoretical wedding extravaganza entails, it would certainly be a legendary moment for Bachelor Nation. Yeah, The Bachelor has done multiple wedding specials, but this one would be a classic Bachelor wedding event multiplied by three. There'd be three "how this couple got here" clip packages. There'd be three first dances. Maybe all three pairings would do their first dances at the same time, maybe they'd take turns, maybe the six would do a routine choreographed by Kaitlyn, who knows?
Furthermore, there'd be so many Bachelor alums present and accounted for. Oh, you thought Jade Roper and Tanner Tolbert's reception was an impressive Bachelor reunion? Well, you thought right. But imagine, if you'd be so kind, Jade and Tanner's wedding multiplied by three.
Speaking of alums, maybe Kaitlyn and Rachel would invite their ex Nick Viall. And maybe Nick would attend and bring his reported love interest January Jones. Oh, and if JoJo's ex Wells Adams was in attendance, Sarah Hyland would probably be there, too. Picture Betty Draper and Haley Dunphy at a flippin' triple Bachelor wedding. Hey, when you're dreaming about a triple Bachelor wedding, you might as well pull out all of the stops with that dream.
If this idea becomes a reality, it would be unlike anything any Bachelor fan has seen before, no matter the format or the guest list. Not to go all Chris Harrison, but this really would be the most epic wedding in Bachelor history.