This Netflix Hack Lets You See The First Show You Ever Marathoned & It'll Be A JOURNEY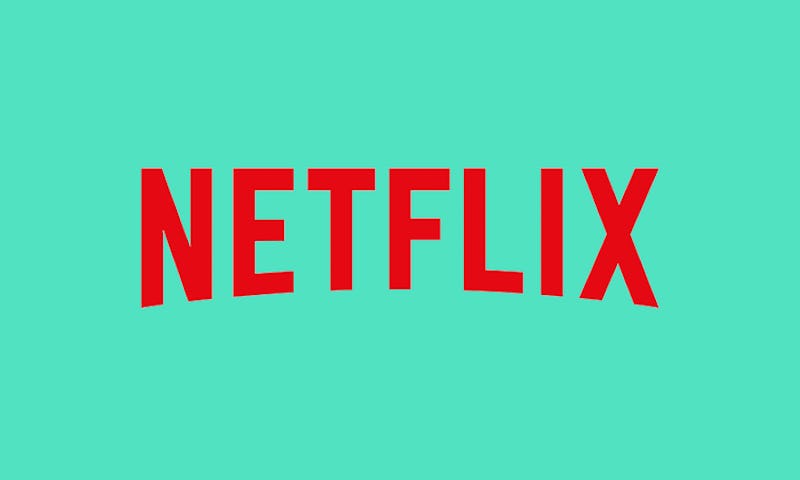 Netflix; Liz Minch/Bustle
Netflix seems like it's always there for you, and always will be. Whether you associate the streaming service with hibernating on a night in alone, or cuddling up with someone special, it's sure to be on everyone's minds this Valentine's Day in one way or another. In honor of the holiday, Netflix has a hack for seeing what you first watched all in a row — aka your very first marathon.
You never forget your first, or so they say, but there's a hack if you actually did forget. All you have to do is go to Netflix, find your account page in the upper right hand corner, click on "viewing activity" in the "my profile" section, and scroll all the way down to the bottom. Hopefully what you find won't be as embarrassing as your search history. Once you've done that, find the first season of a show that you completed in seven days or less. That's the methodology that Netflix used for this study, the data of which was given to Bustle in a press release.
The streaming site focused their study on members who signed up in the last five years and found that 90 percent of users who joined the site for at least a year have completed at least one such marathon viewing. Not only that, but most first marathons only take three days. And, 35 percent ultimately rewatched that first show again later. Can't stop, won't stop.
What Netflix found is that the top 10 shows first marathoned by users are, in order: Orange Is The New Black, Breaking Bad, The Walking Dead, Stranger Things, House of Cards, Sons of Anarchy, Fuller House, American Horror Story, Family Guy, and Grey's Anatomy. That makes sense that users in the last five years would be largely drawn to the service for its original content — if you were Netflix and chilling before it was cool, your first time could get weird.
My first time requires a hack of a hack (and a bit of a Freudian disaster for this Valentine's-themed metaphor) that I will explain in case you're having trouble as well. Remember that Netflix introduced individual profiles in 2013, so when I look at my own viewing history it only goes back that far. Discovering my first marathon required logging in to my dad's profile, as his is the original account with viewing history dating back to 2010. Yes, I'm a millennial whose father pays for her Netflix. In return, he uses my Hulu password. We're very modern.
Back in the day, when I first got Netflix, I toyed around with several mini-marathons of shows like Arrested Development, Saturday Night Live, Buffy The Vampire Slayer, and Dexter. But the first show I really sat down and committed to, finishing a full season in two days over Christmas break, was Instant Star. It's a Canadian show that only I watched, was completely obsessed with in High School, and clearly couldn't wait to relive.
But, I didn't want to be the only one reminiscing about days of old, so I asked several Bustle writers and editors what their first marathons were, too.
"I got my own Netflix account back in 2016 so that I didn't have to use my family's," says Bustle TV Writer Jack O'Keeffe. "But, according to that, my first 'on the record' Netflix [marathon] was The Get Down! TBH, I'm the kind of person who believes if you can't [finish] a season in one day, it's not worth [marathoning] at all (there's too much TV!) and The Get Down is perfectly sized for a quick watch."
While I myself (now obsessed with creeping on my own history) did devour 48 episodes of Star Trek: The Next Generation in 14 days last summer, O'Keeffe's point is true. Netflix is great for finding those hidden gems you can spend a day with and then move right along to the next thing. Such is the beauty of the marathon format.
Kelsea Stahler, Bustle's Senior Entertainment Editor, can go back to 2009 using the hack, and she first marathon-watched The Office. "Because of course [I did] — but in my defense, it was 2009," she says. Meanwhile, Bustle TV Writer Jefferson Grubbs first completed Twin Peaks. A lot of times, that first depends on where you were in your life at the time.
"My first Netflix marathon was Unbreakable Kimmy Schmidt when it premiered in spring 2015," says Bustle Associate Entertainment Editor Jamie Primeau who, like Kimmy, had just moved to NYC herself. "One of my next marathons was Don't Trust The B In Apartment 23, which actually reminded me a lot of Kimmy Schmidt, but didn't have nearly enough episodes. Both shows were perfect marathoning material, because they're clever, hilarious, and relatable — all at the same time."
British shows that American Netflix users didn't otherwise have access to are popular first marathons, also — at Bustle anyway. About a week after finishing Instant Star (and in between episodes of Say Yes To The Dress and Toddlers & Tiaras) I watched all of Gavin & Stacy, a BBC sitcom co-created by James Corden.
"I was revisiting Skins," says Bustle Entertainment Editor Kerensa Cadenas. "I had watched it all ... back in college and was dying to be able to watch it again to revisit the drug-addled, bad behavior of Tony and the gang." Bustle TV Writer Lindsay Denninger also first finished the first season of Skins... but at the same time was watching The Hills and Cashmere Mafia — a true blast from the past.
Time off from school or work is also a good time to give Netflix marathons a try. "I discovered my love for Downton Abbey over the December holidays," says Bustle Associate TV Editor Sage Young, "resulting in a three-day marathon of Seasons 1 and 2. I cooled on the show in its later years, but the Dowager Countess' battle with Cousin Matthew's desk chair will always have a special place in my heart."
Not everyone's Netflix journey is the same. We share accounts. We share apartments and sometimes forget our own password, so the living room TV is suddenly connected to someone random. Everyone is different.
"After years of leeching off of roommates and ex-boyfriends and ex-roommates' boyfriends' Netflix accounts," says Bustle TV Editor Sam Rollins, "I finally got my own account sometime in 2013, [and] I promptly used it to polish off the later seasons of Peep Show." The Channel 4 series starred David Mitchell, Robert Webb, and ended in 2015.
"Sure," Rollins adds, "I love Netflix for Parks & Rec marathons just like everybody else, but the access it gave me to the super-dry British comedies I adore is one of the major reasons I'm still coming back for more."
Netflix gives us access to shows we wouldn't normally see, and that excitement can be like a good book you can't put down.
"My first marathon was way back in 2009," says Bustle Associate TV Editor Martha Sorren, "and it was Wizards of Waverly Place, followed by Sonny With a Chance, and then Jonas. So, I guess, thanks Netflix for being my Disney Channel surrogate? My parents weren't paying for cable at the time, so that was a big help."
But the truest kinds of marathons are the ones that border on obsession. "After that was Lost," Sorren continues, "which I consider my first real marathon because it was the kind of show I literally couldn't stop watching. Like, three a.m., laptop under the covers, pretending I was asleep on a school night but actually watching Lost."
What a journey we've all had with this streaming service. Have fun reminiscing about your first with this nifty hack. Was is a Netflix original series? Was it a show that's no longer even on Netflix, like mine, making you extra thankful that you had that time together long ago? Whatever it was, it's pretty fun to look back, and maybe even give it another rewatch now.