17 Hidden Shows On Netflix With Near-Perfect Rotten Tomatoes Scores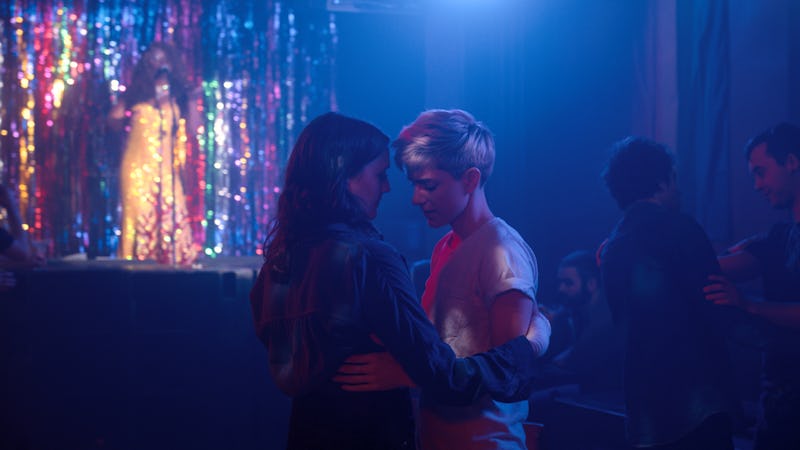 Netflix
Is there such a thing as too much of a good thing? Peak TV is certainly putting that theory to test, overwhelming viewers with myriad content and platform options. While there are hidden shows on Netflix with near-perfect Rotten Tomatoes scores, it can often be difficult to sift through the clutter to even find them.
Paralyzed by choice, it's easy to see why some people fall back on the same offerings over and over again like a cozy security blanket. According to Cinema Blend, one man marathoned The Office for so long that Netflix reportedly checked in on him to make sure he was doing OK. The world collectively lost its marbles when it was announced that 30 Rock would be leaving the streaming service (don't worry, it found a new home on Hulu), and again when Friends exited in January (it'll be back on HBO Max).
But why watch a sitcom for the umpteenth time when you could watch a truly terrific new show for the first time? Here are 17 of the best shows on Netflix you've probably never seen — or maybe even heard of — that all have a score of 90% or higher on Rotten Tomatoes.
1. Halt And Catch Fire
Tomatometer: 90% / Audience Score: 92%
Seasons: 4 (40 episodes)
While it never reaped the critical accolades or the commercial success of Mad Men or The Walking Dead on the same network, this small gem about the computing boom of the '80s and '90s has accrued a greater appreciation since it's become available on streaming. Find out why for yourself, starting with the terrific cast led by Lee Pace (Pushing Daisies), Mackenzie Davis (Black Mirror), and Scoot McNairy (Once Upon A Time… In Hollywood).
2. Money Heist
Tomatometer: 91% / Audience Score: 81%
Seasons: 4 (38 episodes)
This extremely popular Spanish-language show won Best Drama Series at the International Emmys, and it's easy to see why. Combining the pleasures of a well-structured heist movie and the thrills of an action serial with the distinct flavor of its home country, La casa de papel (as its called in Spain) will surely be your next obsession.
3. Penny Dreadful
Tomatometer: 91% / Audience Score: 91%
Seasons: 3 (27 episodes)
With its spinoff, City Of Angels, having recently premiered on Showtime, now is the perfect time to catch up on the network's deliciously macabre gothic horror series if you missed it the first time around. Eva Green anchors the show with a frighteningly committed performance as the haunted heroin Vanessa Ives, who comes face-to-face with the likes of Frankenstein's monster, Dracula, Jekyll and Mr. Hyde, werewolves, witches, and more over the course of three seasons.
4. Broadchurch
Tomatometer: 92% / Audience Score: 93%
Seasons: 3 (24 episodes)
Now that she's an Oscar-minted actress (having won for her performance as Queen Anne in 2018's The Favourite), you may want to do a retrospective on Olivia Colman's best performances. There's no better place to start than this gut-wrenching British crime drama, which stars Colman as a dogged detective alongside both former Doctor Who star David Tennant and current Doctor Who star Jodie Whittaker.
5. Peaky Blinders
Tomatometer: 92% / Audience Score: 94%
Seasons: 5 (30 episodes)
Cillian Murphy (Batman Begins) stars in this period gangster drama about a real-life criminal organization operating in England after World War I. The cast is absolutely stacked with talent, with recognizable faces like Tom Hardy, Adrien Brody, Aidan Gillen (Game Of Thrones), Sam Neill (Jurassic Park) and Helen McCrory (Penny Dreadful) having appeared over the course of its five seasons.
6. Bates Motel
Tomatometer: 93% / Audience Score: 91%
Seasons: 5 (50 episodes)
While some prequels struggle to justify their existence, A&E's Psycho prequel was gripping from the get-go, and was probably better than any riff on Alfred Hitchcock's most famous film had any right to be. That's largely thanks to the incredible performances from Freddie Highmore as the troubled Norman Bates and Emmy nominee Vera Farmiga as his suffocating mother, Norma.
7. Rectify
Tomatometer: 95% / Audience Score: 93%
Seasons: 4 (30 episodes)
One of the most criminally underrated shows of its time, this southern gothic drama about a suspected murderer released from prison on a technicality, and his attempts to reintegrate to his life in small town Georgia, never got the attention it deserved during its four-season run.
8. Special
Tomatometer: 96% / Audience Score: 84%
Seasons: 1 (8 episodes)
This charming semi-autobiographical comedy about a young gay man with cerebral palsy was created by and stars Ryan O'Connell, a young gay man with cerebral palsy. It's based on his 2015 memoir, I'm Special: And Other Lies We Tell Ourselves.
9. American Crime
Tomatometer: 96% / Audience Score: 88%
Seasons: 3 (28 episodes)
Living in the shadow of the FX anthology series that shares two-thirds of its title, American Crime told three compelling stories over its three seasons, tackling race and murder in urban California, class and sexual assault in suburban Indiana, and immigration and forms of modern slavery in rural North Carolina, with Regina King winning two Emmys for her work on the series.
10. Kingdom
Tomatometer: 96% / Audience Score: 96%
Seasons: 2 (12 episodes)
Netflix's first Korean-language series, which premiered in 2019 and has aired two hit seasons so far, has everything you want from a period political thriller-slash-martial arts action series: eye-popping fight choreography, lush production values, characters both conniving and heroic… oh yeah, and zombies. Lots and lots of zombies.
11. Lady Dynamite
Tomatometer: 97% / Audience Score: 79%
Seasons: 2 (20 episodes)
Stand-up comedian Maria Bamford (who you may have seen in TV comedies like Arrested Development, Louie, and Portlandia) stars in this riotous Netflix original as a fictionalized version of herself: a stand-up comedian trying to make a new start for herself after six months of rehabilitation for bipolar disorder. The impressive roster of guest stars includes John Mulaney, Sarah Silverman, Patton Oswalt, Jason Mantzoukas, and more.
12. Elite
Tomatometer: 97% / Audience Score: 88%
Seasons: 3 (24 episodes)
How to describe Netflix's Elite? It's like How to Get Away With Murder meets Riverdale meets 13 Reasons Why meets the most addictive telenova imaginable. If you haven't watched this unapologetically sexy and soapy series about the horny and murderous teens of Las Encinas high school, you simply haven't lived.
13. Lovesick
Tomatometer: 98% / Audience Score: 92%
Seasons: 3 (22 episodes)
This British import stars musician-turned-actor Johnny Flynn (who you may have seen in this year's Jane Austen adaptation Emma) as the charming but romantically inept Dylan. The series kicks off when Dylan learns he's been diagnosed with an STD, and reconnects with each of his former sexual partners to inform them of the news.
14. Derry Girls
Tomatometer: 98% / Audience Score: 96%
Seasons: 2 (12 episodes)
In its home country of Ireland, Derry Girls is the most-watched television series since modern ratings measurements began. Stream both seasons of the hilarious comedy — about the lives and loves, trials and tribulations of a group of close friends at a Catholic girls school — to find out why.
15. Alias Grace
Tomatometer: 99% / Audience Score: 88%
Seasons: 1 (6 episodes)
Hulu's The Handmaid's Tale may be the Margaret Atwood adaptation that got all the buzz, but this Canadian-American miniseries actually has an even higher Rotten Tomatoes score than that Emmy-winning show. Based on the fascinating true story of Grace Marks, a housekeeper convicted of murdering her employer, Alias Grace is just as much a feminist triumph as its Hulu counterpart, and deserves the same acclaim.
16. Crazyhead
Tomatometer: 100% / Audience Score: 87%
Seasons: 1 (6 episodes)
A brief synopsis of Crazyhead — a show about a young girl who also happens to be a demon hunter — might make it sound like a cheap British ripoff of Buffy. But watching the show itself, from the creator of the popular British superhero series Misfits, makes it clear that Crazyhead is very much its own thing.
17. Feel Good
Tomatometer: 100% / Audience Score: 94%
Seasons: 1 (6 episodes)
An acclaimed British comedy with an easily-digestible episode count, created, written by, and starring an exciting new voice in comedy, about a complicated, occasionally unlikable, always relatable woman… is Feel Good the next Fleabag? Stream the semi-autobiographical series — about a stand-up comedian and her struggles with her sexuality and addiction — and decide for yourself.
This article was originally published on