Josh Gad Shines In This 'Beauty & The Beast' Clip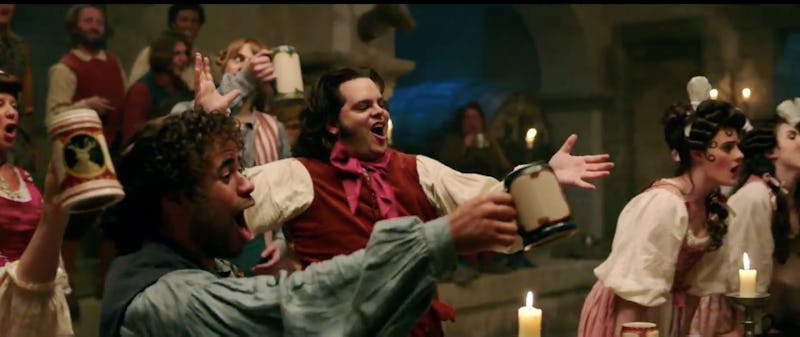 Walt Disney Pictures
No one may be as slick, quick, or incredibly thick-necked as Gaston, but Josh Gad is the perfect LeFou in the new Beauty and the Beast clip. The clip is a snippet of the live action version of a popular Beauty and the Beast song, "Gaston." Gad's performance feels like just as much of an accomplishment as all of Gaston's alleged awesome skills that he boasts about. The teaser, which was shared on the Beauty and the Beast Twitter account Monday, Feb. 27, just reinforces how super/crazy/amazing awesome it seems the live-action version of Beauty and the Beast will be when it opens in theaters on March 17. This version of the Gaston-adoring anthem is a perfect rendition of the classic film's most hilarious song.
Luke Evans, who plays the villainous Gaston, also showcases his angelic singing voice in the 46-second teaser— and it's so beautiful it might have you rethinking the Gaston/Belle pairing for at least a minute (could The Beast have some competition?). Still, I have to say Gad's performance is definitely the most interesting part. His facial expressions and dance moves are so on-point it almost feels like he is animated. The comedic role of LeFou is a tough one to hop into and perform admirably, but that apparently is no issue for Gad. The actor was previously commended for his work as the sun-obsessed snowman, Olaf, in Disney's Frozen and on Broadway in The Book of Mormon.
The clip, which is similar to the animated version of the song, features LeFou hopping around the tavern, trying to get other patrons to help cheer Gaston up by praising the narcissistic hunter. While there's a lot of similarities to the version from the beloved animated film, this version also has the previously unused lyrics promised by composer Alan Menken in an Entertainment Weekly interview — instead of "No one's been like Gaston, a king pin like Gaston" in the live-action version LeFou warbles, "Who plays cards like Gaston, who breaks hearts like Gaston, who's much more than the sum of his parts like Gaston!"
Sure, Emma Watson as Belle and Dan Stevens as the Beast is all well and good and very exciting, but we've seen a lot of footage of those two doing their fall-in-love thing already. Josh Gad is well-known for his vocal performances, so it was good to finally see him shine in one of the most iconic songs from Beauty and the Beast.
Now that I've seen Josh Gad singing one of the best songs in the movie, I'm even more excited to see him on the silver screen as LeFou. Is it March 17 yet?