Khloe & Kourtney Have A MAJOR Confrontation In This 'KUWTK' Season 15 Video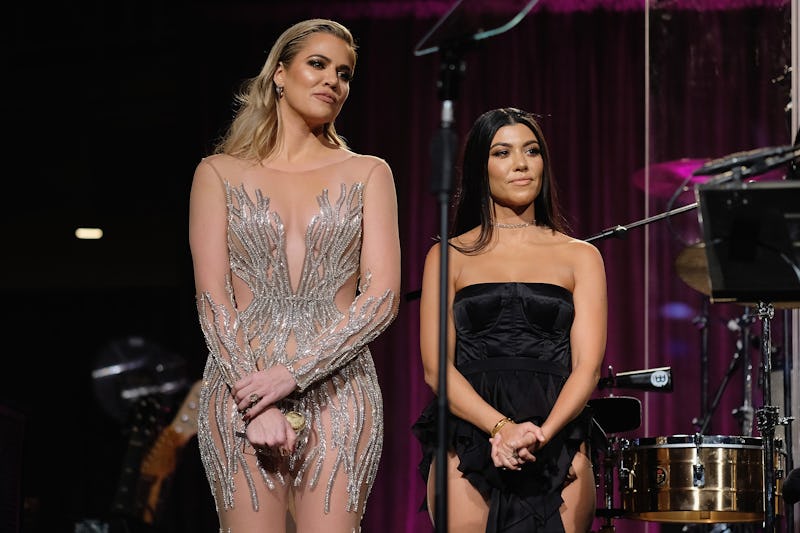 Dimitrios Kambouris/Getty Images Entertainment/Getty Images
Our favorite smack-talking sisters are back and in rare form in this new Keeping Up With The Kardashians Season 15 video, which E! released Tuesday morning, July 31, via YouTube. Suffice to say, inquiring fans who were a little irked after watching the first KUWTK season 15 trailer last month (and all the gnarly inter-sibling drama that came with it) probably won't want to miss this. Because, while the last trailer might've hinted at some serious beef between Kim and Kourtney this season, the new promo video suggests there's more than one Kardashian sis that's just not having it with Kourtney's "attitude" anymore.
In pretty typical style for most KUWTK promos, the clip kicks off smack-dab in the middle of what seems like some seriously heated sibling drama. The video opens on Khloé and Kim, who, at first glance, appear to be enjoying some one-on-one time, courtesy of an especially comfy-looking outdoor sofa over at KoKo's house. That being said, it hardly takes 10 seconds for the promo's unsuspecting viewers to realize that the sisterly gathering is definitely not a wholesome sibling hangout sesh. In fact, as the clip's remaining two-and-a-half-minute run makes exceedingly clear, it might as well be the farthest thing from it.
"Oh my god, she's coming," Khloé tells Kim, at the video's start. Audiences don't have to wonder who she's talking about for too long. At Khloé's cue, the camera pans to a shot of Kourtney meandering her way into the house, nose buried in her phone screen.
"I don't understand the f*cking attitude," Khloé whispers, while the eldest Kardashian sis is still safely out of earshot. Without missing a beat (literally, this whole exchange plays out before the promo's 7-second mark), Kim promptly replies, "I'm, like, so afraid of her." Khloé, for her part, echoes her sister's sentiment with a subtle hair flip and a sort of half-smirk toward the camera. "I'm, like, so afraid of her," Khloé repeats, just as Kourt is about to enter the frame.
As is customary when it comes to pretty much all narratives of the in medias res variety, the promo is bound to stick most of its viewers with the sense that they're missing something. That "something," in this case, is context. Which means, while KUWTK's new promo video does afford fans a chance to watch the full-fledged (and extraordinarily tense, even for them) sisterly squabble play out onscreen, it doesn't provide much information about whatever prompted the confrontation in the first place.
But, as Kim whispers "I don't get it" under her breath just before Kourtney walks in, it seems pretty obvious that the tension materializing between the sisters onscreen during the promo video is rooted in some kind of larger issue. The remainder of the promo touches on what that underlying issue might be, though it hardly seems to scratch the surface, as far as the root of their upset is concerned.
In a whirlwind of subsequent proceedings, Kourtney enters the frame, sits down, and whips out her phone pretty much immediately. Khloé waves at her emphatically from across the table, but the gesture is totally in vain. Kim then attempts a faux-flashing move to snag Kourtney's attention; but again, to no avail. "What do you want me to do?" Kourtney deadpans, glancing up from her phone screen to face her sisters for the first time.
Neither sister gives Kourtney a direct response to that particular question, though Kim's "thanks for being so present" comment half a minute later —after trying to engage both sisters in a discussion about potential themes for her then-upcoming baby shower, without so much as a nod from the likes of Kourt — suggests it's Kourtney's ostensible absence that's been bugging them. At least, in part. (Perhaps that's what the whole "she doesn't want to be a Kardashian anymore" comment from Season 15's earlier trailer might've been getting at.)
Kourtney utters her first words around the clip's 90-second mark, though presumably not with the sort of response her sisters wanted to hear. "Who let you choose black covers for your furniture?" Kourtney cracks, without looking at Khloé. She adds, "It's disgusting." Unsurprisingly, Kourt's comment gives rise to a full-blown back-and-forth between the two sisters. "Seriously, what the f*ck is wrong with you?" Khloé shoots back. "Why are you so b*tchy these days?"
Wrapping up their heated exchange as well as the new promo clip, Kourtney hits her younger sis with a real doozy of a comeback, especially given Khlo's visibly hurt expression. "Just a born b*tch," she responds matter-of-factly, with her signature hint of snark.
Much like its start, KUWTK's new promo video ends in the middle of things. Of course, that means viewers will just have to wait until Season 15 premieres on E! this upcoming Sunday, Aug. 5, to see how the ordeal actually ends up. Still, even if the Kardashian trio isn't able to resolve their gripes with one another during the season premiere, their history of loving and supporting each other (pretty much unconditionally) suggests this particular bout of bickering shouldn't last too long.