The New 'KUWTK' Promo Teases The Return Of A Polarizing Family Member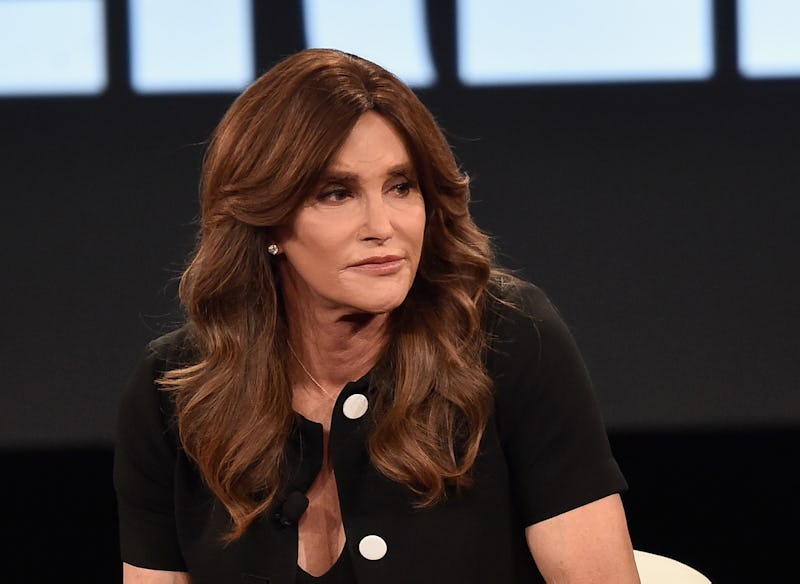 Alberto E. Rodriguez/Getty Images Entertainment/Getty Images
The Kardashian-Jenners have been giving fans no-holds-barred access into their life for years now, but the latest promo for their show suggests some walls may have finally come up, especially when it comes to Kylie and Kendall Jenner's father, Caitlyn Jenner. After seeing the new promo for the family's reality series, fans asking if Caitlyn Jenner will be on Keeping Up with the Kardashians' new season are sure to be just as confused as ever. Of course, this question won't be definitively answered until KUWTK returns for Season 15 on Aug. 5, but in the meantime, there's room for plenty of speculation.
Jenner doesn't appear in the new KUWTK promo, but she is mentioned. At exactly one minute long, the footage hardly has time to give anything away, but even still, the reference to the eldest Jenner is blink-and-you'll-miss-it quick. The promo opens with Kim Kardashian speaking directly into the camera, demonstrating a firm grasp of irony as she introduces the upcoming clips. "Oh hey guys, it's Kimberly. Remember me? It's been a minute," she says. "Did you miss us? Because we missed you. But don't worry, you didn't miss anything." Of course, fans remember Kardashian; she's everywhere all the time. And it hasn't quite been a minute; Season 14 of KUWTK just finished airing in March. You see what she's doing there, right?
"Not much has changed," the businesswoman and new mother-of-three promises winkingly, continuing: "We've been keeping a low profile, and my sisters and I are closer than ever; it's like we can communicate without speaking." Meanwhile, Kim, Kourtney, and Khloé Kardashian are all screaming at each other in the background, slamming doors and quite literally not speaking to each other. Just to underline that things aren't exactly as they seem.
But then it gets really interesting, as Kim quips, "And we're still one big happy family." The video then jumps back to family matriarch Kris Jenner, who says, "He's still part of our family," only to have Kendall Jenner interject from offscreen, "What about my dad?" At the mention of Jenner, Khloé immediately casts her eyes downward and makes a face like something big is going unsaid, and then the promo moves on. So what exactly will be the deal with Jenner this season? Is the family still feuding?
Based on this brief moment, the answer appears to be yes. It's unclear who Kris was talking about as the man who's "still part of the family," but it sounds like she's referring to one of her daughters' exes, such as Lamar Odom or Scott Disick, who are sometimes included in family events even though their romantic relationships with Khloé and Kourtney have ended. Kendall seems to be asking that the same courtesy be extended to Jenner, and the rest of the family seems hesitant. (A quick note: Kendall revealed to E! in 2015 that she still calls Jenner "dad," with her parent's blessing, alongside the pronouns "she" and "her.")
And while fans will have to wait for specifics, because there's only so much that can be crammed into a one-minute promo, it's not hard to guess what might still be standing in the way of Jenner's relationships with her family. The release of her memoir Secrets of My Life in April 2017 drove a wedge between its author and her ex-wife, Kris Jenner, and the KUWTK family seems to have sided with Kris. The book has been a frequent topic on the show, and already resulted in the severing of some familial bonds. Kris has said she's "done-zo" with Jenner, potentially for good, and as recently as February, Khloé said that even the birth of her daughter wouldn't be enough for her to rebuild the relationship she's lost with Jenner, so these wounds are clearly deep.
It's possible that the family secretly reconciled during filming and that Season 15 will be the unveiling of a better-together Kardashian-Jenner clan. But much more likely is that Caitlyn won't appear at all, and that this season will delve into how everyone's feeling about that decision.