This Petition Wants Mark Ruffalo To Play Peter Kavinsky's Dad In A 'To All The Boys' Sequel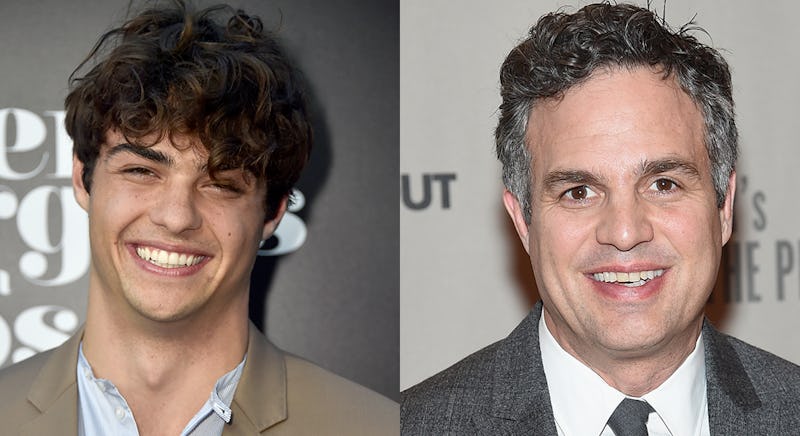 Frazer Harrison/Getty Images Entertainment/Getty Images; Jamie McCarthy/Getty Images Entertainment/Getty Images
By now, the internet has agreed that To All The Boys I've Loved Before actor Noah Centineo resembles a young Mark Ruffalo. This observation has since been taken a step further, in the form of the most democratic of internet tools: A petition. Written with passion by Alexandra Badduke, the petition asks for Peter Kavinsky's dad in the To All The Boys sequel to be played by Mark Ruffalo. Badduke is a self-proclaimed fan of actor Noah Centineo, and she makes some excellent points.
Though the visual evidence is exceptional, and the fan support is legendary — it's already rounding the 3,000 signatures the petition was created to achieve — the crowning jewel is its source: A Buzzfeed article. Early in her missive, Badduke states that, "This petition is to show Noah Centineo that his fans are behind him 100%," in reference to an actual Buzzfeed interview with Centineo.
During the interview, the actor admitted that, he "just looks up to [Ruffalo] so much," adding that, "I love his films and I love his work. He has such range. I think he would do so well. I mean, I know he would do so well." As a result, wrote Badduke, "We're asking Netflix to make sure that any sequel to To All the Boys I've Loved Before is cast right." Yes, please.
The petition goes hand-in-hand with another on the Care2 platform, one that was launched specifically to demand the film receive a sequel at all. Because, oh, yeah — Netflix hasn't announced any plans to make a sequel. Even if the film is set up for one, and was by all accounts a success, and the novel's sequel P.S. I Still Love You is just as delectable. Netflix, what are you waiting for?
So, in addition to the fact that a To All The Boys sequel isn't yet a go, there's another big ol' roadblock in the way: The character of Mr. Kavinsky. Because, uh, he doesn't exist. Not in the series, really, anyway. And in To All The Boys I've Loved Before, Peter makes it pretty clear that Mr. Kavinsky isn't in the picture. So to get Ruffalo involved with the movie — assuming he has the time and Netflix has the budget — they'd have to not only greenlight the sequel, but write a new character for it as well. Let's be real, though: That would be so worth it.
So far, neither Centineo nor Ruffalo have offered comments on the petition, but it's only a matter of time. Hopefully, if Ruffalo gets on board, Netflix will hopefully find a way to not only encourage a sequel to To All The Boys I've Loved Before, but make sure there's a thoughtful, nuanced part for Mr. Kavinsky as well. Exploring a challenging father-son dynamic would add another layer to the glorious onion that is Peter Kavinsky, while offering Centineo the opportunity to act opposite an idol. Not to mention, how much the internet would flip out over it. (It's basically what Tumblr was invented for.)
Of course, the streaming service may well have plans for a sequel underway — outside of the internet's demand — but if Netflix comes through on this one, it'll always feel like a team effort.