This 'RHOBH' Cast Photo Is So Fierce You Won't Be Able To Stop Staring At It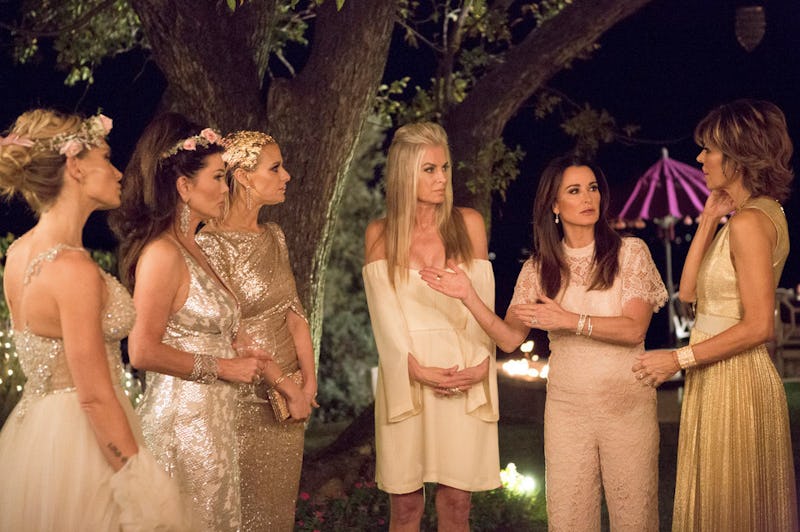 Isabella Vosmikova/Bravo
It's been far too long since the Bravo series has aired new episodes, so to hold us fans over until that actually happens, we've been granted a truly amazing Real Housewives of Beverly Hills Season 8 cast photo. On Sunday, Kyle Richards shared an Instagram of her fellow cast members and you won't believe how amazing it is. The picture is one of the fiercest RHOBH group images yet — and basically proves how amazing the upcoming season will be.
As you can see below, the picture includes Kyle, Erika Jayne, Lisa Vanderpump, Dorit Kemsley, Lisa Rinna, and reported new Housewife Teddi Jo Mellencamp. Firstly, all of their outfits are on point. From their sunglasses to Kyle's coppery gold jacket to Dorit's gold pants to LVP's reddish-pink coat to Erika's pants that look an awful lot like parachute pants to all of their shoes, the ladies are totally rocking it. Then, you have their expressions. They really do look like they're posing for an album cover. Based on Kyle's caption, they may or may not now be referred to as the "Motley Crew".
This seems to be what viewers have to look forward to come next season. Now, nothing has been confirmed, but it's likely that this photo was taken during a trip that will be showcased during Season 8. Of course, they could all be traveling together for the heck of it, but let's keep those fingers crossed that it's for an RHOBH vacation.
In photos obtained by the Daily Mail, the women were seen in Berlin, Germany on Thursday, Oct. 12. The outlet also refers to their outing as "a Season eight girls' trip." Based on the other photos released by the outlet, it appears there's going to be some drama between Erika and Rinna. The two seem to be having a heated conversation — and one Kyle seemingly gets in the middle of. You can check out other images of the ladies strolling around Berlin here, thanks to the Daily Mail.
Most of the Beverly Hills Housewives have been sharing pictures from Berlin on Instagram, too. Kyle posted a photo and a video with an adorable panda. Both Teddi Jo and Erika shared similar images, with the "XXPEN$IVE" singer tagging Berlin as her location. Before they took off, Dorit shared an Instagram of herself, LVP, and Kyle and captioned it: "Girls trip #rhobh," which seems to be further evidence that this trip is very much for the Bravo series.
What makes the trip all the more amazing is, like always, Erika is serving up some major attitude with her fashion and hair choices. As you can see below, she is going all out on this vacation. Most likely, her glam squad is traveling with her to ensure the musician is looking her very best.
RHOBH Season 8 sure looks like a great one already. Sadly, Eileen Davidson isn't returning due to her busy work schedule, as she confirmed in July, and neither is Season 7's Eden Sassoon. However, it appears old Housewives will popping up. As shown in a photo tweeted by Camille Grammer in July, she and Adrienne Maloof went to Las Vegas with this season's cast. They could very well just be making appearances as friends or guests, which happens all the time, or maybe they're returning in a more major capacity.
In other amazing news, according to Dorit, her husband, PK, won't be as in your face compared to the controversy he brought in Season 7. Dorit told Us Weekly in September, "This season, I think that PK took a step back. He took a back seat and kept it simple." Let's keep those fingers crossed that this is the case.
Now all Bravo needs to do is release new footage in the form of a trailer to really please fans. Until then, at least there is the badass photo of the Motley Crew.