Here's How To Make A Mini Red Velvet Cake That's The Perfect Size For Just You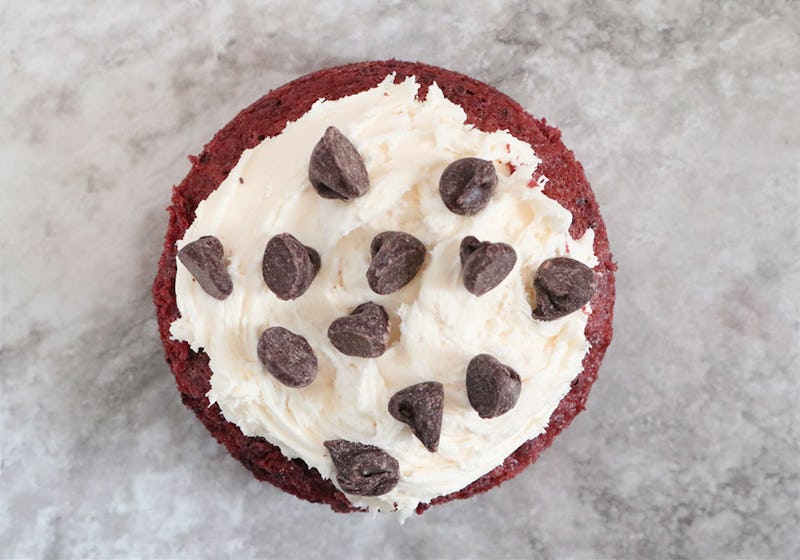 Kirsten Nunez
There is just something so luxurious about red velvet cake. The name probably has something to do with it, yeah — but beyond that, between the vibrant red hue and its subtle cocoa flavor, it's really a dessert force to be reckoned with. However, though it's one of the most luxurious desserts there is, it's not exactly something you consider making for yourself after you get home from a long day at work. But it can be — there's a way to simply make a single serving of red velvet cake with this recipe for one person, and it's so easy that you can make it every night if you want to. You'll always have fresh cake, and you'll never have to deal with making room in your fridge for leftovers — win/win. Plus, around this time of the year, red velvet recipes are perfect for getting in the Valentine's Day spirit.
And yes, this means you don't need to share the cake you make with anyone but yourself. You made just enough for you — they can make their own if they really want to! Just give them this recipe! I personally love to make single serving recipes because I live alone, so it's also a great technique to prevent food waste and to help me keep space in my refrigerator. Plus, the food is always fresh when you make just enough for one serving at a time. See you never, stale cake.
Check out the recipe below.
Red Velvet Cake For One
1/8 cup all-purpose flour
1/8 cup sugar
1/2 whisked egg
1/4 teaspoon cocoa powder
1/8 teaspoon baking soda
1/4 teaspoon pure vanilla extract
1/8 white vinegar or lemon juice
Red food coloring
Empty tuna can
Butter or coconut oil for greasing
Pre-heat the oven to 325 degrees Fahrenheit.
Wash and clean an empty tuna can with warm water and soap. Remove the lid completely, and double check for any sharp edges. Don't forget to peel away the label, too.
Grease the tuna can with butter or coconut oil. Set aside.
1. In a bowl, combine the egg, oil, vanilla extract, and vinegar. Add at least seven to eight drops of red food coloring, and mix well.
2. In a separate container, combine the flour, sugar, baking soda, and cocoa powder. Stir until thoroughly combined.
3. Add the dry ingredients to the wet ingredients, and mix well. For a deeper red hue, add more food coloring.
If you'd like, add 1/4 cup of chocolate chips for an extra chocolate-y cake.
4. Pour the batter in a greased tuna can.
5. Bake for 15 to 18 minutes or until a toothpick comes out clean. Let the cake cool, then remove from the can.
6. Finish off the cake with a single serving of frosting. Garnish with chocolate chips or sprinkles, if you'd like.
This tiny red velvet cake is beautiful on its own, but like all homemade treats, you have complete reign over the finished product. Feel free to customize the recipe, starting with these tasty ideas:
Cream Cheese Frosting
Traditionally, red velvet cake is served with cream cheese frosting. You can easily make a small batch by mixing two tablespoons cream cheese, 1/8 teaspoon of pure vanilla extract, and 1/8 cup of powdered sugar. And if you're feeling real lazy? Smear it right on. Go on, I won't judge you.
Pink Frosting
White frosting is the conventional choice for red velvet cake, but if you want to add even more color, add a drop or two of red food coloring. Mix it up for a pretty pink hue.
Chocolate Chips
For an extra dose of chocolate goodness, add 1/8 cup of chocolate chips to the actual batter. It's an easy way to enjoy even more chocolate with every bite.
Coconut Flakes
The mild yet sweet flavor of coconut works so well with red velvet cake. Toss 1/8 cup of coconut flakes into the batter, or sprinkle a handful on top.
Berries
Fresh berries like blueberries, blackberries, and raspberries complement the color (and flavor) of red velvet cake. Simply add 1/8 cup to the actual batter or use as a garnish. Hello, gram-worthy dessert.
Too cute, right?