This Shamrock Shake Locator App Will Save You From Going To A Store Where They're Sold Out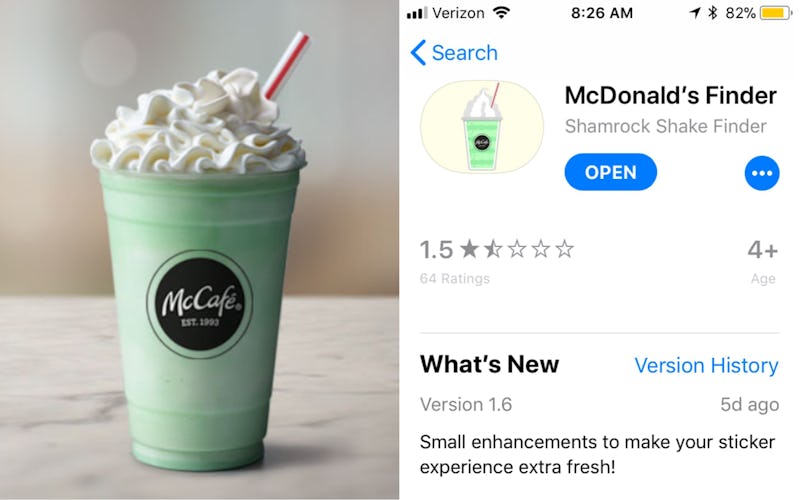 McDonald's/Shamrock Shake Finder
Every year, in anticipation of St. Patrick's Day and spring, McDonald's has brought back the infamous Shamrock Shake. This year, don't waste a single second driving to every location in your neighborhood in search of the delightful treat. With the Shamrock Shake Finder app, you can pinpoint the closest McD's that's participating in the tasty goodness and make your way to the drive-thru immediately, if not sooner. Yes, there is an app specifically for locating shakes. This is the future.
According to McDonald's website, the Shamrock Shake made its return as of Feb. 21. You know the drill: it's available for a limited time only, so you have to hurry the eff up if you want to get your hands on one before it disappears for another year. Who can resist the vanilla soft serve, the Shamrock Shake syrup (don't tell me the ingredients, because I don't care), the whipped cream, the maraschino cherries? We have not a moment to lose — and that's where the Shamrock Shake Finder app comes in.
The app is available for free on both iOS and Android, so I downloaded it to my phone without even reading any reviews because who cares? To be completely transparent, even after spending a few minutes on it, it was still slightly confusing to use and doesn't look like the screenshots Apple provided; so it took a little getting used to.
Here's what to look for in the app store.
It appears that as opposed to working as a stand-alone app (the icon doesn't even appear on my phone's home screen), it's instead an extension of text messaging. When you open a conversation, you can find the app icon at the very bottom of the screen, underneath the text box.
While the functionality might need some work, there's one feature that did immediately work for me: when I click that magical icon at the bottom, the app instantly showed me the closest McDonald's offering Shamrock Shakes, using my own location for reference. After that, does anything else really matter? No.
According to the app store, the Shamrock Shake Finder also allows you to share your findings with friends, and even add stickers to your own photos. I didn't get quite that far in my app discovery, because I was already in the car headed to the Mickey D's on South Valle Verde Drive. To be honest, I'm not keen to share my findings with my friends because, well, that could mean one less Shamrock Shake for me. #Selfish #SorryNotSorry
While the SS is simply dessert for most of us, the story behind it is truly beautiful and founded in generosity and love. As the Huffington Post shared, back in 1974, Fred Hill (of the Philadelphia Eagles) was dealing with something no parent ever should: watching his three-year-old daughter go through chemotherapy to treat her leukemia. Knowing how much the bills can add up, Hill decided he didn't want any family to miss the medical attention they needed because they couldn't afford it. He connected with McDonald's to create the St. Patrick's Day Green Milkshake promotion. The money they made went to buying a home in Philadelphia, and this was where families would stay when their sick children were receiving treatment. You've probably hear of the Ronald McDonald House? Yeah, this was the first. This was where it all started.
I bet you never realized the Shamrock Shake was so deep, eh?
In the future, when you seen those donations boxes for the Ronald McDonald house inside the fast food joint, remember what it's all about. Grab your Shamrock Shake and donate a few bucks — the kiddies (and their families) need it. Cheers!