This Tweet From 'The Fosters' Perfectly Shades All Of Noah Centineo's Newest Fans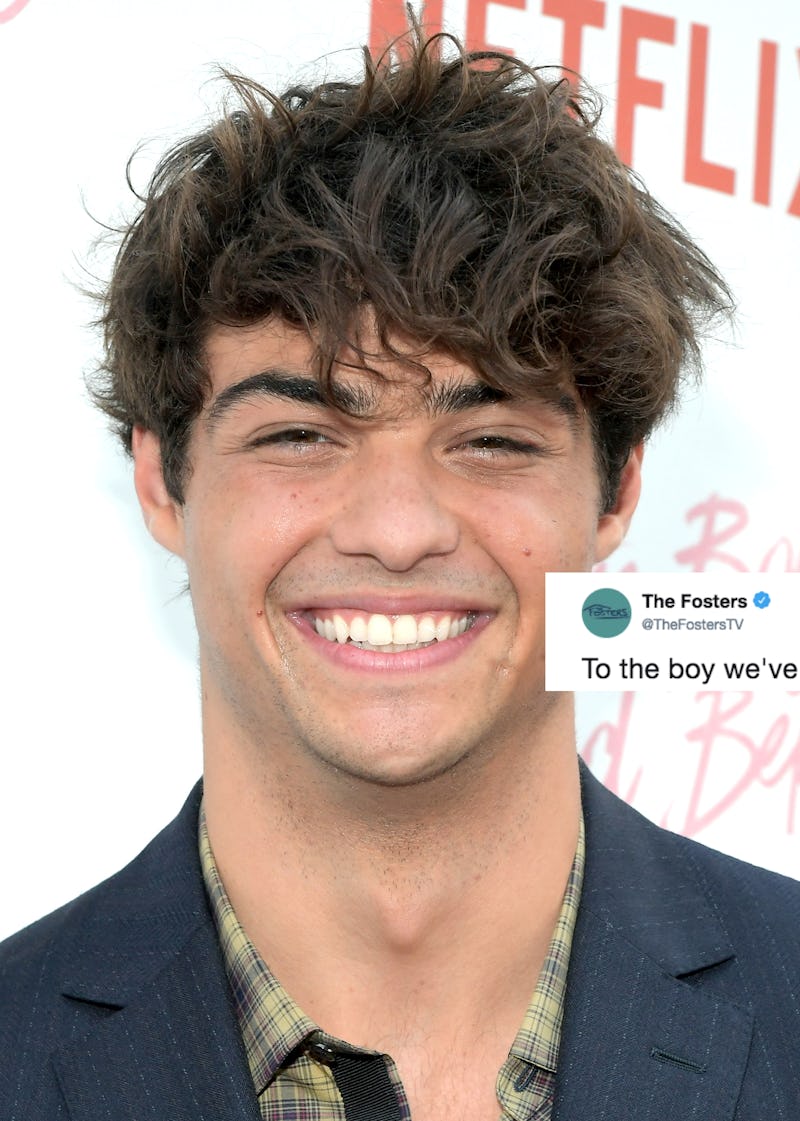 Charley Gallay/Getty Images Entertainment/Getty Images; The Fosters/Twitter
To All The Boys I've Loved Before has been on Netflix for less than a week, but it's already garnered legions of devoted fans. Most notably, viewers can't get enough of Peter Kavinsky, Noah Centineo's endearing character. But long before the rom-com, Centineo appeared on Freeform's The Fosters. And The Fosters' Twitter account shaded Centineo's new fans in the funniest way.
In a tweet posted on Monday, The Fosters' official Twitter account shared four Freeform photos of Centineo, along with a hilarious caption. "To the boy we've always loved," the tweet reads. Of course, the post is all in good fun, but it does seem to poke a bit of fun at fans who've only just discovered the actor.
According to Centineo's IMDb page, he starred as Jesus Adams Foster for an impressive 53 episodes of the show, so he had a lot of acting experience before the Netflix movie. Peter Kavinsky may have inspired plenty of new fans, but anyone who watches The Fosters has been acquainted with Centineo for quite some time. (Of course, there are also plenty of fans who might know Centineo from his roles before The Fosters, too. He guest-starred on a number of TV series, including Austin & Ally, before being cast on Freeform.)
As for what makes Peter Kavinsky so beloved, it's all in the details. Peter was a caring fake boyfriend for Lara Jean from the start, but his little actions show just how much he cared. Peter went across town to buy Korean yogurt for him and Lara Jean to share on the bus to the ski trip. He drank kombucha while the two of them were at a party so that he could safely drive home. And he moved the bowl of popcorn out of the way so that it wouldn't spill when he and Kitty got into the pillow fight.
Of course, Peter has plenty of smooth romantic moves, too. Fans loved the back pocket twirl he did to Lara Jean, and, of course, his move in the hot tub. Plus, the love notes he wrote Lara Jean each day were super heartfelt, even if they were "fake" at first. In short, Peter seems like the perfect boyfriend. And it's not hard to see why even Lana Condor, who plays Lara Jean, is Team Peter IRL.
Netflix hasn't announced whether there will be a sequel for To All The Boys I've Loved Before, but it's definitely a possibility. Jenny Han's novel, on which the Netflix film is based, has two sequels. And the movie's mid-credits scene, where John Ambrose arrives at Lara Jean's door, definitely leaves room for another movie.
In the meantime, though, Centineo has several other projects on the way. Centineo will appear in the upcoming Netflix movie Sierra Burgess Is a Loser, and he'll also reprise his role as Jesus in The Fosters' spinoff Good Trouble. So fans won't have to wait too long to see his new work, even if he's not playing Peter Kavinsky.