There's A Wild Fan Theory About Drake's Baby Name Involving One Of His Most Popular Lyrics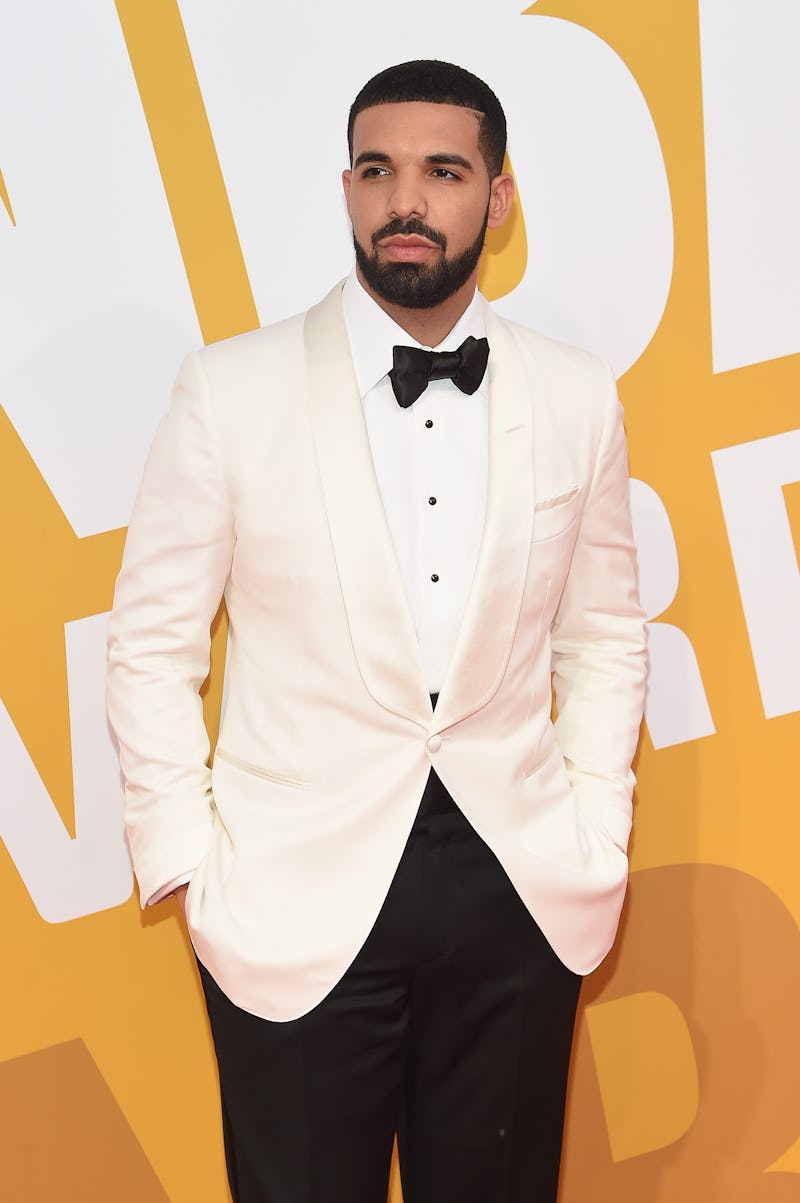 Jamie McCarthy/Getty Images Entertainment/Getty Images
Folks, get ready for one of the wildest things you'll read all day. As HelloGiggles noted, there's a new fan theory about Drake's baby's name based off of one specific lyric in "God's Plan." And it all ties back to his rap above loving his "bed." Yes, really.
As you likely know, Drake raps, "I only love my bed and my momma, I'm sorry," in the previously released track. At first listen, you'd assume that, based on the lyric, he has a great relationship with his mom and loves to sleep. (Same.) However, after the rapper confirmed he has a son on the song, "Emotionless," following some speculation, fans are looking at this specific lyric in a new way.
Instead of "my bed," fans are speculating that Drake could be singing "Mahbed," which sounds incredibly similar. It would sort of make sense if he was talking about loving his son and his mom, right? Also lending itself to this theory, as HelloGiggles reported, "Mahbed" apparently means "chosen one" in Romanian. While a few quick Google searches can't confirm this exact translation, Namelook.com says the name can mean "honesty, sacrificer, and admirer" in the language.
This whole theory is certainly... interesting, to say the least. It's also possible, since anything is possible, but feels pretty unlikely. Honestly, it's super random that fans made the connection in the first place. While Drake has yet to comment on his son's name, that hasn't stopped his fans from convincing themselves that his name includes Mahbed in some shape or form. But again, for now it's just a fan-fueled theory.
Having An Epiphany
One Twitter user had a wild epiphany of sorts about the possible baby name. Basically, the moniker was right in front of everyone this entire time.
That Explains The Bed Thing
Another user thought that the name makes total sense because they were confused why the Scorpion rapper said that he loved his bed in the first place. Um, I totally feel Drake on the bed thing, TBH.
Pure Shock
One user was so shook by the possible connection. And the GIF they included pretty much says it all about how they're feeling about "Mahbed" Graham.
We Thought
Some couldn't believe that Drake made everyone believe that he actually loved his bed. I personally think everyone's dismissing that lyric a little too quickly. Come on, who among us doesn't love to sleep?! Although, like everyone's speculating, it could be about his son instead, which would obviously, ya know, make sense, too.
Sorry, Pusha-T
One fan couldn't help but bring this theory back to Pusha-T. He related that if Drake had previously mentioned his son with the sneaky "God's Plan" lyric, Pusha's diss track "The Story of Adidon" would have been "in vain." Well, that's one way to look at it.
Of course, the speculation about Drake's son did come about after Pusha released a diss track about his fellow rapper in May. In the song, he rapped, "You are hiding a child / Let that boy come home." While the "Hotline Bling" singer didn't immediately respond to the track, he eventually did on one of his latest songs from Scorpion, "Emotionless." He sang, "I wasn't hidin' my kid from the world / I was hidin' the world from my kid."
Even though he revealed that he is a parent, Drake hasn't confirmed the name of his child. Many previously speculated that his son's name is Adonis, based on a since-deleted Instagram post from the child's rumored mother, Sophie Brussaux. She reportedly wrote, "Mother of Adonis <3," according to People. Now, it appears that "Mahbed" could be in the mix somehow, thanks to this latest fan theory.
Can you even imagine if this whole theory is true and no one knew it until now? That would be very sneaky, Drake (but totally, totally wild).