Edna Mode ROASTED A Disney Park Visitor's Outfit & He Wasn't Even Wearing A Cape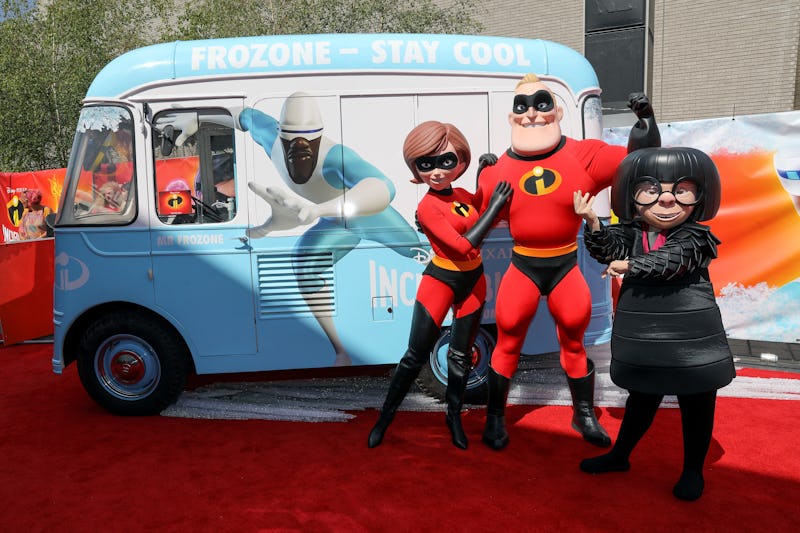 Tim P. Whitby/Getty Images Entertainment/Getty Images
If you've ever dreamed of having a makeover courtesy of The Incredibles Edna Mode, this viral tweet may make you rethink that desire. While Edna may be one of Disney's most memorable characters, she's also savage AF. This tweet about Edna Mode roasting a Disney park visitor's outfit proves it. In fact, this visitor wasn't even wearing a cape, and Edna was displeased. Oof, right?
Twitter user Ivan head to a Disney park like any unsuspecting Disney fan would. Wearing denim shorts, a Mickey tee shirt, and sneakers, his outfit was extremely practical for a hot day at an amusement park. While Edna does veer toward the practical (remember, no capes because no one wants to be sucked into a jet engine while flying), she just was not living for Ivan's ensemble.
In photos posted to Ivan's Twitter, viewers can see Edna (yes, Edna is real, don't question it!) shaking hands to greet her fan. That's all well and good, but then it goes south. Soon, she begins to inspect everything from his shoes to the rips in his jean shorts. Then, she moves over to the trash cans at the park and seems to not so lovingly tell Ivan that his outfit is, well, trash. Poor Ivan.
Soon, word spread on Twitter of Edna's savagery, and she and Ivan were basically internet famous. As of press time, the tweet has over 350,000 likes and over 100,000 retweets. While Ivan may have been roasted, the internet loved it (and Ivan probably did, too, to be honest).
Soon, Twitter began responding by showcasing their love of Edna Mode and joking about appropriate Disney park attire.
Of course, no hobo suits are allowed. Edna would never allow it.
While Edna may be known for her absolute disdain for capes, it seems that she's also developed a dislike for ripped jeans as well. Let's be honest, what Edna Mode says goes.
Some people have decided to rename Ivan's shorts. They're no longer jorts. They're hobo shorts, and Edna Mode does no approve of them. Sorry, Ivan. She probably said so with love, though, right?
Of course, there's unfortunately those who would argue that if it's not approved by Edna, it's not approved by them.
Don't worry, too much, though, if you're heading to a Disney park. While Edna may not have approved of Ivan's ensemble, there's tons of Disney-inspired goods that she might just love. From a Disney park map dress to Disney's new mini backpacks inspired by some of the park's most iconic rides, there's more than enough to wear if you're seeking Edna's approval.
If you're desperate to meet Edna Mode and feel like Mr or Ms Incredible during your time at Disney, just be prepared. While she may be lovable, Edna is nothing short of savage, and she will roast your ensemble. Next time you intend to enter the park, maybe make sure that your Disney Bound outfit is on point, and you may just get Edna Mode's stamp of approval, and nothing is better than that.