This Dress Has The ENTIRE Disney World Map On It So You Will Never Get Lost Again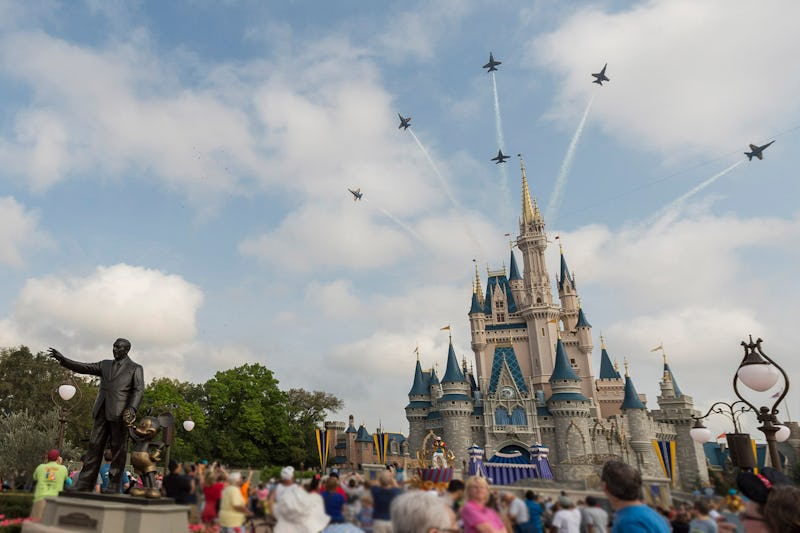 Handout/Getty Images Entertainment/Getty Images
We've all been there. When you're roaming around a theme park and suddenly you have no idea where you are. Where's the food? Where's the rollercoaster? Where's the nearest bathroom? Well, if you're at Disney World, you no longer have to worry because this Disney Magic Kingdom map dress will ensure that you'll never get lost in the park ever again.
If you're not a Disney parks enthusiast, you may not know that Disney themed clothing is kind of a BFD for those who frequent the different parks. From some of the fanciest Mickey Mouse ears you've ever seen to Disney-themed clothes, people go all out. Then, of course, there's Disney Bounding, created by Leslie Kay, where you use everyday clothing to emulate your favorite character. Park fashion is serious business.
Now, an Etsy designer has solved all of your park problems, specifically those in the Magic Kingdom area of Disney World. Etsy shop Rainbow Rules has created a Disney Magic Kingdom map dress that takes the official guide to the park and actually puts it on a dress. Whether you want a skater style, body con, or flared skirt, this shop will have you rocking your Disney directions in a way that's honestly pretty cute.
If you're thinking a custom dress like this is totally going to break the bank before your next trip to the land of the mouse, don't. The price is totally right for this adorable frock. The cost varies based on sizing and style, but at the low end of the spectrum, the dress only costs $30.99 and even at the high end, it retails for $43.99.
As for sizing, it's actually fairly inclusive. Sometimes, it can be difficult to find plus sizing in custom designs on Etsy, but the Magic Kingdom map dress comes in sizes from extra small to 3XL in all five silhouettes. Yes, that's right five silhouettes. The dress has multiple designs including sleeves, a strapless sweetheart neck, and tank design. Basically, if you want a certain style, you'll probably be able to get it.
Etsy designers aren't the only ones who have realized that Disney fans love their Disney fashion. Major brands have paired with the famous creator of Mickey and Minnie Mouse to create a plethora of fashions (and even beauty products).
Perhaps one of the most well-known is the Kate Spade and Minnie Mouse collection. From bags to earrings to iPhone cases, the brand's work with Disney resulted in some seriously adorable and wearable gear. While it's not quite as bold as the Disney map dress, it's still proof that fans of Disney are dedicated to showing off their love for the famous mouse and his friends.
Kate Spade isn't alone, though. Mega plus size retailer Torrid is also known for their fandom gear, and that includes Disney pieces. The unique thing about Torrid's Disney offerings is that they extend beyond classic characters like Mickey and Minnie Mouse. The brand has other favorites like Cinderella and Alice in Wonderland.
If, however, you've fallen immediately in love with Rainbow Rules' design, there's plenty to go around. The Etsy shop features leggings, dresses, skirt, and even iPhone cases inspired by Disney as well as Disney parks. From a FastPass dress to Toy Story Sheriff Woody leggings, if you love the Disney Magic Kingdom map dress, there's more where that came from.
If you're headed to Disney World this summer (or any time, really) and want the perfect outfit, the map dress may just be it. Plus, you'll never have to worry about getting lost in Magic Kingdom again.