This Tweet About Rob Kardashian's NSFW Posts Sums Up The Issue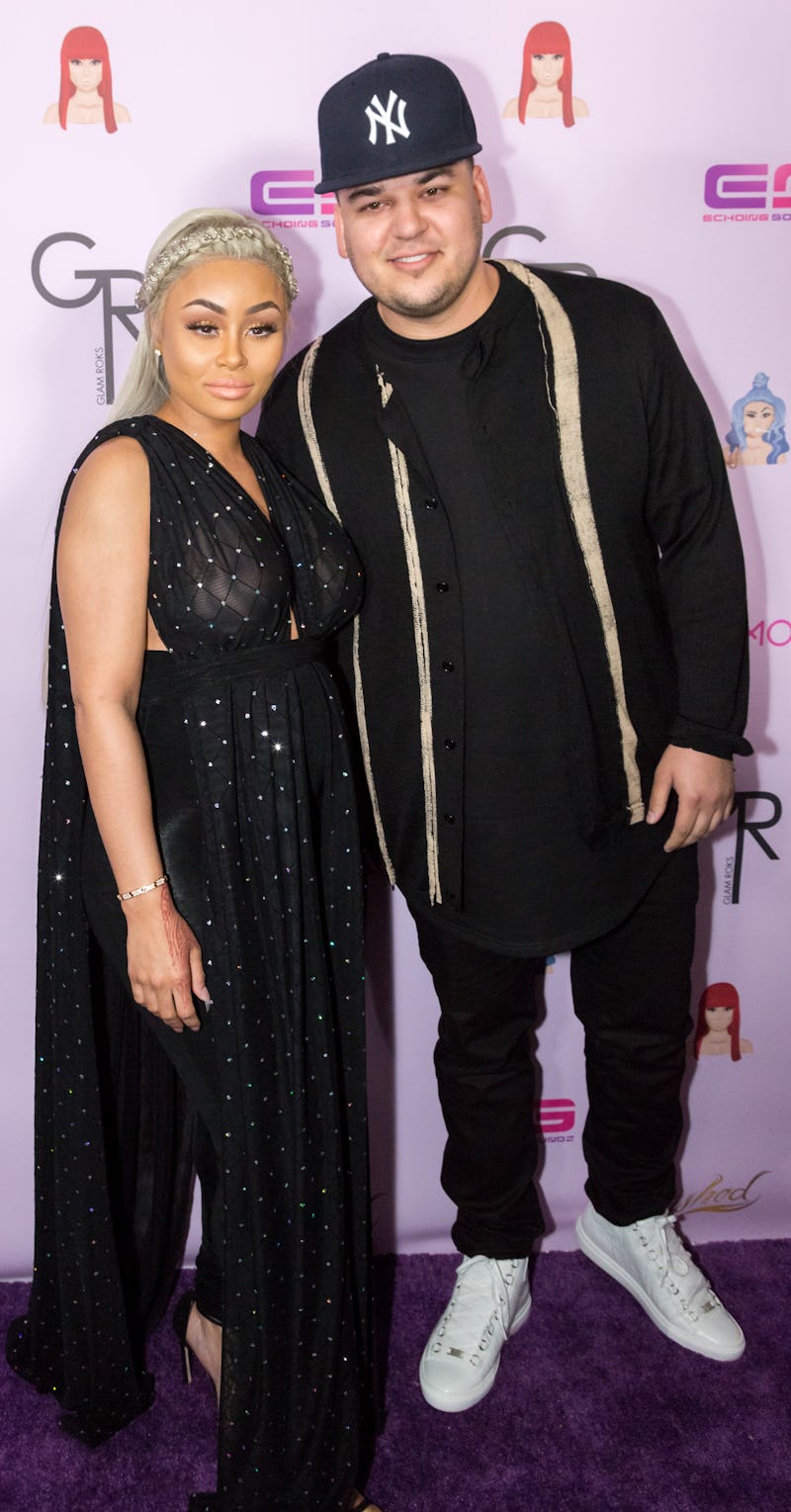 Greg Doherty/Getty Images Entertainment/Getty Images
Just when people were wondering when the public's fascination with the Kardashian family would die down, Rob Kardashian posted about Blac Chyna on Instagram — and not in the good way. On Wednesday morning, Kardashian randomly blew up at his ex in a series of explicit posts accusing the mother of his daughter of intense drug use, of infidelity, and of using him for large sums of money. Included in his series of posts were nude photos Chyna reportedly sent him. (Bustle has reached out to representatives of both for comment on the allegations, but have yet to receive a response.) Although the photos have since been deleted and haven't been confirmed as real, the entire tirade remains an issue. And this tweet about the Kardashian and Chyna situation gets at everything that's wrong with this problematic social media war.
UPDATE: Blac Chyna's lawyer told ABC News in a statement "We are considering all legal options and recourses at this time." Bustle has reached out to Kardashian for comment, but did not receive a response at the time of publication.
EARLIER: In the posts, it seems Rob knows he's crossing a line, but he continuously expresses that he just doesn't care. "She had sex with 3 guys in 3 days in the same bed under the roof I pay for with my daughter there. That is why I feel so disrespected," he claimed in one post. Going on about "disrespect," Rob continued with notes about why he'd keep exposing Chyna. "I will never allow my daughter over to that house that I pay for with all the drugs and alcohol that goes on. I got receipts for days and I'm gonna keep going and I don't give a f*ck," he claimed.
But regardless of whether or not his allegations about Chyna are true, this one tweet sums up the bigger issue here:
The posts can certainly leave a sour taste in one's mouth, depicting, as they appeared to, explicit photos of a woman (who's highly-publicized) without her consent and featuring negative language and sexual slurs about the mother of one's child. But, as this Twitter user also rightfully points out, sharing nude photos without consent is illegal in California, where Rob lives. Statutory Criminal Law states:
"A person may be charged with disorderly conduct if s/he invades the privacy of another by intentionally distributing an image of an intimate body part or parts of another identifiable person without consent."
Now that Rob has deleted the explicit photos, it's uncertain if any charges will be pressed against him. Especially since, as NBC reported in 2013, the law doesn't cover photos that were given by the victim to the perpetrator, and, according to TMZ, Blac Chyna reportedly "liked" the posts and thus may not count as experiencing emotional distress over the incident. But deleting the photos doesn't make them go away on the entire internet and doesn't change the wrongness of the situation.
Fans have also commented that one day his daughter Dream (who he and Chyna welcomed in November 2016) will see the degrading posts. But he addressed that as well, saying he hopes she does. "I don't care that this is the mother of my child," he said in one post. "All u may think my daughter may see this one day and I hope she does cuz this isn't love," he said in another. Things aren't looking good looking good for the on-again, off-again couple, but, regardless of your feelings toward them or the validity of the claims, it should be very clear that revenge porn is the wrong way to deal with any disagreement.
Editor's Note: This article has been updated from its original version.