Rob Kardashian's Instagrams Are Disconcerting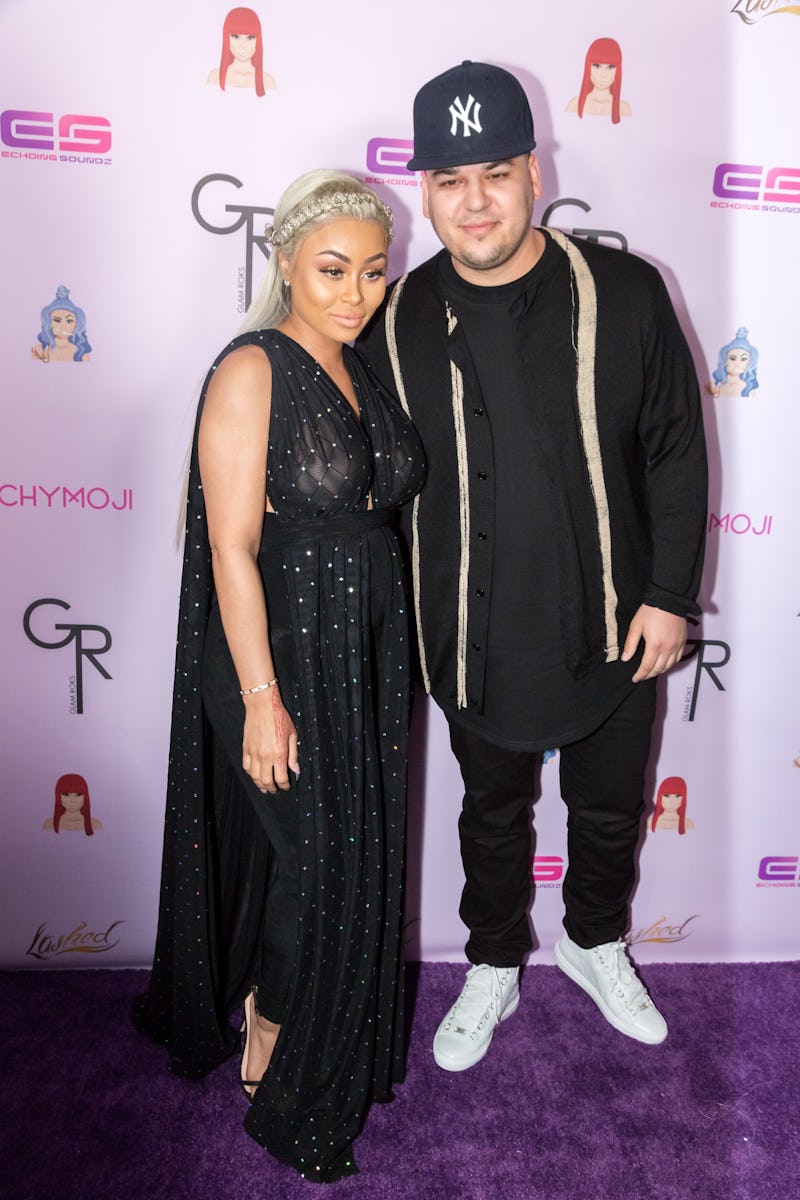 Greg Doherty/Getty Images Entertainment/Getty Images
Rob Kardashian and Blac Chyna have had plenty of ups and downs since they started dating in early 2016, and the rough times are continuing. On Thursday, Kardashian shared a series of Instagram posts in which he claimed Chyna cheated on him and uses drugs. He also posted nude photos that are allegedly of Chyna. Considering the extent of his posts and his past, it's only natural to wonder if Rob Kardashian is OK. (Bustle has reached out to reps for Chyna and Kardashian for comment on the claims and posts each of them made on July 5, but did not receive an immediate response.)
UPDATE: Blac Chyna's lawyer told ABC News in a statement "We are considering all legal options and recourses at this time." Bustle has reached out to Kardashian for comment, but did not receive a response at the time of publication.
UPDATE #2: Kardashian's lawyer told TMZ in a statement that Kardashian's actions were a "spontaneous reaction that he regrets" and that they will not be contesting the restraining order. "Rob's only concern is for the well-being of baby Dream," the statement finished.
EARLIER: Though Kardashian hasn't made any references to his mental or emotional well-being in his posts on Wednesday, July 5, they are still cause for alarm. He may be coming from a place of possible betrayal and frustration, but the excessive nature of his posts — and the savage, unpredictable, and impulsive spirit of them — could indicate that he's not doing well. Kardashian has been open about his depression over the years, so it doesn't seem too far-fetched that whatever events may have transpired in his relationship with Chyna could have triggered another depressive episode.
In August 2016, during an interview with People, Kardashian credited Chyna with helping him through some of his "darkest times," while just a month or so later, their reality TV show, Rob & Chyna, revealed the reality of his depression. In one scene, Chyna was shown asking her then-fiancée, "What can I do to help? What really triggers you to go into a dark hole?", while another showed sister Kim expressing concern for the expectant parents. She said, "Depression is a serious thing. What's gonna happen when this baby is born?"
Unfortunately, following the birth of their daughter Dream, Kardashian and Chyna had a public dispute on social media, with the two new parents fighting online for several days in December. A series of upsetting videos on Snapchat and Instagram posted by Kardashian suggested that Chyna had taken Dream, leaving him before Christmas. According to Us Weekly, Chyna reportedly said she was "done" with Kardashian and claimed, "Rob is mentally ill & refuses to seek help!" in a since deleted Instagram post.
Though mental illness in no way legitimizes the sort of toxic posts that Kardashian has shared on Instagram, his history should raise a potential alarm for him to seek help. On social media, responses to Kardashian's Instagram outburst have called him "crazy," "nuts," and "insane," for his behavior, which is deeply inappropriate when considering his public struggle with mental health.
But If there's one thing that we can take away from Kardashian's behavior on social media and this ugly dispute between two people in a clearly unhealthy relationship, let it be to understand the possible warning signs of someone struggling with depression, and to look out for one another when we see someone may need help.