The One Sex Position You Need To Try This Month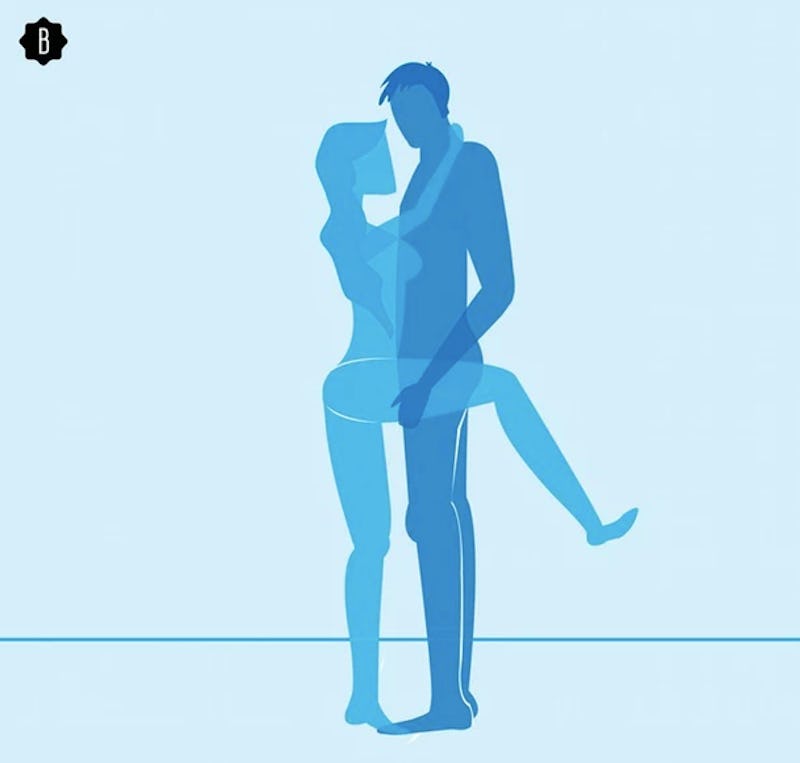 Caroline Wurtzel/Bustle
Is it just me, or is summer a particularly sexy time of year? It seems like all those good summertime vibes — relaxed and carefree, but still steamy and sultry — just flow right into the bedroom and heat things up. Plus, thanks to the sun's invigorating rays, we're all more energized during the summer — and what better way to channel all that newfound energy than by trying out some hot new sex positions with your partner?
"The sun is shining, the birds are singing, and our sex drives are at an all-time high," Brit Burr, sex expert and editor-at-large of Psych N Sex, tells Bustle. "During the winter, our sex lives tend to take a little dip for various reasons, whether that be fatigue, or literally just the lack of motivation to go outside. Embrace the month of June and the entire summer for all the good sex it has to offer."
So if you want to kick off the first official summer month on an extra sexy note — and who among us wouldn't?! — there's one sex position that you need to know about: the three-legged dog.
"[Three-legged dog] is perfect to ease you into the summer heat with a little bit of adventure without pushing it too far from the winter slump," Burr says. "[It's] a standing sex position which requires a tiny bit of balance and a side of trust. For this position (pictured above), the recipient stands in front of the penetrator and lifts one leg, wrapping it around their waist. The penetrator holds the leg up with one arm and wraps the other around their partner to keep them close and stable."
Why Three-Legged Dog Is Perfect For June
It might require a little more effort than some of your fave lazy sex positions, but summer is the optimal time to get a little more creative (and active) in bed, which is why you shouldn't knock the three-legged dog position until you've tried it.
"This position is perfect for June because it gets you out of bed and into the open air to avoid some of the heat," Burr says. "Additionally, neither of the partners is laying on top of the other, which also helps keep things cool. Standing sex is also quite exposed, should you choose to do it fully naked, so you might as well do it while you're feelin' great on that summer high and you've got a bit of a summer glow started."
TBH, this position is hot any time of year, but there's something about the idea of a carnal, need-you-now position that really evokes the essence of summertime sex. And that's not to mention how good this position has the potential to feel — although some practice and a few minor adjustments might be needed.
"This position is excellent for G-Spot stimulation as the recipient can adjust their leg's height and the penetrator can bend their knees to hit different angles," Burr says. "This position will need to be catered to the couple as there may be some adjustment necessary if you've got a substantial height difference. If that's the case, grab something for the shorter partner to stand on so you can be closer to the same level."
If you want to make this your go-to position all summer long, here are three ways to spice up the three-legged dog position that pretty much guarantee you'll never get bored of it.