This Photo Suggests That 'Bachelor In Paradise' Star Tia Booth Is Dating Someone New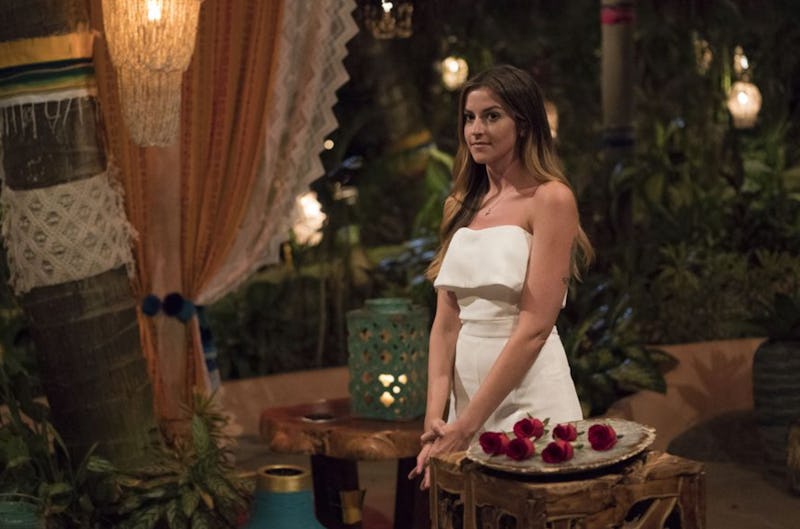 Paul Hebert/ABC
If you bet money Colton Underwood and Tia Booth somehow end up together at the end of Colton's season of The Bachelor, it looks like you're going to lose some dough. The on-again, off-again Bachelor in Paradise duo's done, and Bachelor alum Tia appears to be in a new relationship. On Sunday, Nov. 11, Tia posted a photo on Instagram she took while she was on the field of Nashville's Nissan Stadium. And in that photo, she is with a man that may or may not be her new beau. And it feels safe to believe he is her new beau because a few of her Bachelor Nation comrades left some comments that suggest Tia and the dude in the photo are in a relationship.
So who is this guy? For the time being he is, as Life and Style called him, a mystery man. Tia did not tag him, because where is the fun in giving us all of the answers right out of the gate?
Some commenters guessed Corey Brooks from Big Brother 18, but Tia made it pretty clear that isn't the case by replying "lol. No." (Ah, remember when they left comments on each other's IG posts all the way back in September and folks suspected a love connection was in the air?) Other commenters suggested it's a man named Cory Cooper. Cory's Instagram account is private, so an IG deep dive is off the table. Tia follows Cory on IG, but Cory does not follow Tia, so make of that what you will.
Whoever the fellow in the photo is, Tia's Bachelor Nation buddies seem pretty thrilled with the pairing. Tia's dear pal Raven Gates wrote, "Nashville and love look good on you," Bachelor Season 22 cast member Caroline Lunny commented, "Woaaaaaaah IG offish finally!! happy for you two love birds," BiP contestant Astrid Loch posted, "WHOS BAE?"— the list goes on.
But hey, you don't have to take my word for it. Here are some of the intriguing comments from Tia's fellow Bachelor Nation members.
Does Caroline have the scoop? It sure sounds like Caroline has the scoop.
Adam Gottschalk seems to be here for the cryptic post.
Not one, but two citizens of Bachelor Nation used the word "love." That doesn't not feel significant.
They've taken a big step and Blake Horstmann is here for it.
If Jasmine Goode's smiling hands emoji doesn't say "I support this relationship," what does?
Leave it to Wells Adams to get to the more pressing issue.
Whatever is or isn't happening in that pic, Tia sure has been raring to jump back into the romance waters for a minute. As she told People in September,
"I have a feeling that if I meet somebody, it's going to be through friends, not through a DM. And I think if I'm looking for it it's not going to happen, so maybe if I'm patient it will come to me. I am ready for something serious!"
Might the not-tagged guy in Tia's pic be the "something serious" she's ready for? We will just have to stay tuned, watch this space, and keep an ear to the football field.