Times The Bachelor Fell For The Villain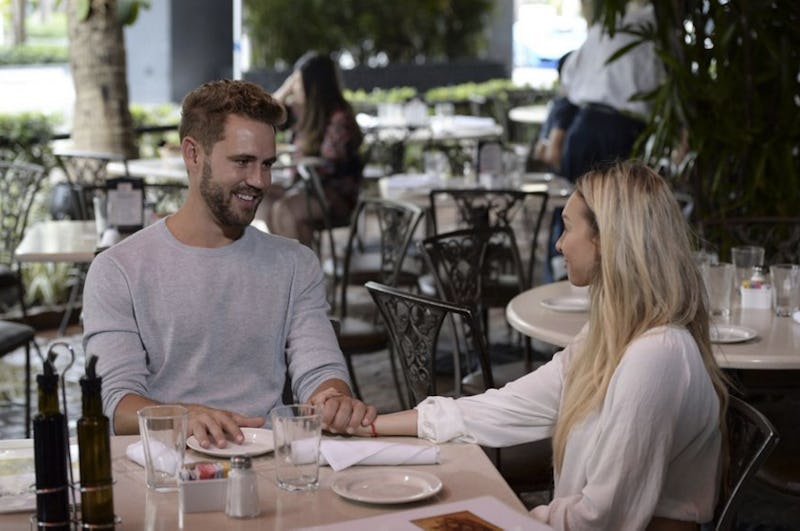 ABC/Jeff Daly
Unfortunately for one (or possibly more) of the ladies who are a part of The Bachelor every year, there is always someone who is designated as the "villain." Fortunately for the viewers, these women usually provide the prime entertainment for the first few episodes before they get the boot. But, there have been a few times when the Bachelor fell for the villain and she stuck around much longer than expected. In fact, there have actually been a couple times when the villain won that final rose at the end of the season.
Some of the people who have been villains on both The Bachelor and The Bachelorette have seemed like they were actually horrible in real life and other times it just seems like they got the "villain" label by default. Either way, the stars of the series have not always gone for the man or woman who was universally beloved by the fandom.
I know that it can be super easy to hate on the villains, but clearly there was something very lovable about the ladies below that allowed them to go pretty far into the Bachelor courting process. Or maybe the Bachelor star just wasn't super perceptive as to what was going on with the women in the cast when he wasn't around.
Here are a few villains who captured the Bachelor's heart... for a little while, at least.
Jake Pavelka & Vienna Girardi
It was painful for viewers to watch, but after a whole season of feuding with Bachelor Nation's beloved Ali Fedotowsky and annoying all of the other ladies in the house, Vienna Girardi actually got Jake Pavelka's final rose. Not only did these two not go the distance, but they actually fought on TV and Jake broke up with Vienna via phone. It was a total mess, but at least Vienna helped the villains get a very rare win.
Ben Flajnik & Courtney Robertson
The most infamous moment from Ben Flajnik's season of The Bachelor was when he went skinny dipping with Courtney Robertson, but she was a classic villain throughout her time on the show. She even titled her book I Didn't Come Here To Make Friends: Confessions of A Reality Show Villain. To no one's surprise, the couple didn't end up making it last.
Juan Pablo Galavis & Nikki Ferrell
Considering how awful Juan Pablo Galavis was as the Bachelor, it wasn't really necessary to find a villain among the women — Juan Pablo had that all covered on his own — so, this one is up for debate. Some people felt like Nikki Ferrell was a villain for doing things like refusing to dance on the K-pop date and saying the other ladies were "annoying." She also argued with Clare Crawley and got called out by Reality Steve as a "villain" in the spoilers. But, the viewers can't see everything that happens and Nikki didn't really have a lot of bad behavior on camera, especially in comparison to the ultimate villain: Juan Pablo himself.
Chris Soules & Britt Nilsson
Unfortunately for her, Britt Nilsson did not make it to the end of Chris Soules' season, but he was super into her for a while. Britt got the first impression rose and a lot of attention from Chris throughout the season. Unfortunately, the other ladies deemed Britt as "fake" and "not here for the right reasons." Not only that, but she had some questionable group date behavior, like when she and Chris were super affectionate in front of the other girls and snuck off to a concert. Britt also confronted Chris for handing out a group date rose to Kaitlyn Bristowe, which was not the best look. The nail in the coffin was when Britt acted like she was pumped to settle down in Iowa with Chris, but Carly Waddell revealed that she was actually hating on Chris' hometown hard when she was with the other contestants.
Nick Viall & Corinne Olympios
I know that a lot of people hated on Corinne Olympios for her wild quotes, the constant napping, taking off her bikini top, and trying to have sex with Nick before the fantasy suite, but she provided some prime entertainment during her season. Not only that, but she made it to the final four, which was way more than most of us expected. Corinne is a polarizing figure, but Nick really did seem to be into her.
While there is always a "villain" in the cast, this doesn't always mean that they are actually a bad person — especially since some of them end up making it all the way to the end and proving they're more than their unfortunate title.