This New Timothée Chalamet Film Is Going To Give You ALL The Feels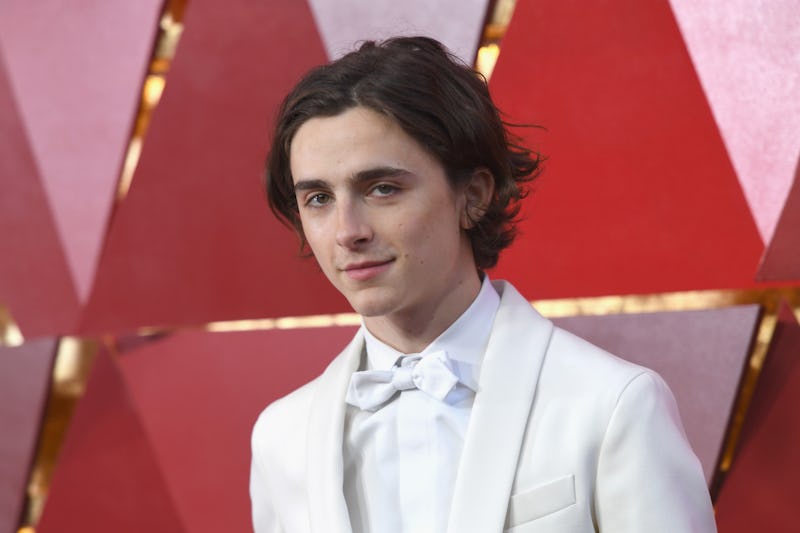 Kevork Djansezian/Getty Images Entertainment/Getty Images
With Oscar season approaching, many films are being released that are causing a little bit of a buzz. Now when I say buzz I don't mean that blue bottle cheekily hanging around your sandwich, I mean a buzz of excitement for a film that looks like it is going to be effing brilliant. It looks like actor Timothée Chalamet's new role in upcoming movie Beautiful Boy is getting that kind of attention. After Call Me By Your Name and Ladybird, I am ready and waiting for another Chalamet hit. So, when is Beautiful Boy out in the UK?
His latest film is based on the memoir A Beautiful Boy: A Father's Journey Through His Son's Addiction by author David Sheff, which tells the story of his son's struggles with addiction to methamphetamine and how the experience affected those around him. Chalamet stars as Nic alongside Steve Carell as his father David. The film has garnered a lot of attention and hype, and will no doubt be a very beautiful and honest portrayal of how addiction can carve up your life and that of those around you. The film will premiere at the Toronto Film Festival on September 7, however we will have to wait until January 18, 2019 to get a crack at watching it ourselves, the Mirror reports. I know right? Such a bummer.
Directed by Belgian Felix Van Groeningen, the first English language film for the Belgian filmmaker, this is the heartbreaking, agonising, painful, yet hopeful tale of one family's experience. A close up experience of dealing with addiction and its peaks and troughs. Of managing to survive through getting treatment for addiction, sobriety, relapsing, and the maudlin chaotic mental ailment that is being an addict. Basically, stock up on Kleenex and don't wear too much eye make up. This one is going to be not only a tear jerker, you will actually be inconsolable. Think The Notebook but like less about lost love and more about some real life and challenges you never thought you would have to face.
Chalamet might look super familiar to film fans, and Oscar buffs. He gained an Oscar nomination for his role in Luca Guadagnino's Call Me By Your Name. Aged 22 at the time, this made him the third youngest best actor nominee ever which is pretty darn lit. The coming of age love story about sexual fluidity and romance was a massive hit, becoming an instant queer classic and was talked about like, a whole bunch.
New York born Chalamet is half American, half French and fluent in both languages. Ooh lucky him! He also formerly dated showbiz royalty Lourdes Leon, daughter of Madonna, as well as becoming a total internet heartthrob. With literally months to go until the release of what will no doubt be another masterpiece, fans have a lot of time to wait for their latest hit of Chalamet action. In the mean time of you haven't watched Call Me By Your Name or Ladybird, go watch them immediately.