Lana Condor Knows 'To All The Boys' Fans Ship Her With Noah Centineo & She Has Some Thoughts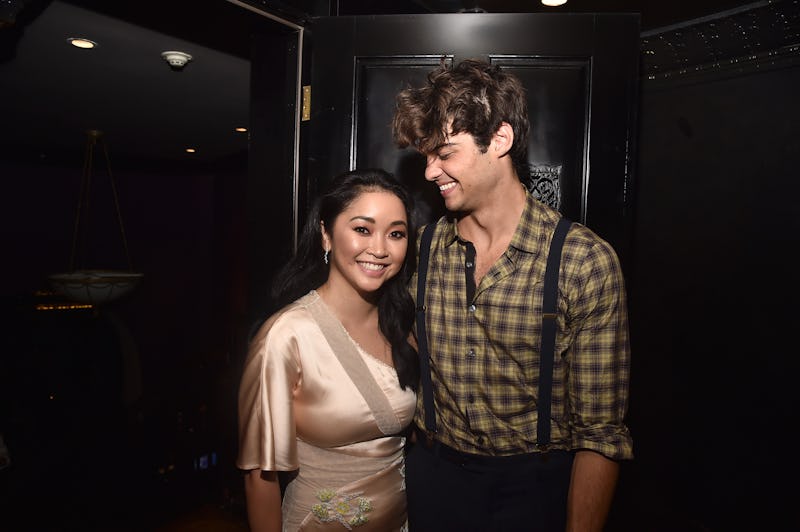 Alberto E. Rodriguez/Getty Images Entertainment/Getty Images
You already know you're not alone in wishing the stars of To All the Boys I've Loved Before would get together, but are you aware that even the film's own star gets where you're coming from? In an interview with Entertainment Tonight, Lana Condor responded to fans shipping her and Noah Centineo. And not to get everyone too excited over nothing, but Condor totally gets it. That sound you just heard? It was millions of hearts exploding with joy as all their wildest dreams came true.
Condor and Centineo played Lara Jean Song Covey and Peter Kravinsky, respectively, in Netflix's smash summer hit, To All the Boys I've Loved Before. And it's hard to say whether fans fell more in love with the characters, the actors, or their love story. But either way, Condor is right there with you. As she told ET:
"You hope that people will fall in love with your characters and I think they have. It's been great because I know both Noah and I feel the same way, in the fact that I'm so happy that Noah is on this journey with me and it's Noah who I have as my partner through all of this because our chemistry is genuine."
Get you a partner who talks about you as glowingly as Condor talks about her coworker, are we right?
But the effusiveness didn't stop there. She continued:
"Like, it has been since day one and I've never felt chemistry like this ever before with any other actor that I've worked with. I think we both know that it's special and I'm just happy that it's him that I'm going through all this with. We make a really, really good team. It's been crazy. People truly want us to get married."
But before you start photoshopping them on the altar together, you should know that this bond is purely platonic. Condor has been in a happy relationship for the past three years, with fellow actor Anthony De La Torre. And while some people might be bummed out by that news, it actually makes the 21-year-old's connection with Centineo all the more extraordinary.
Just like Lara Jean and Peter, these two seem to have built an IRL relationship on a foundation of love and trust that isn't based on wanting to jump each other's bones; they just seem to like and admire each other as humans. And if that isn't #relationshipgoals, then truly, what is?
It's probably her platonic affection for her costar that allowed Condor and Centineo to turn in such a compelling performance, so fans are only benefitting from this bond. And by the way, Condor totally agrees that it's there. As she told ET:
"I watched the movie by myself, and I took myself out of it — I'm just watching it for Lara Jean and Peter — and I fell in love with Lara Jean and Peter as well. I was like, 'Oh my god, their relationship is the best relationship ever!' So I get it. I totally get the reaction, for sure."
So this really is the best of all worlds for fans. We get an amazing performance, a pure friendship, and a star who understands why she and her costar are being shipped so hard. Just like in a rom-com, sometimes you really can have it all.