Tom Sandoval & Tom Schwartz's Vision For Tom Tom Sounds Like 'Vanderpump Rules' Paradise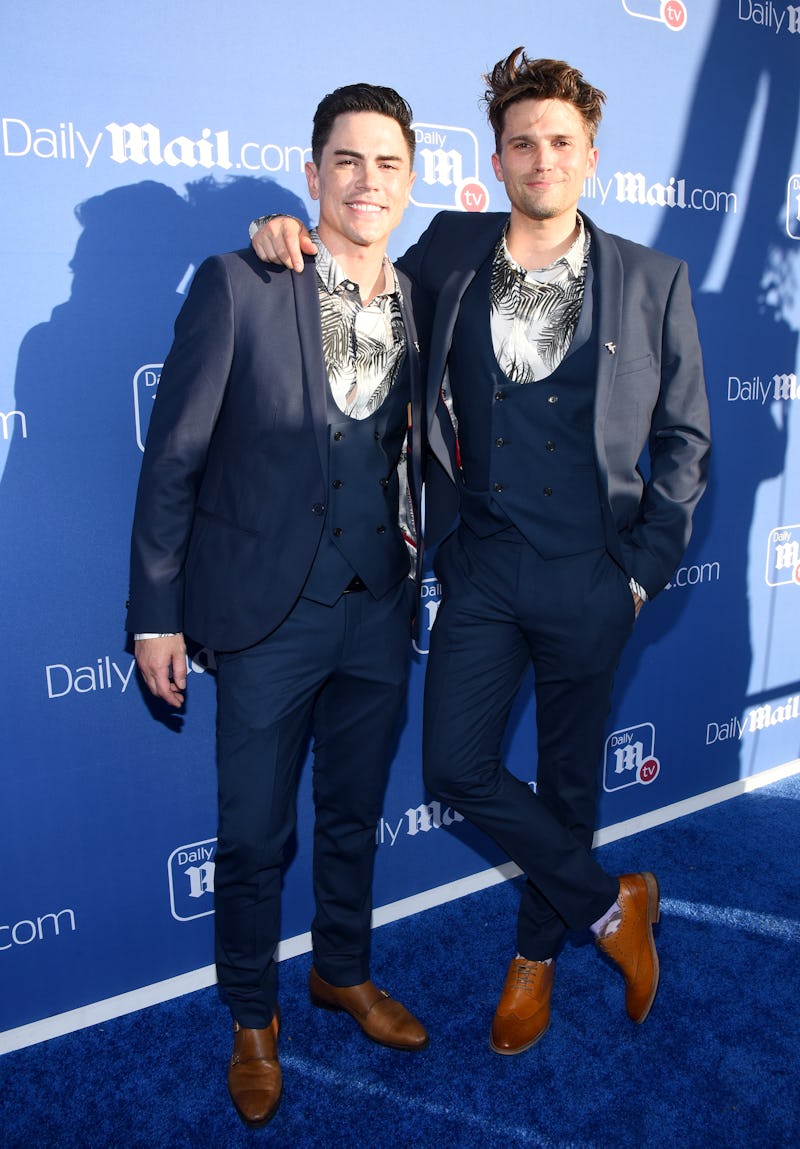 Araya Diaz/Getty Images Entertainment/Getty Images
Every time you hear a clock tick, remember that means you are one second closer to the grand opening of Lisa Vanderpump's newest establishment. And Tom Sandoval and Tom Schwartz's latest comments on Tom Tom will SUR-ely leave Vanderpump Rules fans PUMP-ed. When the Toms spoke to Bravo's The Feast at DailyMail.com and DailyMailTV's White Party last week, they painted quite a vivid picture of the Tom Tom experience. A vivid, sexy, and unique picture.
Sandoval told the site,
"Right when you walk in, you get natural light, double bar stools right at the beautiful bar. As you go deeper in, there are these half-circle private booths. And then as the sun goes down and it gets dark, it reveals this beautiful garden."
And apparently, this is not any ol' beautiful garden. Schwartz called the space "the hanging gardens of West Hollywood." (Does that mean it is one of the SUR-ven Wonders of the World?) He also was gracious enough to map out an itinerary for any Tom Tom visitor. Schwartz said,
"You get a cocktail at the bar, then you sit down by the fireplace, you whisper sweet nothings into each other's ears, then you go to the shot bar, take shots, get the mojo flowing. Then you go to the garden and you fall in love all over again — or for the first time!"
Sounds like a nonstop thrill ride. And as for the best seat in the joint, according to Schwartz? Oops, that is a trick question. As far as Mr. Bubba is concerned, all of the seats in Tom Tom are the best seat. He told The Feast, "Every spot is like it's unique own little world — there's not a bad seat in the house."
The Tom Tom adventure began in August 2016 when Vanderpump, West Hollywood restauranteur and Queen of Pump Rules, asked Sandoval and Schwartz if they would like to open a bar with her and put their names on it. The creation of Tom Tom was a huge Pump Rules Season 6 storyline, but when the cast sat down for the reunion in March, the Toms and LVP kind of made it sound like it'd be a while before the bar opened its doors. Or at the very least, like it'd be a while before Sandoval and LVP saw eye to eye on that whole wine fridge situation.
But that worry was for all for naught: Apparently, the wait is almost over and Tom Tom's opening day may almost be here. Though the official opening date has yet to be unveiled, some of the key folks involved have teased when it could happen. On July 1, Sandoval revealed on IG Tom Tom was scheduled to open to the public in "3 and a half weeks." And last week, LVP hinted that the grand opening would happen soon. She wrote on Instagram,
"Cannot believe that we got @TomTom open in time for the @dailymail's Summer Party last night. So much work and sweat has gone into this place and it was incredible to see it up and running yesterday! We will be opening to the public in a few days, so stay tuned!"
A representative for Tom Tom told Bustle that the bar could be open as soon as the last week of July.
Tom Tom is not officially open for business, but it sure has taken quite a test drive. On July 11, the bar hosted DailyMail.com and DailyMailTV's annual summer party. And judging from the oh-so lucky guests' IG posts, Tom Tom's debut looked like a rousing success.
If everything sticks to the plan (i.e., Sandoval's IG caption), then Tom Tom really could open next week. So uh, Pump fans outside of Los Angeles? You know what this means: It might be time to book a quick trip to Weho. Within the next several days, you may finally get to see the hanging gardens of West Hollywood with your own two eyes.