Lady Gaga Will Get A Special Super Bowl Intro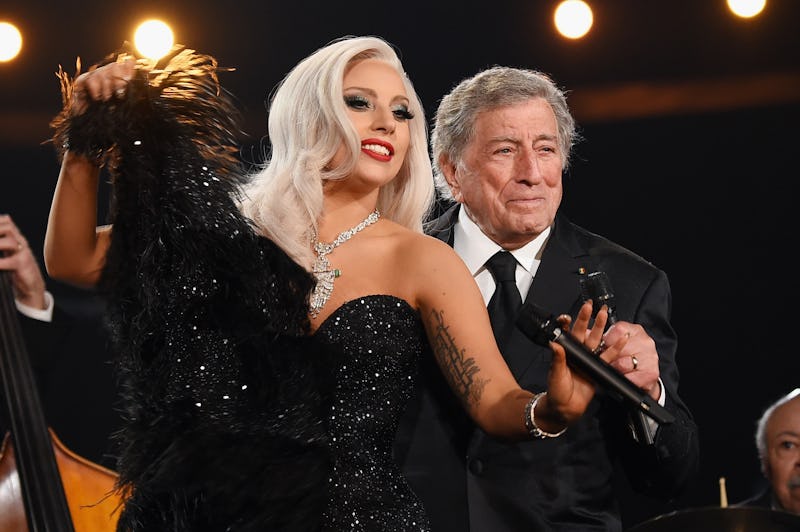 Larry Busacca/Getty Images Entertainment/Getty Images
With the big game only a few days away, we've finally been given some more information regarding Lady Gaga's Super Bowl Halftime performance. According to Entertainment Weekly, legendary jazz mogul and frequent Gaga collaborator Tony Bennett will be there. Cue the cheers. Oh wait — no, that's not the whole truth. Bennett won't be there in person, instead Bennett will reportedly introduce Gaga in a video countdown. Right before the artist sashays on stage in a meat dress. Just kidding about the meat dress. In fact, at a Pregame Show Press Conference on Feb. 2, Gaga specifically said that no flesh of any kind will be on her body. Bummer.
Last month, Billboard reported that Gaga will be riding the halftime show solo this year. As in, she wouldn't be sharing the stage with anyone else. This, of course, breaks the tradition of performance's past. Last year, Coldplay invited Beyoncé and Bruno Mars on stage. In 2015, Katy Perry was joined by Lenny Kravitz, Missy Elliott, and the most famous of them all — left shark. As Billboard pointed out, in the halftime show's history, there have only been seven performers who have hit the stage without guests. Gaga would be the eighth.
For all we know, this information still holds true. Bennett will only be "joining" Gaga via video. He won't technically be on that stage with her. However, many are still holding out hope hope that one performer in particular will be a part of the show — the one, the only, Beyoncé.
Good news. A possible Bey cameo might not be such a pipe dream after all. Yesterday, Gaga posted a photo on Instagram that has fans buzzing. The singer captioned the image of her lounging outside, "Houston, you are beautiful. 🐝" Though the Super Bowl is being held in Houston, Queen Bey was also born in the city. Plus, that bee emoji could be a reference to the Bey hive. Or just Bey.
Detectives and Bey supporters of the internet are hoping that Beyoncé's third Super Bowl appearance will commence on Sunday. However, it would be the first time that Bey performed on stage with two other little humans (i.e. her in utero twins).
If it doesn't happen, at least fans can look forward to a cameo from Bennett, who's already showing his support for Mother Monster. He shared a message on Twitter, writing "@ladygaga I know your Super Bowl halftime show will be original, of the highest artistry and spectacular….just like you. Love, Tony."
The pair's 2014 album, Cheek to Cheek, picked up a Grammy for best traditional pop vocal album. It's unclear if the pair will actually get to sing together (a duet where she's on stage and he's streamed over video might be tough to achieve, but not impossible). Still, to honor him, Gaga might end up singing at least a song or two from that album.
It's tough to predict what Gaga's performance will entail, especially since she's been so secretive about the specifics. And especially because it's Gaga, who has proven time and again that she's nothing if not unpredictable. At the pregame press conference she explained, "I'm not gonna tell you what I'm gonna do... You're gonna have to wait [and see]."
Fair enough, Mother Monster. We'd expect nothing less of you.